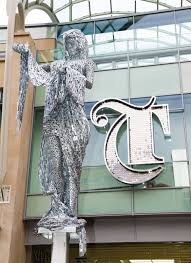 Trinity Minerva: is it "public art"?
I'm not interested in whether you like the sculpture or not. Plenty of people will say they love it, but that's beside the point. This isn't a question of my personal taste opposed to yours(1), so let's set subjective opinions about what's good or bad art aside and instead consider what "public" means in this context.
What's so public about public space? Does it mean anything more than that I'm free to enter and not prevented from passing through? Does public mean anything more than in plain sight?
Rather than answer these questions directly it's probably easier just to look at where Minerva comes from and see where that gets us.
The sculpture was commissioned by Land Securities Trinity Leeds, a shopping mall – or is it shopping centre, as if there's any difference. I don't think I'm being particularly controversial in suggesting that in terms of what planners call "placemaking" shopping malls contribute little to the distinctive character of a city. Shopping malls tend to template the same sanitized, homogenized, nondescript experience of place whether you happen to live in Leeds or Louiseville Kentucky. This isn't a facetious, throwaway comment. If you Google Louiseville shopping malls you'll find the same shops, the same aesthetic, the same hype, the same expectations and the same overall feel. Same, same, same. The only difference is that in Louiseville the shopping malls not only have a code of conduct, a couple even have a dress code. I imagine Leeds will not be far behind. You're not wearing Superdry, you're not coming in.
Shopping malls not only regulate overt appearance and behavior they also attempt to regiment expression and thought. In a shopping mall you are considered nothing more than an individual with individual concerns and individual attachments. In a shopping mall it is acceptable to whoop your individual approval as you enter the inner sanctum of the Apple store. It is not acceptable for teenage fans of a boy band to gather in the street in excitable, messy, potentially uncontrollable crowds. Individual Mac owners can be relied on not to run amok. Collectives are trouble, however; collectives coming together with motives other than acquisition can't be trusted to conduct themselves with the requisite consideration for the value of private property. They need to be dispersed and disciplined before they may cross the boundary into privately owned commercial space.
Shopping malls communicate with the public as if they were talking to one-dimensional beings who lack the capacity for critical reflection. No message a shopping mall broadcasts bears serious investigation. The slogan on the back of the jacket of the of the young Trinity employees gathering customer feedback is a good example: "The new urban heart and soul" it says. Not a word of that has any substance in reality. I even have my doubts about the definite article.
Take the claim, "urban". Shopping malls are a suburban phenomenon. The fact that one has taken over a large portion of Leeds City Centre is a cause for regret rather than celebration, and an indication that Leeds is degenerating into more of a middling sort of suburb rather than developing into a better city. Just as adding a patch of grass to the Round Foundry doesn't amount to "Holbeck Urban Village", adding a mall to a city centre doesn't make it urban. In fact I may make be so bold and suggest that the Trinity slogan should be "Leeds' New Urban Suburb".
Trinity describes itself as "the new heartbeat of the city". Only engage your brain for a moment and consider what this means; Leeds had no heart till last Thursday! Or maybe Leeds suffered heart failure and needed a transplant? Either way, if you think about it there remains an awkward question: where did Trinity get the donor organ?
For months we have had it drummed into us that Trinity is our new "retail soul". The only thing I recall so insistent about the authenticity of said spiritual possession was Rutger Hauer in Blade Runner… And we remember what happened to the Replicants, don't we! Maybe Trinity is our retail replicant?
We don't expect public communication from a shopping mall to convey accurate information or even express honest opinion. Its purpose is simply to prick our retail glands and send spurts of shopping hormones into our buying system. The only thought that counts in a shopping mall is which shop to visit next; the only judgement called for is comparison shopping; the only decision you have to make is which credit card will take the hit.
Shopping malls necessarily have an impoverished concept of the public. For a shopping mall the public are just a supply stream of individual consumers, valued for their discretionary spending power and not their capacity for collective deliberation. As a consequence, the shopping mall reduces public space to the seductive display of commodities and the spectacle of purchasing.
What sort of art would shopping malls promote for the sort of public they attract? Obviously the whole modernist project of art as critique of prevailing circumstances would not be welcomed. The prevailing circumstances of capitalist production and exchange are precisely what this art sets out to support. The art in a shopping mall can't interfere with the purpose of retail, raise any awkward questions or suggest that things could or should be different. Shopping mall art should be shiny, superficial and pleasing on a passing acquaintance.
And this is precisely what Trinity have given us inside the centre. The horse (apparently called "Equus" though I would argue "TriNeddy" is a more suitable name) bears the same relation to the space around it as a glitter ball in a disco. There's no point criticising, it just is what it is, shopping mall art, simply a statement of corporate kitsch (though it did remind me of my favourite remark of the great architecture critic, Ian Nairn, who quipped that the elephant on the Albert Memorial "has a backside just like a businessman scrambling under a restaurant table for his chequebook", Go and look at TriNeddy after reading that, you won't be able to hold back a chuckle).
Minerva, on the other hand, is not inside Trinity. Minerva is on Briggate, a public street. A public street has a very different set of demands than the inside of a shopping mall. When I am on a public street of a major city I expect to be engaged with as a citizen not as a someone with the mental equipment of a shop dummy. As a citizen the contents of my mind are more important than the content of my wallet, and I expect to be addressed as someone who is thinking, judging and deciding about more than just my next impulse purchase. And I want any public art in that sort of public space to reflect the complexity, depth and challenge of urban life.
So, we have two choices of how to approach Minerva. Either it's just more corporate kitsch that we aren't expected to think about critically at all – in which case it's more appropriate that she be taken inside. Or this is serious public art and can withstand intelligent investigation.
Let's for a moment take the second alternative. What do we think about when we encounter Minerva?
According to Trinity's website, Minerva is
the Roman goddess of wisdom, poetry, medicine, commerce, weaving and crafts – a graceful draped figure which provides an echo back to the city's rich heritage of cloth production
Actually, there's not much linking Minerva to Leeds (not unless you are a conspiracy crank and you're investigating the almost certainly definitely incontrovertibly established fact that the council is bent on a plan to make Leeds the best city … for Lizards! You heard it here first … unless of course you are a conspiracy crank, then it's all over the internet.) I shall have to ask my Bettakultcha classicist friends, but I'm fairly sure there's no reference to Minerva anywhere in the city, not even at the universities or libraries where she tends to be most popular elsewhere in the world. So, erecting a statue to Minerva in Leeds is about as relevant as sticking up a sheep in Holbeck.
The owl connection is tenuous at best. Yes, Leeds always gets into a flap about its owls, and fine, Minerva had an owl – one that famously spreads its wings only after dusk when philosophy paints its grey on grey. It has been a while since I read Hegel's Philosophy of Right, but I don't recall there being even a footnote about the importance of retail in the ethical progression of humankind. Philosophers don't understand shopping, I suppose.
So we are left with the weaving. Leeds does cloth good. Minerva is the Goddess of cloth. There's a natural fit.
Except …
The most famous story about Minerva and weaving cloth appears in Book 6 of Ovid's Metamorphoses. It's not a hard book to find – I'm aware Trinity lacks a book shop but there's a library around the corner, and it took me five minutes on the internet to find the tale. Minerva approaches Arachne – a rival, independent weaver – in disguise and demands she start treating the Goddess with a bit more deference. Arachne refuses to kowtow, so Minerva gets almightily miffed. She appears in her awe inspiring majesty, throws her considerable weight around and challenges the plucky independent trader to a weave-off. Minerva produces a bombastic piece making grandiose claims extolling how brilliant Minerva is, why there's nobody quite like Minerva, what Minerva has done to improve the lives of lesser mortals, and who has done anything to compare to Minerva. Arachne weaves a beautiful and flawless portrait of the mighty gods raping, deceiving and destroying the little people. Minerva responds by beating up Arachne, trashing her small, independent business and then transforms her into a fat, ugly spider who can no longer ply her previous trade.
Ovid was quite a story-teller! He reminds us that before Minerva was the Goddess of weaving she was also the goddess of war, and she knows a thing or two about crushing an enemy.
Minerva is a deranged, arrogant, power-crazy bully bent on destroying anything which has more individuality, intelligence and craftsmanship than anything she could produce herself. She is a goddess determined to have servile devotees rather than strong, independent citizens free to practice their skills.
This is what we are celebrating in erecting this sculpture in public space in the city centre.
I can only conclude that by commissioning this thoughtless, specious, ridiculous work and deeming it "public art" Trinity is making a fool of itself, and a fool of us. Either way, Minerva has to go. She has no place in a city aspiring to be "best".
(1) It looks like it was rescued from a skip after a refurb at Claire's Accessories, mounted on a tatty length of industrial drain pipe, and placed atop a public urinal – which is handy as that is the most likely use come kicking out time most weekends.