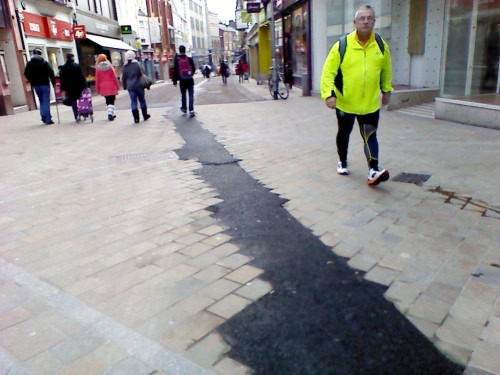 Please look closely at real cities. While you are looking you might as well also listen, linger and think about what you see.

Jane Jacobs.
This is the first quote in Jan Gel's book How To Study Public Life. It was repeated in one of David Sim's slides at the masterclass he did the morning after he introduced the first #cityseriesleeds event showing The Human Scale at Hyde Park Picture House last week. And I was reminded of it again last night when I read Phil Jewitt's tweet and blog post which mentioned the event (Phil was sat next to us – beer's on you at the next one, Phil!)
Thinking if #cityseriesleeds is going to develop into something meaningful then we need to see things differently http://t.co/HgSFITuphc

— Phil Jewitt (@philjewitt) March 2, 2014
I understand what Phil is saying but I think Jane Jacobs has a more valuable idea. We need to see what's there first, clearly and carefully, before we even think about seeing things differently.
I've been told that my post yesterday was too critical. Negative even. "How would you think reading that if you were a planner?" I was asked in the office this morning, "think about their feelings!"
"I don't think they were thinking about my feelings when they put those granite seats on Albion Street!" I said – loudly, in my head – I could tell there was no mood for contention in the room. "Last time I sat on one of those things I lost all feeling in my bottom half for a whole fifteen minutes … nothing I could possibly say could have such an uncomfortable result, even if I wanted it to," the voice in my head boomed.
Anyway, I didn't intend my piece to be just a bit of council bashing. Like I said, I'm actually very enthusiastic about this civic enterprise approach they are pioneering – I'm all for more involvement, engagement, participation, or whatever the current politically pukka polysyllable is – I just want to know, bluntly, what good will it do, how much effort is required of us, and what's in it for me? And I don't want to leave my critical faculties at the door. There really is no such thing as a "no-brainer."
My point yesterday was simply that if we were aiming for a more social, cycle friendly, pedestrian first city (and, bloody hell, it's about time we did!) then we had to take a long, hard, objective look at what Leeds already has and what we are currently doing.
If you do as Jane Jacobs suggests and look closely, listen, linger and think in Leeds then you can't but notice the quantity of public space in the centre is diminishing. How many barriers, fences, locked gates, and stern men with that "move along now" look in their eye does Leeds actually need? Even I feel like an "undesirable" in 90% of the city (and here's another plug for William H Whyte who wrote a beautiful piece on the question of undesirables – just Google it.)
And our city centre seating. Does it invite people to linger and socialise? And is it a resource every citizen can access no matter what their economic status as The Human Scale said it should? Go look.
Is the seating we have even fit for human habitation? I spend hours in the city centre mooching over coffee, poaching the free wifi, watching the world go by and noting what's going on in the street. At a rough estimate even on a warm day three times as many people choose to stand and chat rather than sit. This isn't "sociable" seating for many reasons, not simply that it's designed to withstand a nuclear winter primarily, not to park your arse on as we say in Leeds. If anyone from planning wants to spend a week or so with me in the Pret on the corner with a notebook and a counter the coffees are on me.
Then there's the sprawl. The thing about the Middleton estate sprawl isn't just that it's kinda everything that the Gehl guys see as the problem – it's a car dependent, single-use, residential "bedroom community" – it also has a negative impact on that other huge issue for Leeds; car parking. Anybody living here who works in Leeds or wants to access the cultural offer will need to have a car. Cars take up room. Leeds, as we keep on saying, is a compact city. The more sprawl we accept the more the Yorkshire Post readers will complain and campaign against parking charges – which is the only way the council can manage the demand. The more sprawl the council countenances, the more parking problems are stored up down the line. These things are linked and it's not arcane. Against my friend Phil Jewitt, you don't need to see differently … you just need to see.
So, again my question for the council is; you want us ordinary citizens to get involved, and you liked what you heard from David Sim? Great, then you have to do two things. Firstly accept that people on the ground who live the city every day may see things you don't. And second, we may need some help to make what we see and hear and experience useful … I don't want to just complain, I want to know I'm listened to but I also want to know that what I say will be worth hearing. Perhaps people like me need some training? Maybe we could get David back for a summer school?