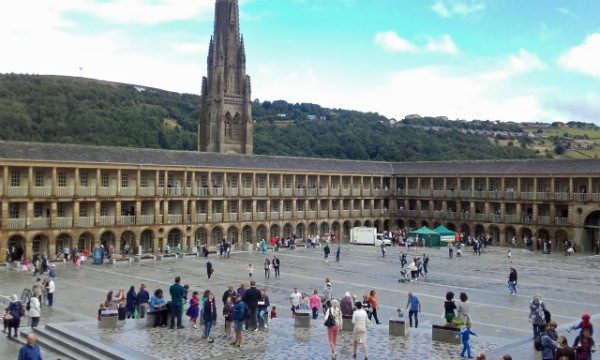 The Halifax Piece Hall, Linking Time and Place, by Danni Kerr…
Setting out to Sheffield last Tuesday, I got stuck behind a slow moving tractor towing a trailer full of livestock. Not an unusual thing in the rural areas around Huddersfield but it's when they turn up in extended convoys that you realise something's going on. I remembered it was Yorkshire Day and agricultural shows and preparations for things Yorkshire are the order of the day. Judging by the scale of the trailers it was obvious that sheep were on board, a key part of Yorkshire's economy feeding the growth of our towns and cities through the industrial revolution.
So, it's only fitting that my objective for the day was the re-opening of The Piece Hall at Halifax. As I mused on how the day would pan out, the heavens opened and my business in Sheffield was a soggy rushing between covered concourses over roads turned rivers. A European colleague at the university commented with a wry smile, "This is so Yorkshire."
This fine August weather trailed me like I was a rain goddess up the motorway, hanging a dark golden veil over Halifax. I could talk at length about the minute details of the Piece Hall its history and its architecture but this is all set out in their wonderful website. On a personal level, I know it from my time at art school in Halifax making my way down through boarded up back to back terraces through the proud arcades into the Piece Hall's impossibly sloped courtyard.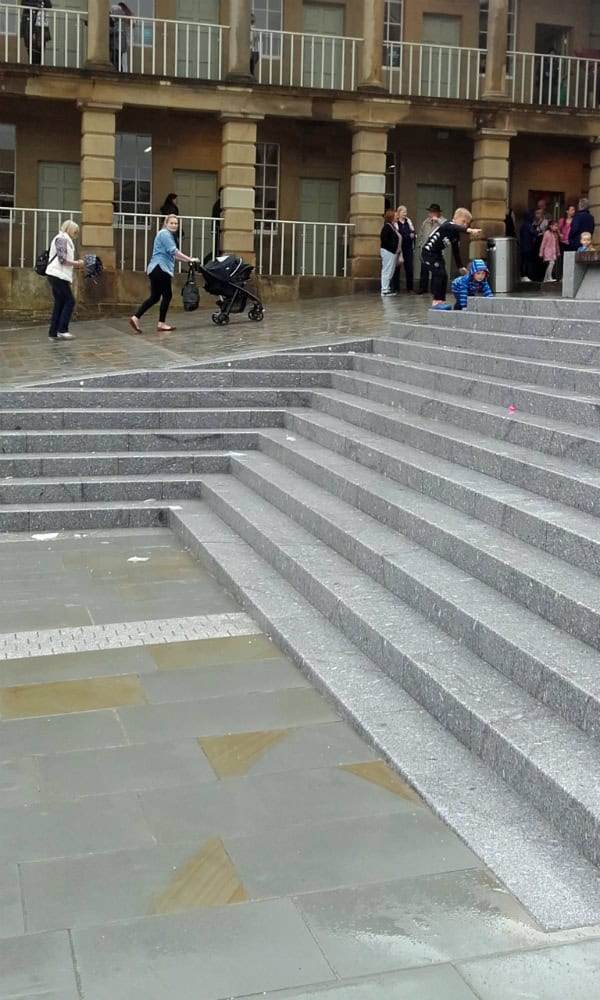 So I learnt all that time ago that the 'piece' in Piece Hall refers to a standard size of the woollen cloth traded at the hall. I could see how the hall itself is a perimeter building with colonnaded galleries on which trogladoid traders had stored their wares. The thing is, this cloth trading function didn't actually survive that long (just a couple of decades) before the Hall went to endure a life of relative drudgery as a market and storage space. It was only more recently that it came to life as an artisan and craft quarter.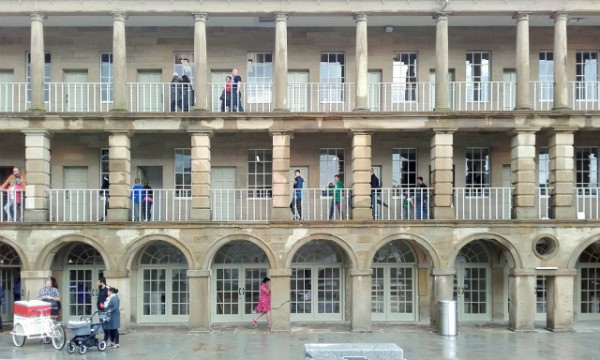 Thankfully, the rain abated and I could appreciate how the restoration had rescued the fabric with unashamed fresh stone and how the Halifax gradient had been tamed by a major remodelling of the courtyard. With this super generous expanse of flat space, I think we can expect that this year's Christmas market will be just great. But you know – we should appreciate all this rain; after all it fed the wool mills with power and water (and filled the canals to market). And just to remind us of this historical juxtaposition of time and place the wet lush hills rise over the roofline of the hall, the providers of it all: water, sheep and stone.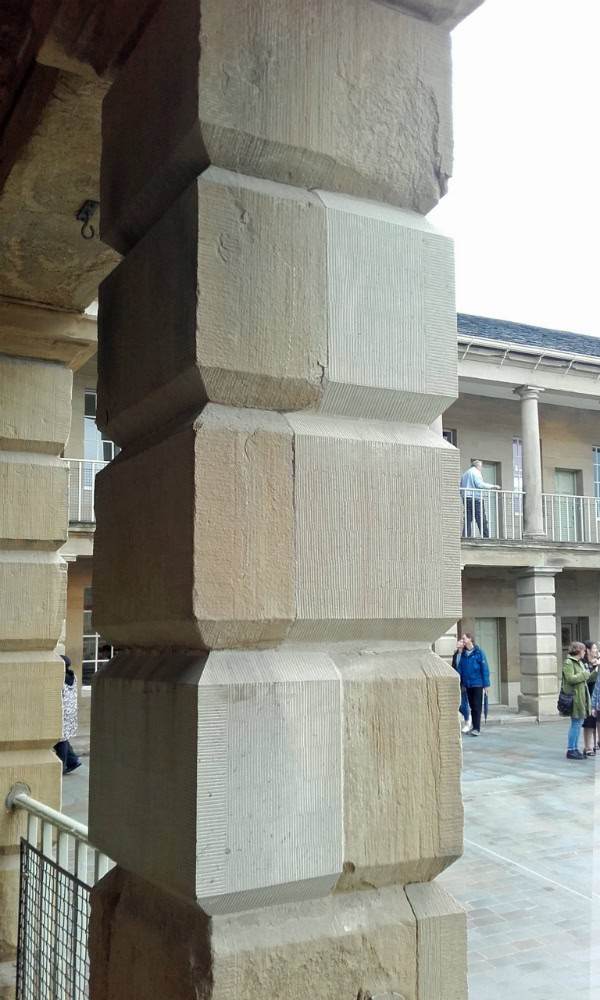 As the sun returns a humane glow to the stone, the people of Halifax flood into the courtyard but are stemmed by only fluorescent bag checking security persons. I wonder how so much has clung to this place surviving as shadows over the years such as the Square Chapel now restored with a beautifully light touch as a music venue and community hub. What a wonderful discovery, the Square Chapel Arts Centre. For sure, its exterior recedes a little, apologising for being a contemporary intervention on a cobbled street wedged up against the unrelenting exterior grit of the Piece Hall.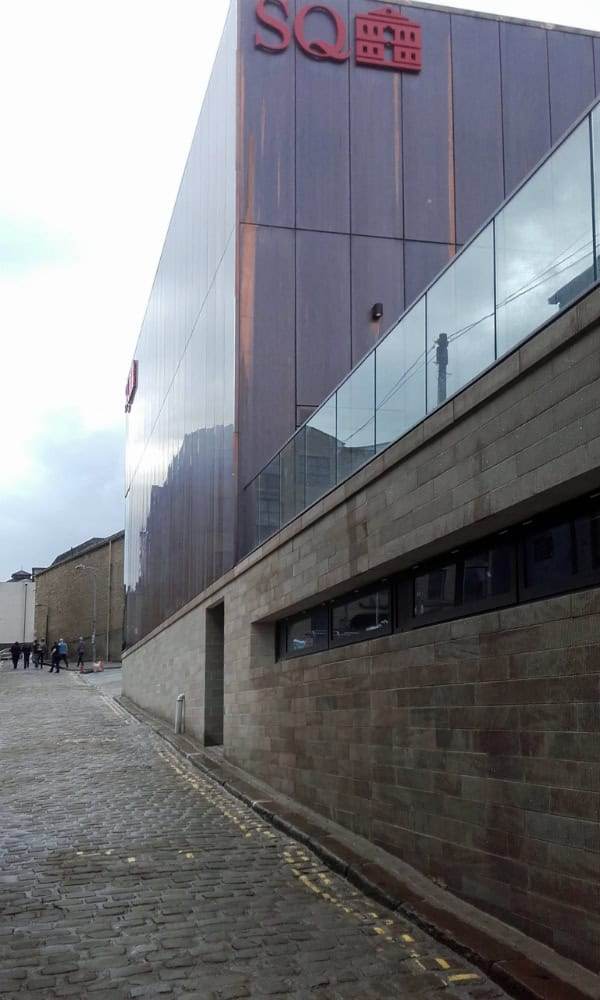 Let's go inside and refresh our souls in the filtered natural light of this Gem designed by Derbyshire (nobody's perfect) based Evans Vettori Architects. What can I say, the foyer is beautifully lit connecting and ordering the new and old with its own vibrant contemporary character – a link across time and space. Well, what can I do but enjoy a half a pint of Dark Squall porter and contemplate a return visit to take in a show in the auditorium.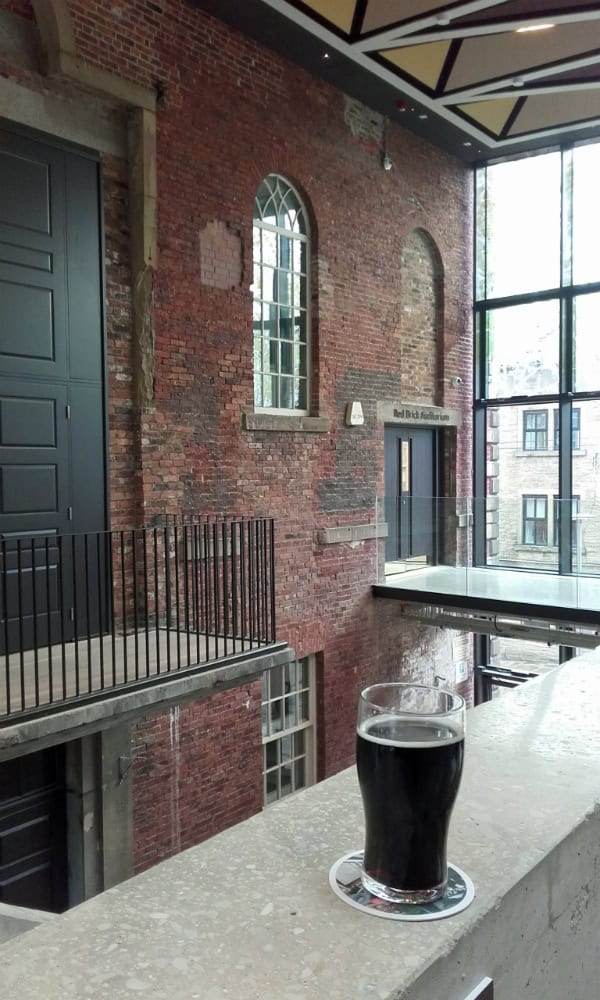 I could have a look on the practice website and see where the intriguing unexplored routes lead but that would be spoiler wouldn't it. No way, I'm coming back, perhaps on a sunny Yorkshire day in December.
On the way out I passed this chap called Harry from the BBC, must be something going on.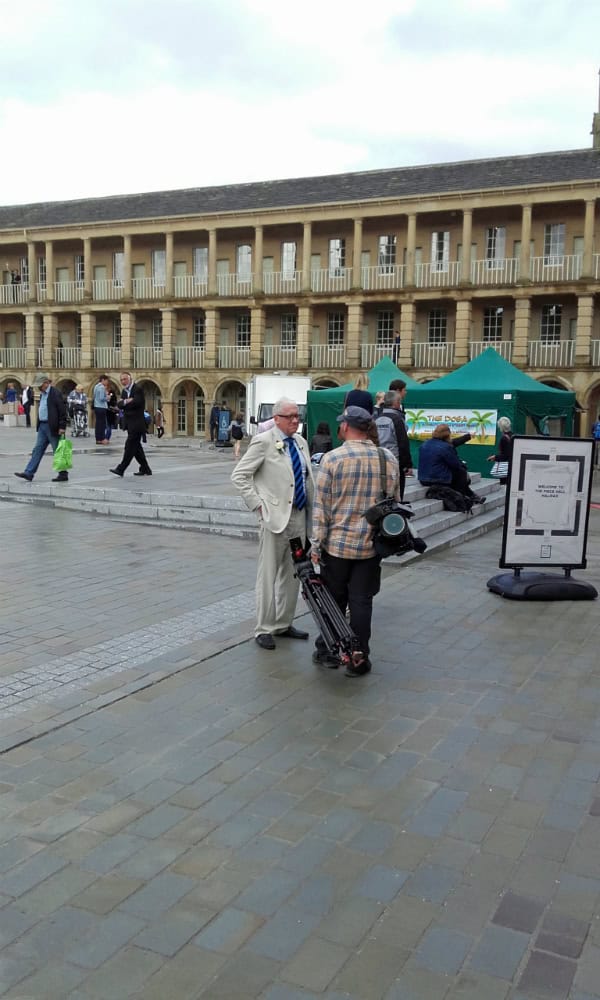 Danni Kerr is a Chartered Architect running a micro practice out of Marsden near Huddersfield. She also runs a studio at Sheffield School of Architecture is Chair of the Huddersfield Society of Architects and is a Role Model for the RIBA (Royal Institute of British Architects)