Search for 'real Vikings of Yorkshire' to be cover stars for novel by Mytholmroyd author.
Todmorden-based Ben Glynn was transformed into a Viking for the first two novels in Gina Dale's Viking series.
Mytholmroyd-based historical fiction author Gina Dale is searching for three new cover stars for the third novel in her Vikings series. The books tell of the Vikings in Yorkshire during the late 9th and early 10th centuries, when its rolling hills were rife with kidnapping, killing and infighting and follow the story of the Ragnarsson dynasty and their battle to hold Jorvik.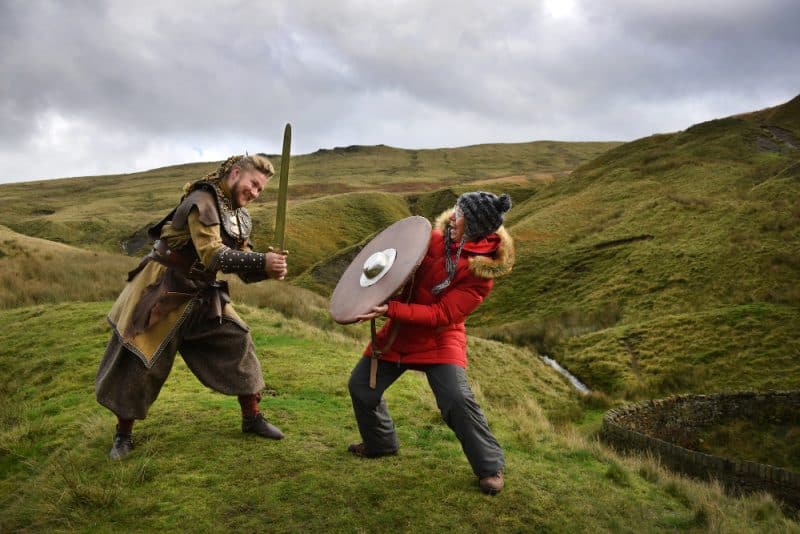 For the cover of the third instalment in her Vikings series, Gina Dale is looking for people to represent Torri Ragnarsson, wife of Ubba – who could be a woman in her forties or older and who would also be happy to be made to look up to around 60 years old – as well their children, a young man, aged around 18, and a girl aged around 16. The characters are described in the first two books as having blonde hair and blue eyes, so people interested in portraying these characters may need digital changes made to their photographs to match these features.
Todmorden-based activity instructor Ben Glynn was the cover star, alongside horse Sorrento, who is stabled at Shaw Farm Equestrian Centre in Todmorden, for the first novel in Gina Dale's Vikings series – Viking Wolf. The photo shoot was a collaboration between several West Yorkshire businesses including Katie Amos from www.equineshoot.com and stylist Kaye Volante from Zeitgeist salon in Hebden Bridge under Gina's creative direction.
For the second novel in the trilogy, Viking Warrior, which has just been released and is gaining many five star reviews, Ben Glynn was again transformed with period costumes and hair styling, and the cover features dramatic new images from a shoot at Mankinholes near Todmorden.
The new cover stars, who will feature alongside Ben, will need to be available for measurements and hair and make-up trials in September, and a photoshoot in autumn on a date to be agreed. Travel expenses will be paid and Gina is hoping to find local people to make this a truly West Yorkshire project.
Gina Dale said: "My novels are for a wide-ranging audience from across the world, including fans of TV programmes like The Vikings and The Last Kingdom. It doesn't matter where these cover stars are from originally, but having people who are locally-based so we can have a couple of meet-ups and rehearsals for hair and make-up is quite important. They are described in the first two novels in the Vikings series as having blonde hair and blue eyes, so it's important we have people who would be happy for their photographs from the shoot to be digitally adjusted, for continuity."
"I've independently published my novels so we don't have huge budgets for the cover shoots – but it's really important that this is real collaboration between everyone involved and I'd like to welcome more people into this Viking family. Hopefully this will suit some local people who are keen to develop a portfolio of professional photography for modelling or acting careers, but I'd love to hear from absolutely anyone who thinks they might fit the part, regardless of what they do or would like to do as a career."
Ben Glynn, cover star of Viking Wolf and Viking Warrior, is 28 and works as an outdoor activities instructor at Dobroyd Castle in Todmorden. He was selected for the shoot after a recommendation to Gina Dale from Katie Amos at Equine Shoot Photography, as she had previously been the photographer at Ben's wedding.
Ben commented: "I was surprised and very pleased to be approached to do the shoots for Viking Wolf and Viking Warrior. I'd never done anything like that before but I'm really open minded about trying new experiences and it sounded like an exciting thing to do. As part of my job as an outdoor activities instructor I get involved in lots of pursuits, but I've only ridden a horse a few times so this was a great challenge too.
"Gina, Katie and Kaye were a great team to work with – very supportive but also really clear on what they needed me to do to get the right images. I loved being part of this team and my friends and family have found it quite amusing that I'm now immortalised as a Viking on two book covers – with potentially more features to come."
Gina Dale was inspired to write about the Vikings in Yorkshire following an ancestry DNA test which revealed she had nearly 10% Scandinavian heritage and 84% pure Yorkshire – she became intrigued about this blend had happened in her family history.
Gina Dale commented: "I'm delighted that my latest instalment in the Vikings trilogy, Viking Warrior, is getting some great reviews. Through my research I've uncovered so much rich history about Jorvik battles and combined this with my love of writing about family dramas, romantic relationships and complex, flawed characters. It can be read as a stand-alone story; readers don't need to have followed the first in the series to enjoy it.
"I'm getting some great feedback on the cover images of Viking Warrior, too. Showcasing Yorkshire and the talented people who live here is really important to me. I've been inspired by my surroundings and the history of Yorkshire for a lot of my work – we have some great tales to tell."
If you would like to be one of the cover stars of Gina Dale's next Vikings novel, go to www.bit.ly/realvikingsofyorkshirecoverstars to find out more, or email two recent colour photographs – head and shoulders and full length – along with your name, address and contact number to Gina Dale at ginadalemarketing@gmail.com by 10pm on Friday 26 August.
Viking Warrior is out now and available to buy on Amazon or via independent bookshops.
Gina Dale's new website – www.ginadalepublishing – features audio and video content, including trailers, interviews and extracts, and free sample chapters from her first four novels – Brushstrokes, Darkness Falls, Drama Unfolds and Viking Wolf.