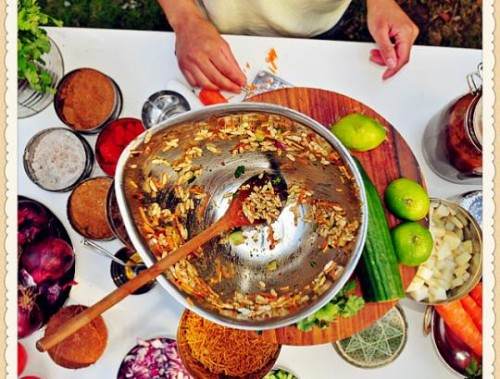 Amazing Graze is Leeds' first ever festival celebrating all that's good about life on the street, organised by Left Bank and Manjit's Kitchen. Eat award winning street food whilst supporting local street artists and performers.
The event is hosted at Left Bank Leeds, a new arts and events venue based in the unexpected and breathtaking surroundings of the former St Margaret of Antioch church on Cardigan Road, LS6. Since its first event in 2009 the venue has seen an ever growing programme of events, from beer festivals to experimental music.
Manjit's Kitchen is a Leeds-based Punjabi street food caterer that has been wowing people in Leeds for 4 years.  A small family business who pride themselves on taste and quality, Manjit was taught to cook by her grandmother, and was a British Street Food Awards Finalist 2012.
The festival kicks-off on Friday 5 April at 5 pm, with food stalls and music until 11 pm.  The fun continues the next day, 6 April, from midday to 11 pm with a more family centered appeal. A variety of art workshops will take place on Saturday afternoon for people of all ages, including lantern making by carnival experts Handmade Parade, The lanterns will later be hung to decorate the venue and can be taken home after the event.
Entry is free but you will need to bring money for food, drink, workshops, stalls and buskers.
Confirmed street food traders include local favourites such as Pizza Pod, Fish &  alongside the world famous RibMan and Gingers Comfort Emporium. Left Bank have worked closely with Jonny Walker, founding member of ASAP (Association of Street Artists and Performers) to bring you some of the best street performers around. There will also be art stalls featuring publications from Black Dogs, Footloose Workers Co-op and others. With circus workshops, a live graffiti wall, an open mic stage and even a falconer you won't be short of entertainment! Jonny Walker will headline on Friday and The Vickers of Skiffle on Saturday with DJs to follow.
Vik Banks, from Left Bank Leeds, said "We are delighted to work with Manjit's Kitchen on this first for Leeds – and to be able to showcase a number of local food traders, musicians, artists and market stalls in this great venue."
Manjit said "We've cooked in Left Bank before, and are thrilled to be able to share the fantastic space with other street food traders, and the people of Leeds.  We hope that this will be the start of another great festival for Leeds – a celebration of all that is good about life on the street."
For more details on confirmed artists and traders, follow the event on twitter @Amazing_Graze
We are delighted by the concept behind Amazing Graze  Ever since we encountered Manjit Kaur on Twitter three or more years ago, we've been impressed by how she and her partner Michael keep coming up with great new ideas and fresh experiences.  That's why when we heard about their latest plans we asked if we could have a good root about behind the scenes. So over the next month we'll be pairing Yorkshire food bloggers to find out more about the street food traders you'll be meeting when you come.