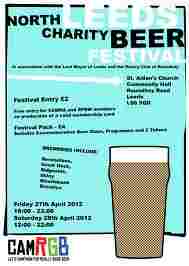 Beer Festivals are a great way to raise much-needed funds for Charity – and at the end of the month, The Rotary Club of Roundhay and Voluntary Action Leeds should be in line for some donations raised by thirsty beer fans through The North Leeds Charity Beer Festival.
Held between the 27th-28th of April and taking place at St Aiden's Community Church Hall in Harehills, the festival will showcase beers from independent brewers all over the region, and costs £2 to get in and start sampling those tasty beers. Local brewers Ridgeside, Ilkley, Great Heck Brewing Co, Revolutions Brewing and Leeds Brewery are all participating and  backing the festival, which has been organised with the help of Leeds-based Beer Writer Barrie Pepper.
Pop along to the main site to check out entry prices, sponsorship packs and directions. Have a beer,have fun,  and feel good about where your money is going.