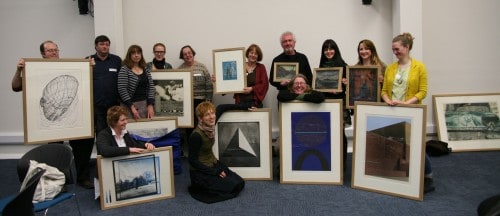 Back in February, the Culture Vulture went 'Art and About' with Bryony Pritchard, Visual Arts Director at Grassington Festival. The 2012 Grassington Festival Art Trail was put together in partnership with Leeds Art Gallery, and involved 15 artists from around Yorkshire creating new artworks in response to original pieces from the art gallery's picture lending collection. Having put a call out for artists to get involved in the festival's annual visual arts programme, the artists were beginning to develop their ideas.
After a busy festival fortnight, we now catch up with Bryony to see how the art trail went, and find out more about the inspiration behind the works from the artists involved.
Visitors can still go and see parts of the art trail, as some artworks have been granted permission to remain after the festival (which ended on 30th June), including the "man on the hill" sculpture by Jayne Lawless, which will be in place now until the end of September.
"It's been a great experience working with all the artists and helping them find new interesting homes for their artworks in the village. The project started months ago with conversations with members of the community to make space in their windows, on their walls and floors as well as a few more interesting locations! So a big thank you goes to them. Throughout the festival fortnight, Grassington Festival visitors could enjoy fifteen pictures from Leeds Art Gallery as well as fifteen creative responses all around the village." – Bryony Pritchard, Visual Arts Director, Grassington Festival
Here are the artists' reflections on the art trail project about making responses to Leeds Art Gallery's collection.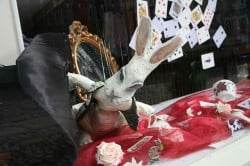 Installation by Emma Bayliss in shop window.
"John Peirson's painting depicts the theme of magic with humans as the creators.The content of this painting drew me in as a theatrical piece, and I became fixated on the rabbit in the hat. Alice in Wonderland became my inspiration for this piece, especially watching Jan Svankmajer's reimagining of Alice, as a dark sequence of events through stop-motion animated puppetry. 
You might see the Rabbit as an eerie character but he is creating life through puppetry of his own, he is guiding the Magic. It was important for me to create something powerful and enchanted, which I think this does, don't you…?"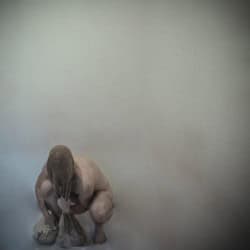 Photographic documentation of a performance by Robert Hardaker
"This series was made in response to Richard Hamiliton's 1970 piece "Kent State". As "Kent State" marks the end of an era in history and the end of a life, my pieces explore endings happening in my life, as well as trepidation for the future. My work is an on-going experimentation in performance; a perpetuating self-portrait which documents the bizarre, highly personal acts that usually only take place in private. Through documentation or the presence of an audience these works became a spectacle, allowing an even closer view into these cloistered moments while exposing the artist in a way that is brutally revealing."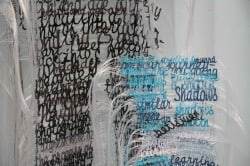 Installation by Donna Rumble-Smith in the hairdressers
"My inspiration is time and place and through this installation I reflect on, Toshi Morinon's Photographs 1950-1975, taken at the same location, but 25 years apart. These words stitched are my questions, my ramblings and my thoughts on the figures within the picture. Layers of embroidered text stitched on hair-like thread are used to make this lace, which creates an ethereal quality and represents my unanswered questions."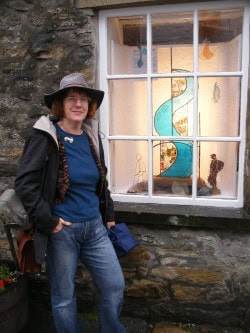 Glass installation by Nick Claiden
"The print I selected has three elements that appealed to me, the way the figures have been layered, the simplicity of the scene and the urban and enclosed aspect. I have contrasted these elements with Grassington and the surrounding countryside, the feeling of escape, up and out, which one gets moving from city to the country, as well as from within Grassington to the surrounding countryside. Essential to the piece are the people making or attempting that escape."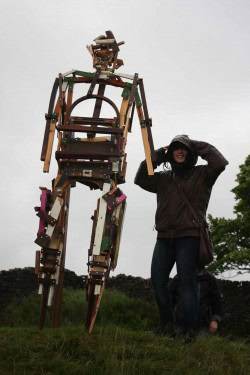 Sculpture by Jayne Lawless
"I loved the romantic, moody feeling I got from this painting, its initial dark overtone but then on closer inspection revealing its warmth via pink tones in the palette. I was equally drawn to the structures in the landscape, industrial and alien. The day we visited Grassington, the weather was wild and dramatic. It seemed in tune with the painting, similar landscapes, similar weather and similar industrial connections."
Poems by Gavin Jones, written on lead flashing.
"Sidney Nolan's "Minotaur" stood out immediately as it seemed to have an enigmatic quality. The subject seemed multifaceted – and so I began to write from whichever perspective took me. Over the course of the cycle certain themes developed – lead mines and the labyrinth; rituals; the dual nature of "the beast"; the Minotaur as a fear/challenge; inhumanity etc. Finally the task of producing poems for outdoor display brought me to the solution of using lead tablets. This linked in with the running lead mining theme, and with the history of Grassington itself."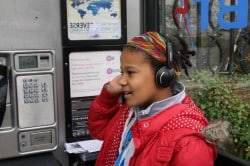 A poem by Noel Connor inside the telephone box
"When I first caught sight of the small canvas by Harold Newman at The Leeds City Art Gallery, I could hear the painting. It certainly caught my eye but more accurately it caught my ear. His painting of a terraced street in the early 1960's could be from any Northern city. My poem is preceded by authentic children's street song, recorded in the early 1960's. It sets the mood for me to imagine myself back, to explore and re-value long forgotten details, the beauty of the seemingly insignificant. I thank Harold Newman for that."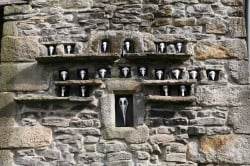 Installation by Angie Rogers inside a dovecote
"Norman Ackroyd's etching 'Black Landscape' inspired thoughts of the starkness of the winter land, a black and white world where the underlying skeletal structure of things is revealed. As soon as I saw this lovely old dovecote I knew I wanted to put work in it. The little niches remind me of a cabinet of curiosities where people display the special objects they bring back from their travels. I like to keep the bird skulls I find on walks.  They are very light and beautifully complex and still speak so strongly of the living creature and its place in the world. The skulls are from Crows, Ducks, Little Owls and a Bar-tailed Godwit which is a long-billed wader like a Curlew that visits us in the winter. Of course in real life they a very much smaller."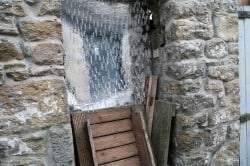 Installation by Jenni Danson
"Desert Wreck by John Salt made me consider the broken windscreen and front lights of the car and the glass that remains after a road accident, and as well as the effect of road collisions on a country village. In my work I respond directly to empty and ignored spaces, making work specifically for those spaces in a way that brings them to notice. Here empty boarded up windows are transformed by the mirrored pieces. The glass is also transformed from the horrific reminder of a collision to something of interest and beauty."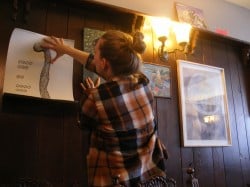 Installation by Jo Blaker in a pub
"My response was to create my own 'Lending Collection', the contents of which are displayed on a wall. You are invited to browse this selection of fine works, including highlights such as a photograph of some graffiti in memory of musician Freddie Mercury and should you wish, to request to borrow an item."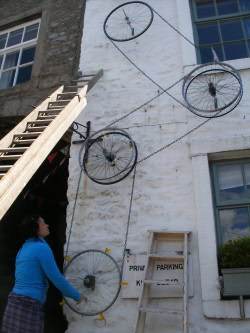 Kinetic installation by Carine Brosse and David Ashby on the side of a house.
David and Carine chose Electric Fires by Patricia Sterling because of its sense of motion. They wanted to link their project with the Art and About theme of movement: so Engrenage is a playful and interactive piece, where people are encouraged to turn the wheels to see different circus characters going round and round, watched over by the ring master, a magician's white rabbit out of the hat! Again, the idea of the circus came out of the idea of motion, as each act of performance demonstrate skills and control of movement. Also, the black, orange and purple of Sterling's print gave a sense of vintage circus poster. The installation has been made with discarded bicycle wheels, chains, a mix of papier mache and toys sculptures, and with the indispensable help of Paul Walker, the local metal craft worker.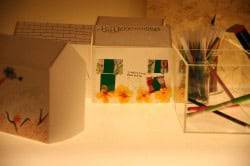 Interactive installation by Deborah Britton in the Town Hall.
Everyone was welcomed home at the Town Hall to decorate small paper houses. The houses are the artist's response to Karen Babayan's Comforts of Home, 1985, a lithographic print portrait of domestic cosiness, which, for the duration of the festival, will belong to residents of Gills Care Home in Grassington Village. Deborah Britton worked with the residents of Gills Top Care Home in Grassington to create and decorate their own paper houses from memories and through discussion and conversations. Their responses are amongst these paper houses.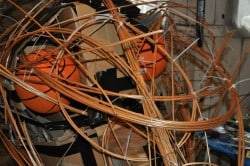 A willow sculpture by artist Edward Mortimer inspired by Head Suite 2 by Victor Newsome.
This print is in the window of The Hedgerow, Station Road, Threshfield.<br><br>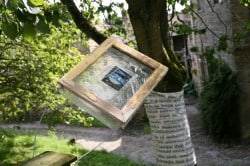 A three way collaboration by three artists, Sue Vickerman, Helen Peyton and the artist who printed the original piece in Leeds Art Gallery picture lending collection, Tony Connolly.
Coloured surfaces have power that stimulate our eyes and influence our awareness.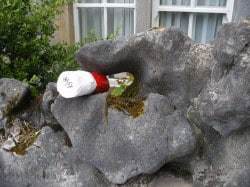 A participatory project by Alice Bradshaw
This project is inspired by Martin Elliott's Sad Splash. Movable visual markers were located at various points along the art trail and people are encouraged to move them for one point to another. Participants were also encouraged to document their interventions by photographing, filming, drawing and/or describing the movements of each marker from A to B.
Links
Grassington Festival 2012 Art Trail Facebook group – Contains many photos and discussions about the development of the projects.
Grassington Festival website – The annual call out for artists goes out in January/February. If you are interested in getting involved in Grassington Festival 2013, keep checking the website for details later this year.
Leeds Art Gallery picture lending collection – The picture lending collection remains an asset to the people of Leeds, any of whom can visit one of the quarterly selection days and take a piece of artwork home to enjoy from just £4 per month.