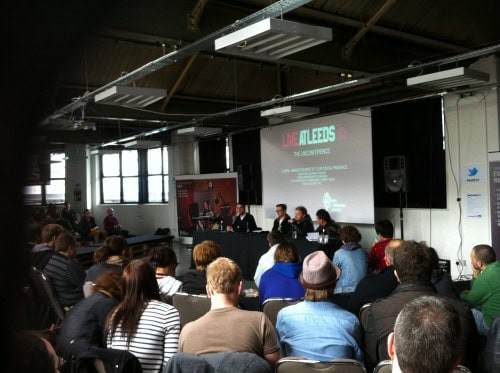 Guest review from Penny Brazier (@tokaipenny)
If an inner-city music festival bursting to the brim with great music wasn't quite enough for you, Live At Leeds nowadays features the Unconference, to ensure we're informed as well as entertained. This day-long music industry forum features expert advice from panelists including representatives from BBC 6 Music, Drowned In Sound, Pitchfork, writers for the Guardian, NME etc and various artist management companies, all focused on advising the city's talented on how to get their big northern feet in the door (or if they've already got a foot in, then how to follow it with a firm elbow).
This is the third Unconference, and this time it's being held on the top floor of Munro House. It's a suitably edgy and industrial looking venue, you half expect they were filming a BMX video here yesterday with all the exposed brickwork and the fact that it's pretty blimmin cold. Luckily the free admission also includes two complimentary Tiger beers (or cokes) so lunchtime drinkers are soon provided with a beer jacket to see them through the rest of the afternoon -undoubtedly helping bring down a few inhibitions when we get to the networking part.
Digital Futures: Keynote Speech
Setting us off is our keynote speaker, BBC6 Music's Tom Robinson, who, in spite of listening to on the radio, I hadn't realised was the Tom Robinson of the Tom Robinson Band (2-4-6-8 Motorway!). This delights me, as does his rousing speech built around the event's theme of Digital Futures. Tom lays bare the facts and figures that have kept avaricious record companies very rich and artists very poor through the whole of the 20th century, and then goes on to explain how the development of new technology is beginning to put the power back into the hands of the artists. You still need dogged self-belief and persistence, but it seems that for the first time in a long time – maybe ever? – talent counts for something in the music industry. Thank-you, the internet! And thank-you Tom Robinson. I go for my first break feeling positively revolutionary.
Making The Most Of Your Digital Presence
Next up is "Making The Most Of Your Digital Presence" – a seminar featuring online and social media expertise from panelists Sean Adams (Drowned In Sound), Colin Roberts (Big Life), Darren Hemmings (Motive Unknown) and Nick Holden (Get Cntrl). I was dreading this one as I thought it sounded tedious and likely to be helmed by numpties. Happpily, I am mistaken, and this turns out to be my favourite talk of the day. The charismatic panel manages to pull off being approachable, entertaining and genuinely informative on how bands and artists can take control over their digital presence on a number of different platforms. To sum up – develop an authentic voice for Twitter (don't just plug stuff), get things on Youtube (even if it's just audio with a still image), give a bit away for free on sites like Bandcamp and Sound cloud (value doesn't always come with money) and above all that in order to communicate with your fanbase you need to develop a full understanding of their online behaviour and the platforms they use. I'm fairly sure this is useful even for those who don't quite grasp the function of social media yet, and for the rest of us it was gives focus and clarity to what we already suspect to be true. And it is very funny. All panels should be funny.
Social Recommendation & The Digital Press
It's a hard act to follow. The Digital Press panel (featuring Sean again, with Matt Britton from the Stool Pigeon, Guardian writer Dave Simpson and Laura Snapes from Pitchfork) demonstrate good knowledge and a lot of passion, but the discussion tends to wander back to what not to do/ how not to irritate journalists (who are clearly inundated with new music and wearied by 99% of it). Every now a glimmer of something interesting pops up – how to create a brand/image for your music, how to give a good interview, why creating a scene/movement is magnetic to journalists, but the vein is never fully mined. Some more structure would have been great – although maybe the audience should have asked more questions in order to get there. Perhaps I should have had that lunchtime beer after all.
Listening Panel
Now this is a truly great resource, and I'm now going to berate all the bands who sent stuff in and then didn't stick around to hear the feedback. You are idiots! Even if you don't buy into what the listening panel are saying, the opportunity to get industry advice on your own music at this level is extremely rare. The panel is made up of previous speakers Sean, Colin and Laura, with the addition of Lewis Jamieson (Loudhailer Press). We listen to excerpts from music previously submitted by hopeful artists, and a selection are picked at random, then the panel give thoughts and advice. All the panelist contributions are interesting to hear (even for those of us not in the bands being assessed) but Jamieson is the clanging gong of common sense, managing to put aside his own tastes and view each submission objectively. This panel is great precisely because bands shouldn't be interested in whether industry bods like their music or not – they should be interested in how and why it can appeal to a wider audience, and what tools to use to get there. Good stuff – definitely worth thinking about getting a major label representative on board for next year.
Meet The Experts
After a short break (I feel bad that I missed the film/performance from Mountain Range/AudioPORNOGRAPHY but I needed air and popped downstairs to see the Leeds Through A Lens exhibition instead) the room is moved around and we're encouraged to get into small groups so experts from various corners of the music world can come around and talk to us about what they do. It's good to see a cross-section of the industry, and although we don't get round them all there's a chance for people to chat to small label owners, people in music publishing, members of up and coming bands, a representative from BBC Introducing etc, all with valuable advice to impart. It's relaxed networking in a completely non-threatening environment, and I'm heartened to see a group of fresh-faced kids simply bursting to start their own record label eagerly pumping Simon from Brew Records for advice. In spite of having no youth, enthusiasm or aspirations of stardom of my own, I'm surprised and pleased to find myself joining in at points. That might have been because I finally caved and got that beer, mind you.
So! The Unconference. A valuable annual resource, and one we are extremely privileged to have on our doorstep. Whether you're in a band, run a label, write a music blog, or are simply a curious bystander like me, then you're a fool if you missed it. Make sure you're there in 2013.