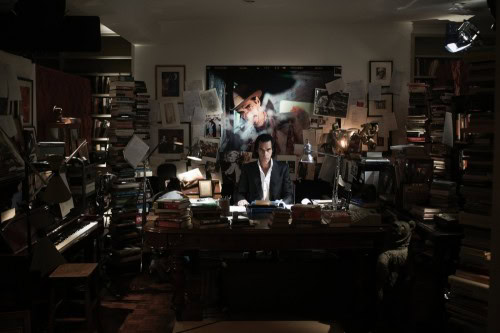 This year has seen the release of examples of the worst and the best elements of rockumentaries: namely the one on Pulp, A Film About Life, Death & Supermarkets (boo!) and 20000 Days on Earth about Nick Cave (hoorah!)
For the former the excellent live footage is sliced up annoyingly and the interviews with fans are particularly banal. Even Jarvis Cocker doesn't appear particularly revelatory, and there are only bodd moments of real interest.
But for the latter directors Iain Forsyth and Jane Pollard have created a masterpiece that reveals so much beneath Cave's slick exterior. Even for a big fan like myself, who has read dozens of 'exploratory' interviews and documentaries (Wim Wenders' is excellent), there is so much that hasn't been spoken of or at least put this way before.
And it's a pretty simple construct: Nick Cave and the Bad Seeds are seen in rehearsal, recording and in concert, all filmed with a candid cine-eye that appears not to intrude on the naturalness of the moment. Then the biographical footage, Cave in a domestic setting, driving with old friends or being psychoanalysed, that is equally blissfully organic and simply fascinating.
So we into Cave's own cave, the mindset of the man as well as the creative process of the musician-poet. It's great to see him converse with actor Ray Winstone (Cave also has an impressive acting record), ex-Bad Seed Blixa Bargeld (click here for a review of Blixa's recent Leeds performance) and former creative partner Kylie Minogue (an unlikely combination, I know!)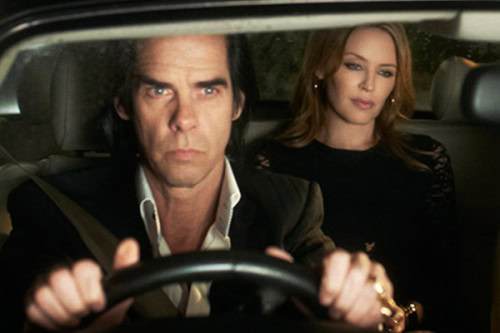 Cave's voiceover is full of aphorisms, pearls of wisdom that it is almost hard to take in they come so thick and fast. And there is the camaraderie with Warren Ellis, with whom Cave has written numerous brilliant film scores, that again tells us much about their relationship and personalities.
More than anything the film rubbishes the kind of singular tortured artist that is sometimes a default mode for biopics like this, preferring to emphasise the collaborative and highly organised nature of his work. Yes, it's a long way from the self-destruction and chaos of his Birthday Party days but these too are experiences he prefers not to forget (there's even a fake Cave archive with pix from the old days).
In particular the film made me totally relisten and reconsider last year's album Push the Sky Away. It may be the fact that at the time of its release I was in a state of maudlin self-obsession (excuse the confessional!) but now it simply sets me into a High Romantic Mood, in love with the idea of love. It is full of pure poetry with a plaintive and contemplative backing include a children's choir that is the perfect touch, adding a naivety and sweetness to the somewhat melancholic mix.
It really has a secret romanticism or hermeticism that transmutes Eros into further sublimity but also manages to be somehow earthly). There is a gentle sense of worship and praise though always tethered by a touch of irony. Cave even manages, as in the film, to comment on his own working methods in Finishing Jubilee Street. Though it is the title track that has become the perfect soundtrack to my October beatitude and blues. It may be on a slow fuse but when it goes off this is one hell of a BANG!
A well-considered and masterfully executed film that has great depth both emotionally and intellectually and, as John Peel used to say very selectively, may well be life-changing.
As seen at Hyde Park Picture House, October 2014. Click here for their latest programme or here to see their showings as part of November's Leeds International Film Festival.