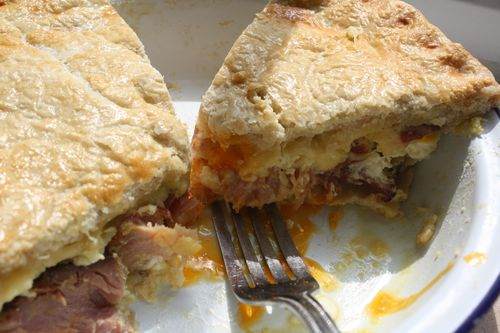 Mark E Johnson introduces Yorkshire Grub. It's not just for Yorkshire folk…
When Ella 'Deliciously Ella' Mills announced (in a roundabout way) the death of clean eating back in August, I knew my moment had come*.
'Finally,' I thought, 'Britain is ready to eat a bloody pie again.'
And, with any luck, not just eat a pie – bake a pie.
Because, yes, vegetables are really good for you. I'm a firm believer in Michael Pollan's maxim "Eat food, not too much, mostly plants." But I'm also a firm believer in the fact that most of us don't have the time to produce beautiful, Instagram-worthy works of food-art when it's 6pm on a wet Tuesday and you've got five people in need of a feed. I also believe that at that moment it's all too easy (and understandable) to reach for a Dr Oetker frozen pizza that you got on offer at Farm Foods, if you don't have the tools to do otherwise.
And that's a shame.
I have many wonderful cookbooks full of wonderful recipes for beautiful dishes. But, despite what many of their authors seem to think, a lot of them are not very easy or convenient.
For one, many chefs don't seem to get that lots of us live outside London, shop at Morrisons and barely even see a heritage tomato in a standard calendar year, never mind goats curd or panko breadcrumbs.
For two, many of us need a tea that can be whipped up in half an hour or less without the benefit of professional knife skills and food processors so advanced they're almost sentient.
For three, feeding a family or a group of friends from a lot of modern cookbooks can get really expensive, and right now everything else is getting really expensive, too.
So, sure, maybe we can shop for and whip up elaborate, beautiful foodie food every now and then, but we also need the knowledge and the tools to produce everyday food quickly and on a budget when the need arises.
Which brings us around to traditional Yorkshire food and Yorkshire Grub, and the website I've set up for the purpose of digging up, dusting off and (sometimes) modernising the sort of food your gran used to make.
There's a wealth of brilliant recipes and ideas buried in old books and cook's heads. Some of them are delightful, unusual and no-brainers (hot bacon cake with blackberry ketchup, anyone?) Some are weird and obscure (next spring I hope to brew Gale Beer with bog myrtle, using the same techniques as medieval monks). But nearly all of them are thrifty, accessible, easy to cook and made from readily (often locally) available ingredients. And, hey, lots of them involve or go really well with loads of veggies!
There's a huge body of knowledge out there being slowly forgotten that's about taking straightforward ingredients and really making the most of them with a bit of creativity. Sure, you could make a crusty cheese bake using an artisan sourdough. But you could also make it with a baked-in-store tin loaf that Asda has marked down, or some sliced white.
Granted, eating pie and pudding everyday isn't a great idea unless you're down the pit all day (and probably not even then) and I wouldn't advocate for it. But Yorkshire cooking isn't just about that. It's about taking humble ingredients and learning a handful of simple techniques to get the best out of them. It's about everyday food, everyday ingredients and being able to treat yourself without first having to make an appointment with your bank manager.
I'm not, for a moment, suggesting you should throw away all your Ottolenghi cookbooks or never make an avocado cream. Rather, I'm pointing out that we also have a real wealth of food history and stories to learn from right here in Yorkshire. That's something to celebrate, not forget.
Mark E. Johnson runs Yorkshire Grub. You can follow the project on Twitter, Facebook and Instagram.
(*Yes, she's still pushing food and ideas that bear all the hallmarks of 'clean eating', but it's definitely dead, OK?)