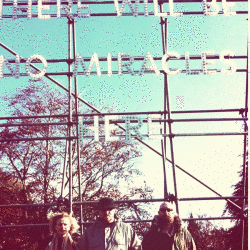 Tom Anderson ventures in the eccentronic with ERC's new wonderfully weird album, Magpie Billy And The Egg That Yolked…
Sheffield based Eccentronic Research Council have finally unveiled the awaited follow up to their critically acclaimed 2012 debut '1612 Underture', 'Magpie Billy & the Egg that Yolked (A Study of the Northern Ape in Love)'
Now, with an album name like that, you would assume that the music within would be anything but ordinary. You'd be right too. This is 33 minutes of wonderfully weird but ultimately powerful narrated electronica that seems to follow the story of two characters in love, at different times, in the same house. One character is widowed – an older, more rugged fellow who gets into fights around the pool table after a few too many. The other is a younger, livelier guy, full of the joys of life and who has a taste for the old has fashioned. The writing behind the narration is especially strong and conjures up some extremely strong imagery throughout.
'Magpie Billy & the Egg that Yolked (A Study of the Northern Ape in Love)' is a collaboration with television star Maxine Peake (who features on all but one track here), and her tone fits perfectly with both the story being told and the music backing it.
Ross Orton, who most recently had a hand in producing the 2013 effort from Artic Monkeys, produced this record, and the result is an extremely multi-layered effort. Live percussion and electronics swirl around each other masterfully while the narration continues to paint the picture, while never being overpowered by the sounds.
As for highlights, 'Mind Yore Language' features some of the album's most pounding drums while 'The Late Ms M.B' tells the touching story of how the older ape's wife came to pass and his activities since, such as building a small garden shrine. "The Return Of Mr & Mrs Magpie Billy" is probably the most immediate song here, with catchy keys and more fantastic live drumming.
If you like well layered electronica, this should already be an automatic listen. However, if you like music to paint a picture in your head, then give this a shot no matter what your preference. The story is extremely well crafted and told, and the fantastic music will be the icing on the cake. Either way, you're in for a unique ride with this album.
"Magpie Billy & the Egg that Yolked (A Study of the Northern Ape in Love)" is out on February 10th. Don't miss this.