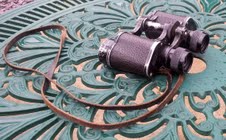 Looking for a Legacy
Alison Pilling (@AnarchicAli) has been snooping round Leeds looking for signs of this Olympics legacy, and asks you to get involved in the search.
You can hardly move these days, whether in print or online, without someone telling you that we must capture the legacy of these Olympics. LOCOG is so all-powerful these days that it has even been able to turn innocent-looking nouns like medal and podium into verbs, and it can't be long before funders are asking people to bid for legacying activity.
So since last Sunday night, I have been on a quest, a thankless mission, with little to show for it. What, in real life, is a legacy? It turns out, like the Yeti, that everyone has heard of it but no-one has ever seen a real one, just occasional bits of evidence that suggest it's not entirely fictional. I'm enough of an optimist, however, to think that this last few weeks of sporting activity, grandiose ceremonies and cheerful patriotism could have some lasting effect.
Definitions then … legacy is 'a gift', 'something handed down from an ancestor'. Legacy Trust UK – an independent charity, largely funded via the Lottery with help from the Department for Culture, Media and Sport, and Arts Council England – runs 16 programmes of activity around sports and the arts, which they say 'aim to reflect Olympic vision and values'. So my search took me to the founder of the modern Olympic movement Pierre de Coubertin, whose tenets were respect, excellence and friendship. The Paralympic Games went on to add courage, determination, inspiration, and equality. So far, so good, nothing to disagree with and plenty to galvanise.
My own experience of the Olympics was a journey from cynicism through excitement, on occasion fanaticism, back to the deflationary experience that was the Leeds Olympic homecoming. But the highs are still foremost in my mind so I want to find a way of capturing some of that spirit.
My cynicism, as for many people, was the blatant commercialisation of an event that was allegedly concerned with respect. I live very close to where the torch passed by on June 24th, so saw at close quarters the lorries and paid cheerleaders of Coca Cola, Barclays, McDonalds and Samsung. I found myself thinking that the imminent Euro 2012 football championships wouldn't dare let itself be seen as so crass, even if we're all well aware of the shortcomings of some of our footballing leaders. I have also been pretty annoyed about how very London-centric it has appeared. The torch relay felt very much like a quick sprint round the provinces and out of their comfort zone before the organisers got back to the main event, the Olympic Village – capitals very necessary. The stories of moving families out of the East End, the treatment of volunteers, G4S, did not inspire pride or dignity.
But then it started … slowly at first but building to a lot of whooping as Lizzie Armitstead powered through the rain to silver medal. 'I've met her sister a few times', I confided to my children, smugly. And it didn't stop there. Super Saturday, six gold medals in one day. Mo Farah winning 10,000m and going back to wrest a 5000m gold too with the whole nation (except maybe Aidan Burley) screaming him on, and then becoming an internet legend – you must've seen the photos. Gemma Gibbons qualifying for the judo finals and winning silver, Jessica Ennis, Victoria Pendleton being disqualified … twice, Chris Hoy getting his sixth gold medal (eat dirt, Mr Redgrave), Bradley sideburns Wiggins proving that it's not all about Tour de France and cycling cash.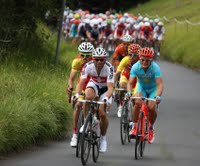 Dressage? Horses dancing to the Great Escape was weird but pretty cool. And the odd razzamatazz of the beach volleyball serving from the Downing Street end towards Horseguards – awesome! Perfect gymnasts from the strength of Gabby Douglas to the beauty of Louis Smith, and I agree with Katie Beswick that watching the sculpted bodies of those swimmers was positively pornographic.
And our local triathletes, Alistair and Jonathan Brownlee. My brother and his kids are good at this. They get up early on Sundays to swim in freezing Yorkshire lakes and cycle in swimsuits and run, which in normal life makes them a bit odd but now they're all heroes. So Great Britain proved it can do sport. Third! Behind two really big countries. So we really won morally in the sporting stakes. But it wasn't all GB-centric. On my birthday we were all out drinking and dancing but took time out to watch Usain Bolt, Yohan Blake and colleagues beat the world record for 4 x 100 metres. I feel like an honorary Jamaican , whether they want me or not.
GB was also impressive in the Opening and Closing Ceremonies (again capitals). Now you can be as critical as you like of both but let's be honest, if we were in charge, would we really have done better? Danny Boyle had a few hours and brought in music and humour and the industrial revolution and the NHS and equality and social media and never made us think it was dull lefty politics. That is quite an achievement. It combined both how we feel about ourselves as a nation but also how we are perceived by the rest of the world, bringing in some of our most famous exports – Mr Bean and James Bond, whilst sensibly keeping Clarkson's mob out of it! So the closing ceremony was a challenge with the weight of the world's intellectuals saying 'it's not as good as the opening ceremony.' But again music is what we are best known for around the world, notwithstanding the devastation that is Eurovision. Arguably Suggs should have been honest and told them he couldn't sing anymore and Victoria Beckham bow out, knowing that the chance of a scrawny lass like her falling off the back of a speeding taxi was pretty high, particularly as they had sensibly turned her mic down really low. As for the appearance of Russell Brand … it made me want to disinfect the TV. But Ricky 'Kaisers' Wilson singing Pinball Wizard and then Roger Daltrey himself! Overall … well, I liked it.
Back to this legacy though. Sebastian 'Lord' Coe has been named Legacy Ambassador (again I think capitals are appropriate). I'm in two minds about Seb. On the one hand he has outed himself as a Tory and the dullness of his speech in the opening ceremony was bearable only because he was followed by IOC man, Jacques Rogge, who appeared to have already died. However he made a cracking job of making sure all these events happened on time and they were all televised and looked professional. Cameron and Coe, however, talk about legacy in economic terms – according to Reuters, 'Coe's role will see him act as a roving global ambassador to help win new trade and investment deals for British businesses'.
Now don't get me wrong, jobs are a good thing and you need investment, but my conversations post-Olympics with friends and family haven't been about jobs and economic opportunity. They've talked about involvement, engagement, inspiration and aspiration to be great at what you do – sporting or otherwise. One friend said he hoped it would encourage a culture of volunteering, another that he wanted more young people to join his sporting club, if only there was more resource to support that, a third that the cultural passion around the Games might show the need for proper funding of the Arts.
So what is it for you? What's happening in Yorkshire post-Olympics that is a gift to our children? Culture Vultures wants to know if you're a part of this legacy. Tell us about it!
Cycling pic courtesy of http://www.flickr.com/people/sumofmarc/