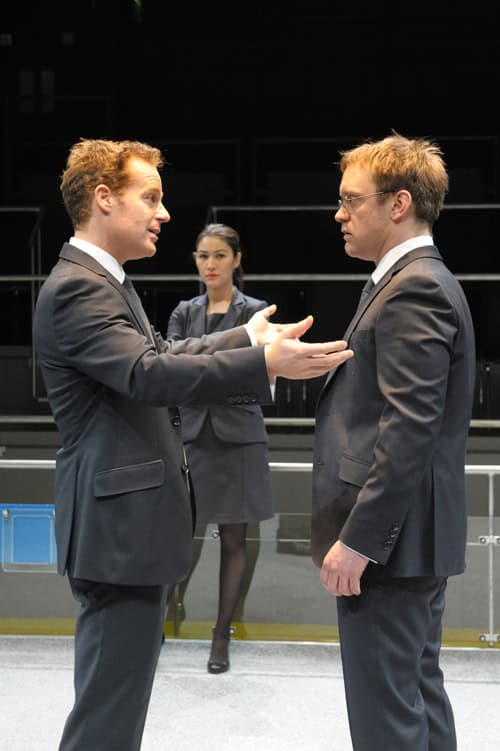 The audiences' collective pulse is already racing by the time Mike Bartlett's Bull begins in the Crucible Studio thanks to the swift BPM of the introductory soundtrack of Led Zep's Immigrant Song and Frosties classic Eye of the Tiger. The sense of anticipation might also have something to do with the fact that this is a world premiere from a hotly-tipped young playwright whose recent works, including Cock, Earthquakes in London and 13, have inspired, if not universal praise from the critics, then a keen interest.
A mere 50 minutes in length, Bull tessellates round three grey-suited employees of a nameless company which, given the title and the sharp whiff of testosterone, we can assume has something to do with financial markets. The share price of one of these individuals is about to plummet as they wait for a meeting with the boss that will result in a redundancy for the weakest link. The atmosphere approximates to the boardroom in The Apprentice, but on steroids, or should that be coke – the banker's drug of choice.  The competitive tension is only increased by the ingenious staging, the audience stand (or for the faint-hearted sit) round four sides of a kind of corporate boxing ring (or should that be bullring) centimetres from this white-collar fight.
The three candidates are Tony, a slick ex-public schoolboy who puts the bull into bully; Isobel, an ice queen with a tongue as sharp as her stilettos; and Thomas, a pooterish bore who's lumpen demeanour suggests the redundancy is a foregone conclusion. Working with perfectly choreographed cruelty Tony and Isobel set about knocking Thomas' confidence from every conceivable angle, 'Is he going to wear that suit?' 'What did your father do?…What did he die of?', 'Haven't you printed out your sales figures?', 'You're very strangely proportioned Thomas.'
Adam James as Tony is as slippery as an eel in a silk suit, one minute reassuring Thomas with a blokeish matiness, the next cutting him dead like a sadistic head boy, and finally goading him to place his cheek against Tony's superiorly muscled torso – the ultimate humiliation. Eleanor Matsuura as Isobel is deadlier still, stalking her prey in high heels like a pinstriped dominatrix, dispensing excoriating tongue lashings before unsettling Thomas still further with a confession about her abusive father which may or may not be true. Bartlett's whip-smart dialogue creates an exhilarating ride as Tony and Isobel toy with Thomas like two big cats might a wounded mouse. Their taunts are often wickedly funny and with every laugh the audience becomes complicit in Thomas' torture, mimicking the theatre of cruelty created by reality television.
So far so scintillating, but we expect the dynamic to change when Bull's very own Sir Alan, Mr Carter played by Adrian Lukis, struts in. As he himself says, Isobel and Tony seem to have it all sewn up and disappointingly this proves to be the case. The gruesome twosome's pre-meeting pep talk has given Thomas enough rope to professionally hang himself. What follows is increasingly vile torments from Isobel which transform Thomas into a raging – you guessed it – bull, resulting in a stunning coup de theatre which leaves him well and truly washed-up.
There's no denying it's invigorating to see this quicksilver dialogue dissect the competitive cruelty of capitalism in such an intimate setting. Nor is it any less thrilling to be so close to these pin-sharp performances, however, despite Clare Lizzimore's deft direction, the play feels like a brilliant first act but is somewhat lacking as a complete piece. What's made the drama of the financial crash so compelling is the unpredictable outcomes and sudden power shifts it has produced. In Bull the winners and losers seem fixed from the start which doesn't make for a satisfying final score however fun the preceding game.
Bull runs at the Crucible Studio until 23 February. Get standing tickets if you're legs are up to it – they're cheaper and closer to the action.