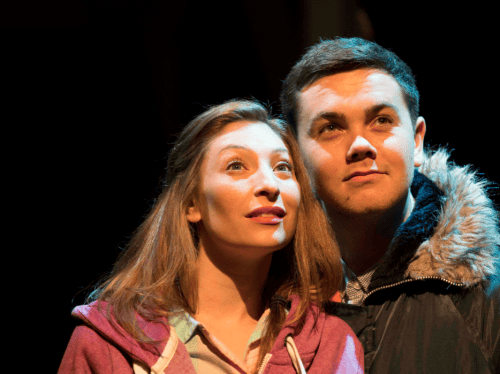 Zoe Parker (@Zoe_Parker) tells us what she thinks of The Rise and Fall of Little Voice at the Alhambra Theatre in Bradford last week.
I have just come back from seeing The Rise and Fall of Little Voice at Alhambra in Bradford, and I have to say, 'hats off' to the writer and director of this production, Jim Cartwright: I loved it! From the moment I entered the stalls: the house lights up, vaudeville style entertainment on the stage, it was delightful and a pleasant surprise. It created such a lovely feel of community: rows of families and friends, sweets in hand, singing along in true pantomime style; and this pre-show performance merged seamlessly into the start of Act 1.
Beverley Callard as Mari, appears on stage, drunk, and shouting "aaaagh!!!!'"at the top of her lungs, while Little Voice played by Jess Robinson sits quietly on her bed listening to records. The contrast between the two characters is very clear and the era of the story is so wonderfully set: dodgy electrics, a pile of vinyl and record player, the original cornflakes packaging, rivita. Within five minutes of viewing, I am back in my child hood: pre-mobile, pre-internet, pre-compact disc; where a telephone is technological genius and chintz dominates the landscape.
Jess Robinson as Little Voice certainly lives up to her reviews: she impersonates practically every iconic diva 'known to man' with absolute star quality. She is  expressive and really draws us in; right away you feel the fragile, hesitant and quietness to her character, which makes her amazing voice all the more stunning. Beverley Callard's portrayal of Little Voice's mother is fantastic, with gratuitous and shocking one liners. She unleashes such cruel and loveless words. When Mari gets her own slice of vicious truth from Ray Say, it's like watching someone being publicly stripped bare then crushed.
The lighting design by Jason Taylor was very impressive, giving subtle hints from the outset at what was coming later in the plot. The sparking plugs used in a number of scenes and scene changes, in particular, was an ominous build up to some of the later scenes. Other nice touches were the use of torches and the spectacular lighting that offset the diva –esque performances by Little Voice. I particularly liked when she sang in the dark: I really got the feeling of sitting in a stark, cold, working men's club.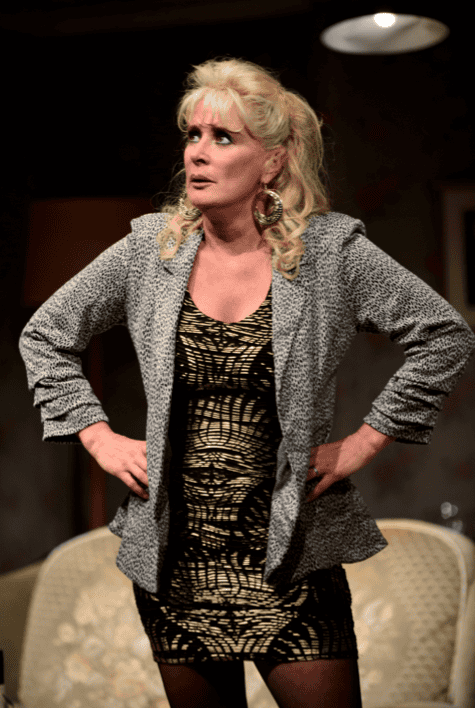 I really adored the set and costume, too. Mari's outfits, in particular, built like her mouth, going from one jaw-dropping extreme to another: outrageous, unflattering, from leapards prints to glitters; from gaudy colours to clashing patterns; all tight fitting with more than a little VPL ( Bet Lynch – eat your heart out!) Little Voice's dress was gorgeous and made her look every bit the show-stopping diva, and Sadie's outfits along with her blue eye shadow just added those authentic touches.
My two favourite 'entertainment moments': the super cheesey dance routine to Jackson Five by  Sadie and Mari, which included a handstand from Mari where sadie opened her legs to poke her head through and mouth along to the record 'I want you back'. Little Voice's big show medley: every great song delivered with really amazing impersonations of each artist a brilliantly crafted musical arrangement, which went from Billy Holiday's Loverman to the sound of music to Edith Piaf's je ne regret rien; from Cilla Black's Surprise Surprise to Diana Ross's Ain't no mountain high enough; and my favourite impersonation Tina Turner! In fact this was so watchable that if you d been on the streets of bradford after the show, you may have caught me re-enacting her finale  'Don't rain on my Parade', (ah, me as Barbara marching my band out – well in my mind anyway).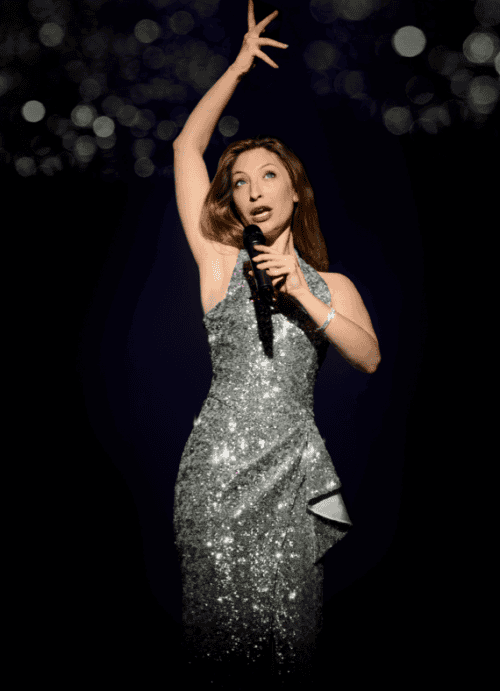 *Photography by Paul Coltas, provided by Bradford Theatres.
Zoe Parker is a choreographer and dance artist who blogs about culture, dance and wellbeing. She is one part of @yorkslifeaqua a dry land synchronised swimming team coming to a water feature near you.