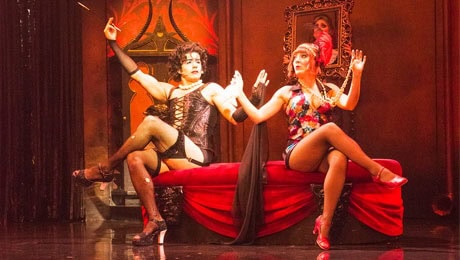 Since I saw the movie, The Rocky Horror Picture Show in 1980's I have always yearned to see it live and finally, here I am in Bradford at the majestic Alhambra Theatre for Christopher Luscombes' Production of this sci-fi-horror-musical -comedy extravaganza.  As the audience arrives some are wearing basques and fishnet stockings, and not just the women, I knew I was in for an exhilarating evening.
Would it live up to my expectations or would it pale in comparison to the film? As Roxy the usherette appeared with her tray of ice creams and sang out the first notes, my face lit up and I was entranced for the next two hours.  As Brad and Janet, played by Ben Freeman and Diane Vickers, the innocent young couple in love were about to encounter creatures from outer space and spend time in the castle of Frank- N- Furter, played effortlessly by Liam Tamne. He strutted about in heels, glittery basque and suspenders throughout, playing with the audience awaiting the timed heckles with anticipation, you could tell he was clearly enjoying the bawdiness.
To choose an outstanding actor would be difficult as all of the ensemble were exceptional however, if pushed, Kristian Lavercombes' Riff Raff was on par to the original master, in fact, at times I felt I was watching the reincarnation of Richard O'Brien. And Rocky, played by Dominic Andersen, with his six pack body, spent the whole time in only the skimpiest of gold shorts and boots. He had me transfixed every time he appeared on stage, improving on the film character.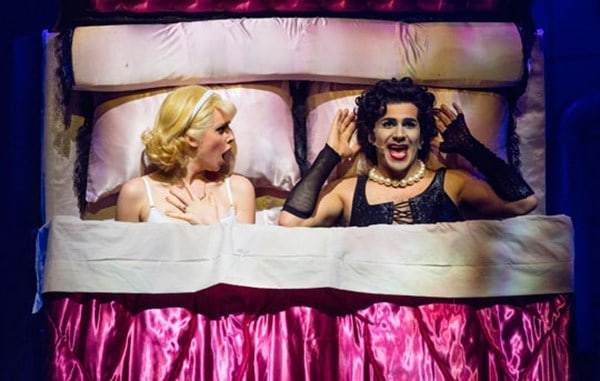 The cast were pitch perfect and Richard O'Brien's script, lyrics and tunes resonated not only from the cast but the audience too.  Norman Pace as the Narrator was superb and the Time Warp had the whole audience on its feet not once but twice during the performance, cavorting and gyrating in the most unseemly provocative way.
This show is unique, timeless, salacious and over the top. A must-see.
Reviewed on 15th March 2016 by Kate Barker at Alhambra Theatre, Bradford. Touring see http://rockyhorror.co.uk/