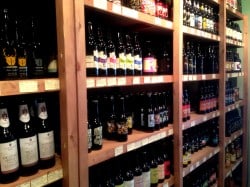 'Writing about beer, eh?' said my dad when I told him I was going to start blogging about Real Ale, years ago. 'There's a cracking little shop up in Headingley, you know… like a normal offie, but stacked wi' loads of beers you've never heard of. You been?'
And so began my relationship with Beer-Ritz. As it turns out, I had visited once before, when I was simply buying a four-pack with some buddies to watch Sunday's football with. I briefly glimpsed rows of strange-looking beer in the back, but it didn't really register what was on offer.
It's perhaps the fact that Beer-Ritz is – at heart – a suburban off-licence, that it's often overlooked when talking about successful independent retailers in Leeds. Supplying beer, wine and spirits to the denizens of Headingley and further afield since the early 00's, Beer-Ritz means a lot to a lot of people;you only have to scoot back to beer blog posts around March 2011 – when the parent company of the shop, Beer Paradise, went into hiatus – to gauge the feeling that we'd genuinely lost something important, something that we were proud of, an entity rather than a company.
Luckily, the closure was temporary, steered from choppy waters into a calm bay by Zak Avery, then manager of the shop, and now director. Zak's well known for his writing and nous, and he saw that he simply had to step up to the plate.  'Me and a business partner – who were both employed by the company – made an offer for the shares, and here we are. It wasn't the smartest move in business terms – we took on debt that we might have been able to walk away from, but our integrity made us want to do right by everyone, so we threw ourselves into it.'
Actions speak louder than words. Not only has Beer-Ritz stayed afloat, but it's positively thrived; re-connecting with the community in a way that it didn't before. I asked Zak where it all started.
'I was writing up a Ph.D when I moved to Far Headingley – I thought that being away from the hurly-burly of Leeds might be more conducive to study. Unfortunately, I got a flat about 200 yards from Beer-Ritz, and ended up working there part-time for pocket money while I conspicuously failed to finish my thesis. After about a year, with a few people having left, I suddenly realised that I was managing the damn place on my own!'
Zak recalls the thirst for beer at the time.  'It was pretty good even then; we were ahead of the curve. There was a good interest in all kinds of beer, which at that time (around 2000) meant a lot of Belgian and German imports, "world beer" (mostly 5% international lagers), and a lot of pretty traditional British beers.'
Zak is clearly proud of the way beer has blossomed of late. 'We were selling beer before a lot of the current cream of UK brewing existed. We were pretty pleased when they finally joined the party.'
But, as with food, clothes, books and music, there's plenty of other places to buy beer. How has Beer-Ritz managed to stay so popular after all these years?
'The thing about Beer-Ritz – and it's something that I've always believed is fundamental to our success – is that it's a really good neighbourhood off licence with an outstanding range of bottled beers.' Zak insists.
'The beer range got better and better as it became an obsession of mine, but we never stopped being a corner offie that was kept going in part by selling Stella, Jacobs Creek and Marlboro Lights. And while over the years we've turned lots of people onto good beer, and we could maybe stop with the macro beers and just be fancy bottle shop, that would just be really disrespectful to all the people who have helped us build our dream by supporting us with their purchases of Stella, Jacobs Creek and Marlboro Lights.'
'So although it's a bit contradictory for us to have a fridge full of beer that would make a beer geek recoil in horror, we do that because our customers want to buy it. While the great bottled beers aren't just there for decoration, neither is the fridge of (mainstream) cans.'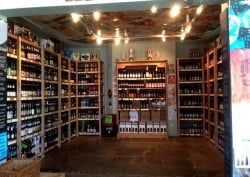 There's a parallel here with a good pub; it should be something to everyone, inclusive to all and exclusive or intimidating to no-one, with staff who are there to help. Spending time in Beer-Ritz during trading hours holding food events, I can certainly attest to the footfall that crosses the threshold; it truly is everyone. I wonder if being in Headingley has helped or hindered trade? Surely a branch in the middle of Leeds would clean up?
'If you live in Leeds centre, and you have everything on your doorstep, you're disinclined to get on a bus and travel for 15 minutes to go to an off licence, however great it might be. So a lot of our potential customers now live further away from us than ever before. It's tough that we have to work harder to give people a reason to visit, but that's what we always try to do.'
And they have; Saturday nights now hold regular meet the brewer events, and as I've mentioned before, the shop has been the place for a couple of successful beer-and-food parties. Zak and his staff are trying to break down the barrier between customer and merchant, and those converts keep coming.
Not only that, but they've supported local breweries from day one, too. Nigel Poustie runs a tiny, tiny brewery in his house in Beeston; Beer-Ritz was the natural place to go to try and sell his first bottles of Sunbeam Ale. 'Beer-Ritz were really helpful in my start-up and the response to Sunbeam Ales has been great. That's one of the  reasons we collaborated on  as a meet the brewer event which I had a fantastic response.' Not long after, Nigel brewed his first cask of beer, with it appearing at Friends of Ham and, since then, The Grove. Rooster's, The Kernel, Moor, Ilkley, Saltaire and Mallinson's all enjoy a close working relationship with Beer-Ritz.
What's next, then? A small refurbishment took place in April, and there's plans afoot to fly the flag with a stall during the Leeds Loves Food festival  in June. 'There are still loads of people who have no idea who we are – but we'll also be showcasing the best of Yorkshire brewing on our stand.'
I ask him why go to the trouble, when things are looking good anyway? What drives him? 'What's behind it? Passion. The belief that something as simple as having a nice bottle of beer in your life, just like decent quality bread, or an EP from a favourite band, or a great cup of coffee, is a life-enhancing experience, and all for the sake of a few quid. We have the same drives  as any independent retailer – bloody-mindedness, passion, a need to do something different, and for us, the simple thrill of turning people on to great beer.'
And Beer-Ritz has been doing that for a long time. People of Leeds…we are a lucky bunch.
Look out for Beer-Ritz's stall during Leeds Loves Food, and if you can't make it to the shop then you can buy online here. Zak is an award-winning and well-respected Beer Writer. His book, 500 Beers, is widely available. Not only that, but musician Juffage worksfor  Beer-Ritz, as has Tom Fozard, owner of Roosters Brewing Co. The excellent Ghost Drinker blog also comes from a long-term employee, who can be normally be found either there, at Arcadia, or North Bar. Phew! What a talented bunch!