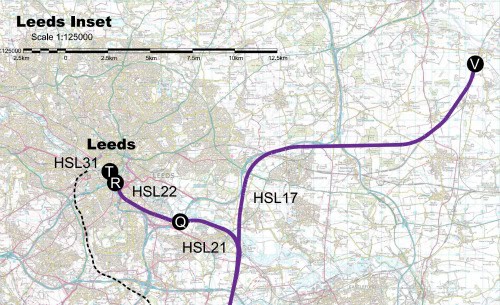 Guest post by Simon Cooke
The boys have got their train sets out – we are to be graced by high speed railways. Zooming across the midlands and landing happy smiling business folk, pockets crammed with cash to invest in the North's economy. There will be dancing in the streets, there will be a smiling, happy and of course rich population. High Speed Two is the thing – or so says the government:
"We do need to rebalance the economy, it has been too dominated by the south and by certain industries and high speed rail will really help to create a better balanced economy."
And the opposition:
"Shadow transport secretary Maria Eagle said the Opposition backed the development of HS2 and would continue to work with ministers on the plans, which saw draft routes north of Birmingham published."
Up here in Yorkshire, the great and good are falling all over each other to say how brilliant it is that they'll be able to get away from Leeds and down to London ever so much faster:
"We have lobbied long and hard for a high-speed rail link to Leeds and this is excellent news. It will strengthen Leeds' position as the northern transport hub and unlock major investment, jobs opportunities and connectivity to the rest of the country."
Sorry folks but I'm going to rain on your party. Not because I'm a NIMBY – indeed because I'm the very opposite of a NIMBY. Up here in the South Pennines, there's no obvious benefit at all from bringing London half-an-hour nearer Leeds. We still have to get to Leeds in the first place – assuming, of course, that any of us actually want to go to London by train.
Here are the facts – train use:
… is highest in London, where almost 40% of the population use trains at least once or twice a month and more than 10% use them at least three times a week. This figure drops quite drastically for the rest of GB, with only 20% using trains once or twice a month, less than 5% using trains at least three times per week, and almost 50% of the population using trains less than once a year or never. In rural areas rail use is even less frequent; as much as 55% of the population use the train less than once a year or never, while only just over 10% use trains at least once or twice a month.
Most of us just don't use trains – cars, buses and shank's pony are the preferred transport (and urban mass transit systems like trams and trolley buses where they exist). The truth of the matter is that the speedy rail journeys to London are the preserve of the relatively well-off. And we can expect that fares on High Speed Two (if High Speed One is anything to go by) will be even higher than the current extortion masquerading as a fare.
And we are expected to accept that this will transform the North's economy! I don't believe this for a minute and, more to the point, the "transformation" isn't going to start until 2032! The truth is that the North – however we want to define it – does need transport infrastructure investment and some of that maybe should be in railways. But what we want is intensity not 'extensity' – to connect all the places of the North together, to begin emulating the dynamic systems of London and other successful cities. What we don't want is to make the imbalance in UK rail – 60% of rail journeys start or finish in London – worse. Indeed, High Speed Two seems fitted to supporting London's economic development rather than the economic development of Yorkshire, Lancashire and points north.
Let's put is more simply still – if the government put £30 billion on the table for The North to develop its transport network, do you think we'd even think of building a railway to London?
Of course not – we'd build a tram system for Leeds and Bradford then link it to Manchester's Metrolink. We improve Cross-Pennine routes maybe even reopening the link from Skipton across to East Lancashire. And we invest in new stations and a more intense local network. We'd connect to the airports and to the coasts. We might even let Newcastle have a bit of the money!
I really don't care whether the route of HS2 is through the Chilterns or George Osborne's back garden – folk there can argue the case. But I do care that the North is being sold a white elephant – nay, a veritable white brontosaurus. For sure, the shiny new railway will be spectacular – I've been on those loss-making, system-destroying TGF trains and they're ace. But it won't bring economic salvation for the North just a glint of hope as we watch what's left of our economy spiralling down into the maw of London.
What do you think? Feel free to chip in with your two penneth worth below.