Robert Hayward as Scarpia and Giselle Allen as Tosca in Opera North's production of Puccini's Tosca (Photo credit: Richard H Smith)
Puccini's Tosca may be one of the best known operas in the repertoire, but CATH ANNABEL still finds fresh urgency and intensity in Opera North's new production of the composer's melodramatic tale of torture, murder and suicide…
Everything that happens in Tosca's three acts – and a very great deal happens – takes place within a time frame of less than 24 hours.
No wonder, right from the opening bars, the music is urgent and driving; no wonder the opera's most lyrical moments give a sense of being out of time, away from the reality that is bearing down so hard on its protagonists.
Time is not on their side. The volatile politics of Rome at the dawn of the nineteenth century, give license to Robert Hayward's brutal Scarpio to dispense with the niceties of justice and swiftly dispose of his enemies before the tide turns against him.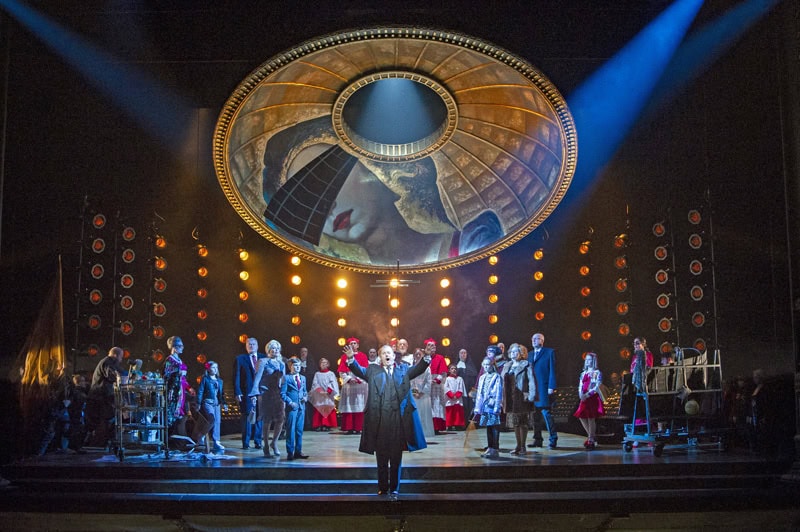 From the outset, Edward Dick's production keeps the sacred within sight and sound of the secular, the profane and the sordid. At the end of Act 1, Scarpia sings Te Deum with the wonderful Chorus of Opera North as the great and the good of Rome gather to celebrate the most recent victory.
The dome dominating Act 1, with its image of Mary Magdalene, is lowered to form an incongruous backdrop to Scarpio's bed chamber in Act 2, the setting for mental and physical torture, attempted rape and murder.
That same image remains onstage, and plays a part in the opera's moving final intensely dramatic moments. Around the sides of the stage, banks of votive candles glow, and as the drama plays out, choristers and clerics move silently around the perimeter conducting the business of the church.
Tosca doesn't deal in subtlety.  Everything is at a fever pitch of intensity, musically and dramatically.  The arias bring to the fore beauty, faith and love, but always in the context of their opposites.
Giselle Allen's Tosca sings Vissi d'arte (I lived for art) as she pleads with God to acknowledge her piety and service and spare her the dreadful choice with which Scarpia presents her (sleep with him and spare her artist lover).
Awaiting execution, Rafael Rojas's Cavaradossi sings E lucevan le stele (And the stars were shining), while Scarpio intones a sexual predator's manifesto of violent conquest, pursuit and satiation.
The recurring lyrical motif is harmony, fascinating in a work filled with dissonance and conflict (musical and dramatic). Even Scarpio sings about harmony, if only so he can dismiss it contemptuously.
Early on, Cavaradossi in his Recondita armonia muses on the hidden harmonies and contrasting beauties of Tosca and the unseen Marchesa. The final duet between the two lovers is laden with poignancy as they cling to each other, filled with hopes of escape and fear of death.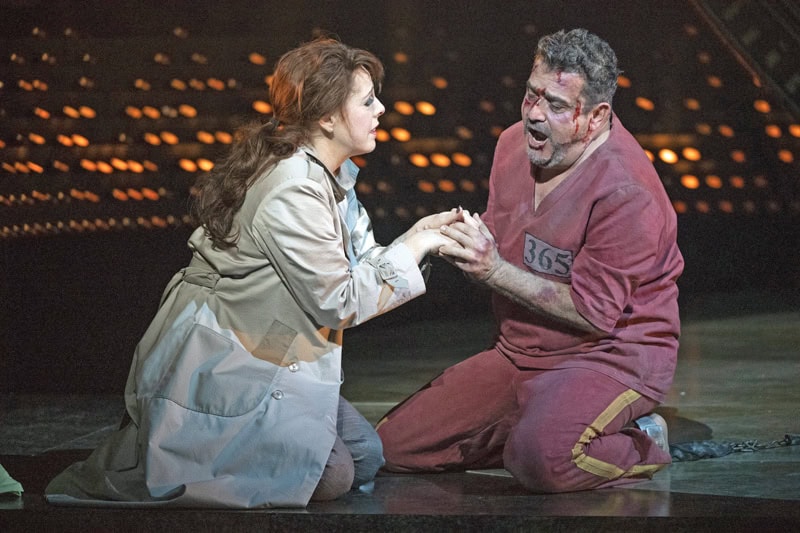 We count on Opera North productions to be gorgeously sung and played, and Tosca excels on both counts. The orchestra commands our attention, the score sweeps us along.  It's exhilarating in its forcefulness and pace, often darkly forbidding too.
We also expect imaginative and creative set design, and this production was stunning on that account too. But there's something else – the quality of the acting, which gives even the most melodramatic plot devices real emotional heft.
We expect no less from Rojas and Allen, given their successes in previous Opera North seasons. Here they excel, Rojas exuding strength even when bloodied and beaten; Allen fiery and passionate, and intensely moving.
Hayward as Scarpio builds the menace slowly, giving it full rein in Act 2. This is a man devoid of empathy, who sees other people solely in terms of how they can meet his needs (sexual or political).  He exudes ruthlessness and brutality.
Of the rest of the cast, John Savournin appears only briefly in Act 1 (as the fugitive Angelotti), but his dramatic entrance sets the scene for the urgent tone of the whole work as he announces 'Ah, finalmente', and throws us into the midst of the action. Scarpio's motley collection of henchmen and executioners are each suitably sinister, with Rupert Charlesworth as Spoletta particularly creepy.
But it's Tosca's show, and Giselle Allen's.  I won't say much about her final moments because I'd hate to take anything away from their dramatic power. All I shall say is I gasped, while my companion sobbed.
Whether you know every note or are new to Puccini's powerhouse of an opera, be prepared to be shaken and stirred.
Opera North Tosca is at Leeds Grand Theatre until 13 October, then on tour to Newcastle's Theatre Royal (from 23 October), Hull's New Theatre (from 1 November), Nottingham Theatre Royal (from 7 November) and the Lowry, Salford Quays (from 14 November). Details here.