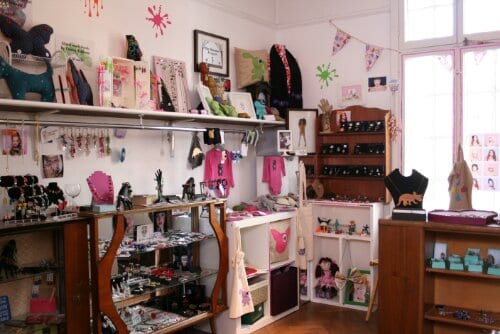 The Perils Of Being Your Brand: Chloe McGenn explains …
I've tried to write this piece a few times. I even totally forgot I was meant to be writing it because it was a slightly awkward thing to write.
Writing guest blogs was a suggestion from a colleague – it makes sense, as I enjoy writing about personal stuff, and don't necessarily think it fits my self-employed persona. I run a small shop in Leeds selling accessories and some gifty things.
Even saying that made me feel dirty – but why should it? I'm merely telling you what I do, and why a blog, for example, about how I feel about the Paralympics might not fit into a blog about my employment, as I sell jewellery and not artificial limbs or sportswear.
Unfortunately, owning a shop means any time you tell anyone what you do, it sounds like you're advertising. I've had people unfriend me on Facebook because they felt like I was marketing too much – when actually what I'm doing is sharing my life which just happens to be running a shop. It saddens me, but then again Facebook isn't real life is it?
For anyone who is an independent service provider, and works primarily alone, it's difficult to separate your business persona and your private life. At the end of the day, if you're creative, your work has a lot of yourself in it, and if you sell that work, you feel like you are actually selling yourself.
So if I'm asked to write something, it makes me feel nervous that people will think, 'oh here's that Pesky woman again, selling her jewellery,' thinking I'm advertising my business, instead of just having an opinion which I want to share.
The blurring of Pesky, who runs a shop, and Chloe, who is an artist and writer, is becoming more and more narrow – there's not much I can do about it, so I've decided to stop worrying about it.
While I'm working to stop worrying about that, there are other things I need to stop worrying about. I'm curious to know how many other independent business people have similar problems.
A big one is the guilt I feel when I have a good day in the shop, and the owner of the clothes shop next door does not. I guarantee there is no guilt the other way around, but why should there be? It means my products have merely appealed more to the people who came into my shop on that day – not that I am putting the other shop out of business.  Does this happen in other careers I wonder?
I also still feel guilty for having a day off. I shouldn't, I have paid staff so I can have a day off – so if I don't check my emails one day, I shouldn't feel guilty. If I miss an important email, it's never so important that it can't wait until Monday so I can enjoy a Sunday off. I don't work in that sort of job, people can usually wait for a ridiculous necklace.
I'd love to hear from other self-employed or creative people about the guilt you feel, if you feel any, for just doing your job. Have your friends stopped following you online as they feel 'sold at'? Do you never stop checking your emails in case you miss something?
Chloe