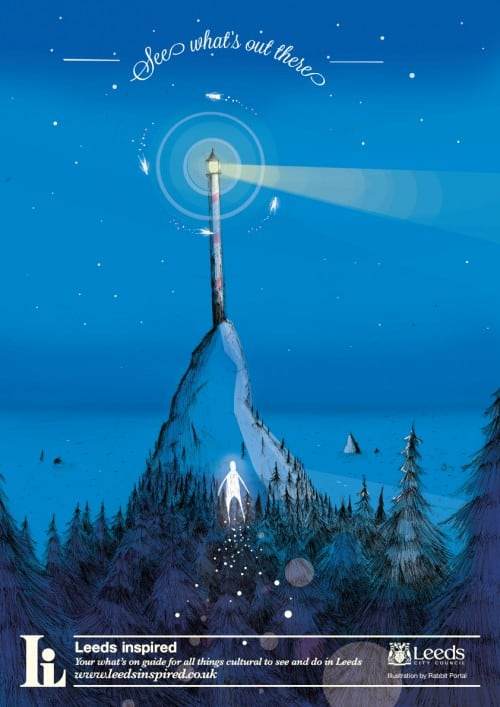 Rabbit Portal aka Matt Saunders is a freelance illustrator/director/animator/editor/curator currently based in Leeds. Matt was recently commissioned by Leeds Inspired for the fantastic illustration you see here. It can be found at poster sites and venues around Leeds, it also appears on postcards and will be part of an advert on the big screen at Hyde Park Picture House too.
Details of how to win one of ten these posters are at the bottom of the page, but why not read Wendy Denman's interview with Matt first, then enter the competition? Think of it as a WIN-terview!
Is the name Rabbit Portal a reference to Alice in Wonderland? Where would your dream portal take you?
The name rabbit portal was more of what I would like to do as a company which is to take people into new and escapist places. I apply this to everything I do from moving image to illustration. My dream portal would take me to a land where adventure could be had and dinosaurs still lived and magic is real.
You've been involved in the creation of many excellent band posters and music videos. What music do you like to listen to when you're working?
While I work I prefer to learn, so podcasts like Radio Lab and This American Life always help me. But music wise at the moment I like Of Monsters and Men, Django Django , Grimes, also classic film scores by Bernard Herman and blues music by Dinah Washington … maybe some swing when I am feeling sleepy. Little Richard – Long Tall Sally is a personal favourite.
What have you found inspiring in Leeds recently?
I love how you can just go an hour or so outside of Leeds and you are greeted by rolling hills, trees and amazing scenes – these are the things that inspire me. But as for Leeds as a city, at the moment I love seeing all these independent shops and bars, like; (cheeky plug time) Friends of Ham, Dock St Market, Welcome (The Skateboard shop), Laynes Espresso, Mrs Atha's and White Cloth Gallery. Then there are two independent cinemas – Hyde Park Picture house and Cottage Road, also a shout out to Duke Studios who are doing amazing things at the moment for the city of Leeds.
Also Leeds has so many great creatives! I wish we got together a bit more. A few names … Lord Whitney, Drew Millward, Jay Cover, Matthew The Horse, Memo Helen, Left Eye Blind, Crown and Owls and many, many more! I could go on for pages. All these guys help to push Leeds as a creative city, and inspire me to continue to work.
Is there something you draw more than anything else, and do you think there's a deep and meaningful reason for this?
Trees…. I tried to cut them out but they keep growing back. I am not actually sure what it is about them. I guess it reflects the area I live in. My flat is surrounded by trees and my parents' house backs onto a woods. Also, growing up my parents kept me very in tune with nature and wildlife. We would always be going for walks. I know it sounds clichéd but going for walks, long walks in the woods is where I feel most at ease. I try to leave my phone at home so no one can contact me and I can't check Twitter etc. Also magic and ghosts. The ghosts are a new addition. I guess I am getting to that point in my life where you start to think about death a bit more (not that I am an old man), I just mean that people who are in your life start to disappear and if I was a ghost I would probably live in a tree house in the woods.
You've produced an animated book trailer for LucasFilm in the past – what do you think about Disney buying the company and planning new Star Wars films?
I think when I was told the news I was so confused … but it makes sense in a way. Disney own Marvel and have done a great job with The Avengers film. They also own The Muppets and the last Muppet movie was great! I think George Lucas kind of lost touch with his fan base and the prequels really needed some fresh perspective so I am open to the idea of episode 7-9. I would quite like to see a really old Luke like an Alec Guinness, Obi Wan sort of figure, Jedis are cooler as old guys with beards. Hopefully the people at Disney know the fan base is above the 11year old mark, and try to make this appeal to adults a bit more.
Bunny hopping, Christmas shopping, belly flopping or bar propping?
Bunny hopping? Shopping in general is the worst thing I can imagine, belly flopping is painful and I used to work on a bar – people who stand around them always get in the way. So bunny hopping wins!
Matt tweets from @rabbitportal and you can see more of his work at www.rabbitportal.com
*****
For your chance to win one of ten of these beautiful A3 posters, please answer the question about the picture in the comments box below.
Q: Where in Leeds do you think we should put this lighthouse?
The closing date for entries is Wednesday 7th November at midday. Winners will be announced later that day on the website. Good luck!