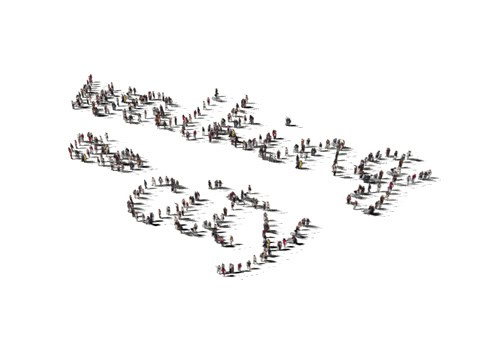 Review of Jeff Speck's Walkable City: How Downtown Can Save America, One Step at a Time.
Forget the mention of America. And ignore the fact that we don't do "downtown" over here – up North it's just "town". Jeff Speck's book is about making cities more walkable whether you happen to be in Lowell, Massachusetts or Leeds, West Yorkshire. And if he's right, increasing the walkability of the place where you live can have a positive impact on everything from public health (and not just obesity), quality of life, sustainability, and even inward investment. As he says,
"The conventional wisdom used to be that creating a strong economy came first, and that increased population and a higher quality of life would follow. The converse now seems more likely: creating a higher quality of life is the first step to attracting new residents and jobs."
I may send a copy to our friends at Leeds and Partners. I don't think they've come across the concept just yet.
The book presents a "General Theory of Walkability", explaining how "to be favoured a walk has to satisfy four main conditions: it must be useful, safe, comfortable and interesting." And it goes on to look at the ways planners have previously concentrated on the safety aspect and neglected the rest – Speck argues that no amount of "pedestrian facilities" have ever, or could ever, by themselves make a place walkable. Useful means simply that places people need to reach – shops, health centres, pubs etc. – are within reasonable distance. Comfortable means that places are designed to be like "outdoor living rooms", in contrast to wide open expanses of undifferentiated concrete, which people generally aren't inclined to walk across. Interesting means that the pavements are lined with attractive and welcoming buildings with enough diversity to attract investigation.
The book then presents ten steps (what the author calls "design fixes") which aim to "simply give pedestrians a fighting chance, whilst also embracing bikes, enhancing transit, and making downtown living attractive to a broader range of people." Most of them are cheap ("some require little more than yellow paint") and best of all they are all easily applicable wherever you live.
1. Put Cars in Their Place.
The title to this chapter could have been "traffic studies are bullshit", one of Jeff Speck's more memorable quotes. Most cities have been damaged by the focus on designing infrastructure around the perceived needs of car drivers, the book suggests. And it's not just an argument against building new motorways – though there's some excellent stuff on the concept of induced demand – it's about how the streets in our inner cities and suburbs are not the convivial and civic spaces they used to be. They have been colonised by cars and are now used simply as conveyances from A to B. The question is, why can't we as citizens reassert our presence in the streets, at least by slowing through traffic down in residential neighborhoods?
2. Mix The Uses.
As Jeff Speck puts it, "cities were created to bring things together". He cites a lot of evidence to show that places with a good density of amenities – places you want or have to go – tend to have more people walking, and much better health statistics. No amount of well meaning, government funded walking projects will get people off their bums if there's nowhere worthwhile for them to wander – which is why it's no accident there are more obese people in Holbeck and Gipton than Chapel Allerton and Headingley. It makes no sense to walk in the poorest parts of the city, there's nothing useful to be gained even making the effort.
3. Get The Parking Right.
The American situation is very different to our, and this is one chapter that doesn't easily generalise. Our streets are probably much narrower and on street parking not as viable in most city centres. Still, parking is a hot topic in cities such as Leeds, and obviously we are still struggling to get it right. Perhaps we could persuade Jeff to come over and sort us out?
4. Let Transit Work.
Decent public transport has a massive impact on the walkability of a city (you can't walk everywhere even if you wanted to, though I do try.) But for public transport to work it has to go through and stop at walkable places. There are plenty of public transport horror stories in this chapter. Leeds is due to be on the route of HS2 and will be building its own NGT. Let's hope the people behind these projects have thought about this stuff.
"While walkability benefits from good transit, good transit relies absolutely on walkability."
For me, the most interesting part of this chapter was the idea that public transportation is "a mobile form of public space" and so should be treated as such and made safe, convivial and pleasurable. I wonder if that's been considered by the NGT too?
5. Protect the Pedestrian.
"The safest roads are those that feel the least safe."
Most roads are designed to facilitate car traffic and increase vehicle speeds. Pedestrian facilities are then added – barriers, zebra crossings, pelican crossings – giving drivers a psychological encouragement to ignore walkers except for special, short-lived occasions. Speck argues that cities should strip back the signage and signalling and make more roads into shared spaces, forcing drivers to consider other road users all the time, not just when the green man is flashing. (I'm not entirely convinced – the Wetherspoons entrance to the train station has constant vehicle traffic and constant pedestrian flow across a narrow street with no signals, and the place is a pedestrian hell hole. Try crossing in or out at rush hour in the company of an elderly or disabled person – if you are not feeling murderous rage at motorists after five minutes you have probably been mown down by a people carrier and left for dead.)
6. Welcome bikes.
"In Amsterdam, a city of 783,000, about 400,000 people are out riding their bikes on any given day."
If cars have to share road space with bikes everything slows down, and everyone calms down. And the research suggests that drivers are only minimally inconvenienced, if at all, by having to behave as though their fellow road users had as much right to travel as any petrol guzzling 4 wheel-drive monstrosity. Cities should encourage good civic habits in all travelling through – though I do wonder how proprietorial cyclists will feel when Leeds and Bradford get their new designated cycle lane soon. (I'm off to walk along it just to find out!)
7. Shape the Places.
One of the strengths of the book is the focus on aesthetics – getting the look and feel of a street right is important if you want to encourage walking in a city. People don't like walking too far in a featureless environment, whether it's blank walls or wide open spaces or sheer dreary pointlessness. The book also argues that there's too much emphasis on iconic buildings with very little thought for the spaces between (you only have to Google an image of the planned Victoria Gate shopping centre in Leeds to see what he's getting at.) We can design streets that encourage walking, or we can design buildings to make a statement. The two are generally in conflict.
8. Plant Trees.
"It's best not to pick favorites in the walkability discussion— every individual point counts— but the humble street tree might win my vote."
Most of the best urban walking places have good trees – and they benefit the environment in loads of ways. True, some highways departments think trees reduce visibility (which would be good, it would make cars slow down) but bare streets encourage inattention, and they are pitiably ugly. Who wouldn't prefer trees to grey, metal barriers?
9. Make Friendly and Unique (Building) Faces.
This is probably my favourite point. Cities need to be engaging and enlivening. As Jeff speck puts it
"Pedestrians need to feel safe and comfortable, but they also need to be entertained."
Why would anyone choose to walk in a dull place? If you live anywhere in the "doughnut of despair" in Leeds what would be more inviting, a trek through a mile of rubble, tall weeds and half-demolished buildings to get to a dingy Iceland or Happy Shopper, or sitting in front of the telly with a pie and a bottle of Newcastle Brown? If we want to encourage walking in the city we have to do something to improve the attractiveness and variety of the public space walkers have to travel through.
10. Pick Your Winners.
Times are hard and the big money generally goes to the road builders. The book advises, "Where can spending the least money make the most difference?" Which I think boils down to, invest what walking project money there is in the town centre and forget quixotic quests in the sticks for now. They don't work anyway. Nobody in their right mind would want to walk around the doughnut of despair.
There's so much more in the book (lots of research, anecdotes, statistics, theory) but these ten steps to walkable cities have been rattling around my brain all week, wondering how we can apply them to Leeds (or wherever you happen to live.) And next week, we are hosting an event about making Leeds a more walkable city at The Belgrave Music Hall and Canteen. I hope to see some of you there interested in practical ways we can make our city more walkable. Maybe these ten steps will stimulate a bit of thinking about what can be done.