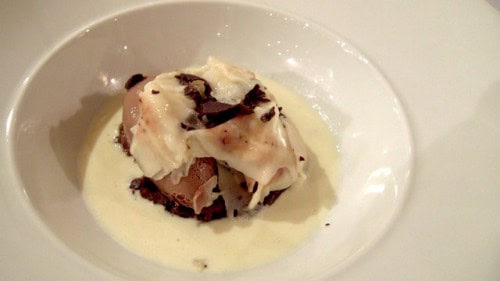 My wife has had a good week; amongst other things she was shortlisted for a literary prize. I was talking about this with Emma Culturevulture recently and "are you going out to celebrate?" came up, followed by "where would you go?"
Ah, now. Where we would probably go is El Gato Nero, in Ripponden. Note, not in Leeds.
Something I have bemoaned for years is that there are no outstanding independent restaurants in Leeds city centre. There are a couple of decent-ish restaurants, a handful of gastropubs or bars that do food, a lot of "well, it'll do" places that are inevitably chains with a global branding behind them, or places that get prepared meals delivered by those large 3663 grey vans and differ only in presentation and their ability to accurately use a microwave. And before anybody shouts "Anthony's" at me, I'll come onto that in a minute.
Let's start with the decent-ish places. These are ok quality but expensive although they often do early bird specials; Sous le Nez, boutique hotel restaurants (specifically Malmaison), Chino Latino, 42 The Calls, Gaucho and Bibis. Anthony's is very expensive, a level higher than anything else and if it's not won a Star by now one has to ask if it ever will, and if it doesn't can it justify the prices? I love the idea of it but when it was just one restaurant it was quirky and boutique-y and great, and then it expanded into a cafe, another cafe, and the basement of the Corn Exchange and now it feels like a branded chain instead of the quality restaurant that it was. I really want to like it, and when I ate there I loved the food but… it doesn't feel like how it used to. The Corn Exchange is practically deserted these days, too, and I wonder just how much bad will was caused by the turfing out of the indie retailers that were there before the refurb and Anthonys-ification of the place.
Perhaps I should point out that I am not a big meat eater and really only go to places that have veggie options that make me go "ooh" when reading the menu.
There's a couple of places that I've yet to investigate in this category like Kendall's, The Fourth Floor at Harvey Nicks, that sort of thing. I am quite keen to give Kendall's a go. Piccolino's, but I'm never really sure about Italian restaurants; a good 70% of their sales are pasta – and that's what we'd be ordering – and pasta has a sense of "well, I could do this at home" about it. But Piccolino at least advertises that they make all their pasta on site, a point in its favour.
There's plenty of bars that do food; Arts, The Reliance, North, The Living Room, The Wardrobe, Sam's, The Cross Keys and Midnight Bell; these all do decent food. They're bars, though. Or rather, they come across as bars; Arts in particular is a bit of a curate's egg in this regard because it is obviously a restaurant but feels far more like a bar. Anyway, while they do decent, even very good food they're not somewhere I'd go for a celebration dinner – an intimate tete-a-tete isn't easy in some of these places. And sometimes there's a bit of a 'tude going on, as if they're doing you a favour by serving you. Not everywhere, and certainly not all the time, but it's enough to put you off.
Chains are all over the place here; many of the places I've already mentioned, Jamie's, Brasserie Blanc (no disrespect to either of these chaps or the quality of the kitchens or food, which is good, but a chain is a chain is a chain and somewhere is an overlord who can dictate how the place is run who may have never set foot in it), Pizza Express, Blackhouse (and what was there before it? Est Est Est), Cafe Rouge, Nandos, GBK, Loch Fyne, Wagamama; reasonable places, all, but not necessarily stellar. And by definition, not indie. The food and decor is the same wherever you go and you could be in Peterborough, Wolverhampton or Aberdeen if you eat there. No matter how much the place may brand itself as hip and creative and each "location is unique" it still feels somewhat grey and corporate, like bankers performing raps to get down wi' da kidz.
Yes, there's Casa Mia and Da Mario's and Red Chilli and Brio and Indian places galore and these are fine, in fact often better than fine places, but they don't feel special; the little details are sometimes lacking, the food isn't quite at that level that makes you start laughing because you've rarely put anything in your mouth that's this exciting. Akbar's is brilliant and I love it to bits but it's loud and packed out and gleaming and sometimes that's not what you want. A great, intimate, reasonably-priced bistro in the city centre shouldn't be too big an ask, should it?
Asking people if Leeds has a foodie scene can cause outrage. Of course it does! Except… not. Where are all the indie supermarkets, the artisan bakeries, the little cake and tea shops, the specialist butchers, the people who can point to each sausage they sell and name the pig (or ostritch, or deer) that it came from? They're all in the 'burbs, in Headingley, Meanwood, Chapel Allerton, Otley, Ilkley. Along with some of the better restaurants of a sort that I'd like to see more of in the city, too.
Ah, well. Maybe, one of these days, we'll see something new, and exciting and like Rascasse or the little bistro on Lower Briggate, within the bounds of the inner ring road. But in a world of chain places and restaurants that only survive through what is made on the bar, I'm not holding my breath.
In searching for a restaurant to have a celebration, perhaps what I need to find is a restaurant to celebrate.