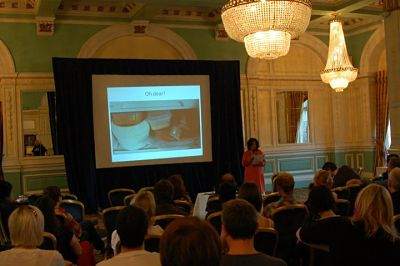 Bettakultcha Bradford II
Bettakultcha; the Leeds 'night of passions' that has transformed into a Leeds institution in less time than it takes to grow a whispy moustache. It has been 'down and dirty' in empty industrial spaces, and smart and posh in Victorian boutiques. Quite why it has been so successful in Leeds is open to debate-how did a few dozen people crowded into a cold & draughty Temple Works 12 months ago transform into a cast of hundreds in the luxurious surroundings of the Corn Exchange? I don't know the answers to this, but it will be something that Ivor (@ivortymchak)  and Richard (@RichardMichie ) need to attempt to define and adapt if they are to successfully expand the format elsewhere.  There has long been suggestions that Leeds has the most expansive and vibrant twitter community in the country (largely down to the early adoption and passion of Emma AKA @culturevultures? Discuss. But not now). BK was launched and has grown through the use of social media; building anticipation before hand, discussion and critique during the event, and the easy ability to connect with those who have given presentations as well as the person you've sat next to. It is undoubted that the twitter community of Leeds has almost used this as their 'twitter meet-up'.  Can the same atmosphere and excitement transfer to other cities?
The latest Bettakultcha was the 2nd attempt to take the format elsewhere, again in  Bradford, held at the Midland Hotel, with its beautiful thick carpets, chandeliers and wedding chairs. A stunning venue, but I question it's suitability for the diy ethos of BK, especially for its early days. The summer sun streaming through the windows does not encourage the intimate and grungy atmosphere that BK is so famous for.
BK has many elements that form to make it such a legend, but ultimately, the success of the night comes down to the presentations. It is the variety of talks and the passion with which they are presented, which makes BK so great. Informative, deadpan, serious or hilarious, a little bit bonkers, or a little bit dull, the presentations and the passion make the night. As my 7th BK night, I can say these were probably the best groups of talks I have ever seen. There was no 2-3 that were particular stand-outs just because every one was so good. Informative, funny, interesting; looking at ordinary things in a new way, or telling you something you've never known before, this was a near perfect slot of presentations.
In an excellent presentation that was amazingly comprehensive, @atkiteach explained why he was so passionate about Rugby League ("tough Northerners and poncy Southerners" got the audience on side to join in the welcome audience participation).
There was @100objectsbradford who chose some of her favourite objects from the Special Collections at Bradford Uni.
In a hilarious talk about growing up in Bradford as the only Asian family on an all white council estate, @ismaalmas made you squirm and laugh, but was so successful because of it's warmth and affection.
If you ever wonder how the obscure and obtuse can become a successful presentation, then @irnaqureshi and her talk 'what your freezer contents say about you' should help you understand.
Other talks included ridiculous graffiti, battling breast cancer, obscure lesbians, debt collecting etc. (I apologise for not being sure whose was whose).
I must give a special mention to @theflaneuse. One of the aspects of BK that has raised passions and involvement, is the concern over lack of women speakers in the early days. I presented for that very reason after complaining at 3 previous BK nights. At Bradford, this issue never once entered my head, such were the numbers of female presenters, but in addition, the ultimate 'feminist' BK presentation was passionately and eloquently made. @theflaneuse spoke about her varying roles as a woman; wife, mother, worker and…drag artist. In a perfect BK moment, she ended her presentation singing 'I am what I am'. Which should potentially be BKs very own anthem!
My problem with Bradford BK is that although a few people were chatting, it is significantly lacking in the atmosphere of  BK Leeds, which is abuzz with chatter, analysis and randomness. Leeds always has groups of people who also head off afterwards to pubs and bars, and you attach yourself to a group quite happily without knowing a soul, whereas Bradford audience mostly drifted in and away again. Many Leeds attendees even book the next day off work (I appreciate the after-parties aspect has nothing to do with BK itself, but it all adds further to the excitement that is a Leeds BK, and ensures it is self sustaining).
I put this lack of atmosphere down to a few things, including the venue and the lack of twitter build up and after commentary. But, there is also the cultural difference between Bradford and Leeds. Leeds is city centre based, with an artistic/cultural leaning community. Bradford has very different qualities, it is community active and postcode focused. Generally, people do not come into the city centre, and do not attend arts based events (with exceptions, obviously). People you speak to aren't always curious about trying arts out. Ultimately, there needs to be considerable numbers interested to create a consistent audience and ensure different presenters on a bi-monthly basis.  As a consequence, I fear Bradford might find it difficult to garner the numbers to become self sustaining. If the audience and speakers at Bradford believe in BK and want it to continue, then they have to take the responsibility that in effect, Leeds did, by telling everyone they know, blogging and tweeting, inviting friends and colleagues. It is probably up to the people of Bradford now if they want BK to carry on.
Richard and Ivor believe they are only the organisers, the facilitators if you like, of Bettakultcha. It is the people, the audience and the presenters, who decide what BK will become.  Will Bradford, or soon Huddersfield, ever achieve the same legendary status as Leeds? Should it, does it need to? Can it transfer successfully elsewhere at all?  Will BK just constantly keep evolving?  Well, that's all part of the BK fun, you don't have to wait and see; you can decide what you want, and help BK do it.
Alexandra (@sewhipfolkie)