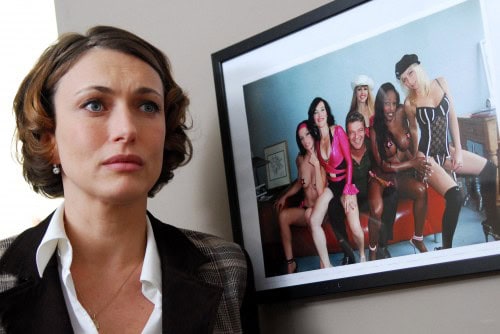 The French emulate the success of American TV shows like Weeds and Breaking Bad with the release of Hard, now available on DVD, says Leo Owen …
Director/Writer: Cathay Verney
Release Date: February 18 2013
Studio: Arrow Films
Running Time: 156 mins
Certificate:15
Starring: Natacha Lindinger, Francois Vincentelli
"Your husband didn't tell you everything", says Sophie's mother-in-law and she's certainly not exaggerating. A DIY accident leaves Hard's lead a widow with two teenagers to support. An ex-law graduate who's never worked a day in her life, Sophie is naturally devastated but takes comfort in her belief that her husband left her financially secure, having been "one of the first" to invest in the internet. Unfortunately, she soon discovers a huge mortgage and the surprising source of her family's income.
The first episode sets Hard's light-hearted tone by refusing to dwell on the negative. The punchy no-nonsense opening completely avoids sentimentality by glossing over Alexandre's death and funeral, to instead concentrate on the series' focus – how Sophie will survive the unexpected circumstances she faces. We flit from a happy family meal to funeral speeches that hint appearances may in fact have been deceptive. References to Alexandre's mother Louise bringing him up in "goodness and discipline" feel tongue-in-cheek and many of the guests are unusual in appearance, suggesting Sophie's life is about to change.
The wake is where reality really hits home and Writer/Director Cathay Verney starts to use her "fish out of water" scenario to good effect. Louise talks business, revealing Alexandre worked in a "less traditional area", she acted as his accountant/PR and that her family's income really comes from an internet porn site called SophX. Rather appropriately, as all this news is broken, Sophie is shown holding a plate of cocktail sausages.
As is to be expected, some of Hard's best humour stems from contrasts, primarily pitting Sophie's own naivety and role as a mother against her new position as company director. Shots of Sophie inspecting her husband's website are interspersed with her guests mourning his death; two of Sophie's staff are shown discussing bizarre sexual preferences over tea and biscuits ("I don't do gonzo…"); Louise trains Sophie to understand the jargon of the trade using fridge magnet cuddly toys and Sophie later researches female desire by surreptitiously questioning friends while carrying-out innocent everyday chores like gardening.
The "trade" itself is another source of comic relief with porns stars like "Roy The Rod" who are unable to act and require professional training. Actress, Bambi, is another particularly amusing character once her routine is explained to Sophie. Funny film titles are mentioned ("Shafted Down The Mine", "The Postman Always Comes Twice"…) and a dizzying scene in the first episode getting Sophie acquainted with the business and bombarding her with company stats is as far as Verney ever takes us into the industry. There are hens and a pony called Frisky wandering around the office but the implications of all of this are never truly explored, instead we're assured they are "very happy".
Sophie's struggles at home are less amusing but still part of Verney's focus. Each episode her 15 year-old daughter reels off a breezy "to do" list" that seems to get more outrageous as the series progresses: "things to find… a job, a husband, a lover, my G-spot." As Sophie struggles to hide the true nature of the family business, she finds herself increasingly at odds with her children, interrogating her daughter in an entertaining breakfast scene: "Have you been deflowered?" Rather worryingly, her son's best friend is Frisky the pony who he puts a mirror in front of to enable Frisky to "recognise himself". Her husband, Alexandre, remains ever-present, making an interesting absent character – his business motto is described as "Give me all human fantasies and I'll have all humans" while employees remember him as a "saint" and half of the "perfect couple".
Each episode begins with a slightly unnecessary re-cap to previous content and the story arc is a tad obvious at times but overall Hard is thoroughly enjoyable, posing some interesting questions about what society deems socially and morally acceptable. Despite a high content of nudity and Hard's subject-matter, the series doesn't glamorise or degrade, keeping it light on industry info, making Hard seem like it's more targeted to female viewers. Natacha Lindinger is excellent as Sophie and Verney ends the series neatly, keeping viewers satisfied but also setting it up for a follow-up series set nine months later once the business has "evolved." If you've ever wondered whether the myth about porn name creation (mother's maiden name + first pet name) is true, Hard's the series for you.