A brush that sweeps by itself and a machine that blows bubbles when you tweet?
Inspiring a day of making things.. at Templeworks in Holbeck, Leeds. Penny Coles finds out what's going on.


A GROUP of woolly-hatted, white-coated, MacPro-devoted entrepreneurial digital artists recently gave up their entire weekends to take part in Leeds' first Howduino. None the wiser, I decided to take a look myself.
The geeky artists who described themselves as "kids who pulled things apart and now liked putting things back together," had met up to make things – quite something in itself  – and  in Holbeck nonetheless. They met, not in a swanky studio warehouse, synonymous with the new urban village, but on its edge in a building site. Ok, a Grade I listed Mill with Egyptian pillars most of us now fondly know as Templeworks – but a building site nonetheless.

Being there, in the world of the weird and wonderful, it wasn't an entirely unexpected scene that awaited me – but I'd never have guessed it. On the window sill sat a machine that blew bubbles as we tweeted, children's toys lay on the floor, and there was a pile of unimaginable plastic gadgets. Add to that umpteen circuit boards, a mountain of brightly coloured wires, and tools everywhere, courtesy of Arduino and electronics supplier oomlout.  This was serious stuff – after all.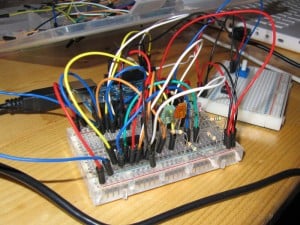 Adrian McKewen (@amcewen), (the wearer of the white coat and co-brains behind the event with Thom Shannon, @tshannon,), introduced the day as an "informal, weekend of knowledge sharing, having fun and playing with electronics."  The day was based on the Arduino – an electronic board that affects its surroundings by controlling things like lights, and motors (I was told). For non-techies like me these are things that can hook things up to the internet – and breathe life into them. Take the bubblino for instance  – a Twitter monitoring, bubble-blowing Arduino-bot. He watches twitter for a chosen keyword and every time he finds a new mention he blows bubbles. Cool or what?
Part of the beauty of the Arduino is its open source philosophy which means the code behind it is out there for everybody to share. Open source and Arduinos are something artist/inventor Stuart Childs and the Jam Jar Collective artists are really into. Stuart, who organised the event said: "Arduino is the first open source project that has gone the full distance. It's great that from people are starting to make things people will actually buy." Whilst people can make Arduino's themselves they could also get a ready made kit from a store like Oomlout in Halifax."
People came to the event from as far away as Edinburgh. They ranged from complete beginners to the more experienced. Ideas ranged from making an internet panda, to a twitter enabled doorbell to a flashing LED cube, and an automated garden life support system. By the end of the project, the floors were being cleaned by robotic brushes (brush bots) and pictures were being drawn by etch-a-sketch draw-bots. All the toys that had been brought in had been "hacked" and most now were moving about the room with flashing lights. Everybody looked very happy. Phil Kirby from Templeworks, who had been keeping an eye on proceedings, asked: "Why would a load of phD students devote an entire weekend to putting a light on a brush?" Of course he knew the answer but I didn't. Since then I've learned that Arduino's are potentially a solution to problems like, a car that needs an oil change, a plant that needs watering, or even an art exhibition that needs a touch screen. Watch out though everybody, these things may be big – the artists and Audrey II from the Little Shop of Horrors may be coming to a shop near you soon.