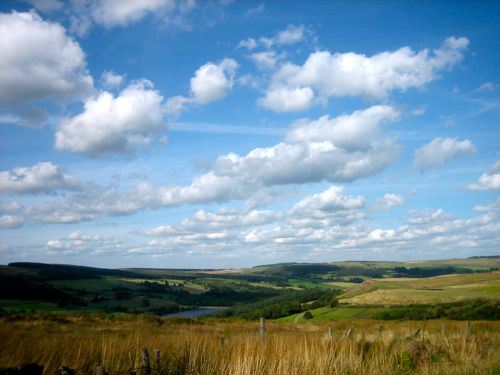 Believe it or not this is Sheffield, a mere four miles from the city centre to be precise. This hidden gem on the city's rural, northern edge is home to two neighbours who are local food producers, and they are quietly on the brink of causing a revolution in Sheffield's eating habits. One is an artisan, The Sheffield Honey Company and the other an award-winning ice-cream maker, Our Cow Molly.
The Sheffield Honey Company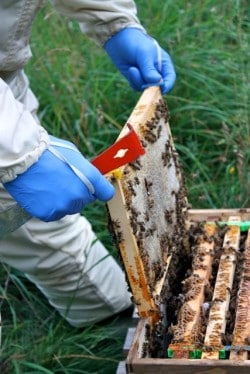 Jez Daughtry is a beekeeper. I'd heard about him before my visit because he launched The Sheffield Honey Company at this summer's Sheffield Food Festival, but got whisked away to rescue a swarm of 30,000 bees from Shoe Zone in Castle Market. That's one way to cause a buzz about your new business!
When I arrive at his cottage we don't have long to chat as he's on a mission to his moorland hives, and has decided to give me an impromptu lesson in beekeeping to boot. Before I know it I'm clad in a white protective suit, a meshed face mask and am doing a mighty fine impression of Neil Armstrong landing on the moon, except I've got both feet stuck down one leg of my trousers.
"Bees have different temperaments," explains Jez. I think I know what he means as an irate bee starts to chase me away from its flight path to the hive. "We breed from calm and gentle bees. But they can still have mood changes. For instance, if the weather's bad they get tetchy."
He lifts up a shelf oozing honey, puffs some smoke from his can and continues: "They don't like perfume, aftershave, alcohol or B.O, anything that smells really." Good job I'd not sprayed the Chanel on then.
Our Cow Molly
Not long after, I walk into the farmyard at Our Cow Molly. Eddie is the farmer's son and if you've been to Tramlines music festival, Sheffield Theatres or The Blue Moon café recently, you may well have been served a dollop of his divine and additive-free ice cream. I ask what the cows' favourite music is and Eddie explains it's got to be classical as it helps the cows produce more milk, and sure enough Wagner's 'Flight of the Valkyries' is playing in the milking parlour.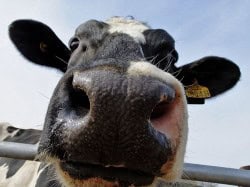 Eddie, his dad and his grandfather have been in the dairy business for 60 years but the challenges for the industry have never been greater:
"Millions of litres are imported from France. Because it's pasteurised and bottled in the UK, it's then sold as British milk. We lose one pence in every litre that we sell to the supermarkets, plus it travels 400 miles down south and sits for up to 4 days before it returns to our supermarket shelves in the north."
It's a different story when Eddie's Dad does his round in Stannington: "We milk the cows at 4am and by 8am you can be pouring it on your cornflakes." That's some seriously fresh milk. Meanwhile, Eddie focuses on supplying his farm shop and other independent retailers with ice-cream flavours as exotic as jam roly poly, Christmas pudding and of course, the Sheffield honey ice cream.
The city is built on seven hills; its valleys and rivers feed the land and lend themselves to farming. Yet it's easy to understand why quality local produce doesn't fit with the supermarket model. Consequently, these two producers have other plans. Together they are lobbying for the Sheffield Food Plan, which is the City's strategy on how to feed the 550,000 good folk of Sheffield for the next five years. Their mission is to get the Council to use local produce wherever possible in our schools and hospitals. If they succeed, our local economy, carbon footprint, and the bellies of Sheffield's children will all see the benefit.
It's no wonder then that both producers have earned themselves the Made in Sheffield mark. Traditionally designed for the steel industry, this is a mark of quality and provenance. And like the seal of the city, these two fellas certainly give us something to be proud of.
Honey and ice cream calendar: