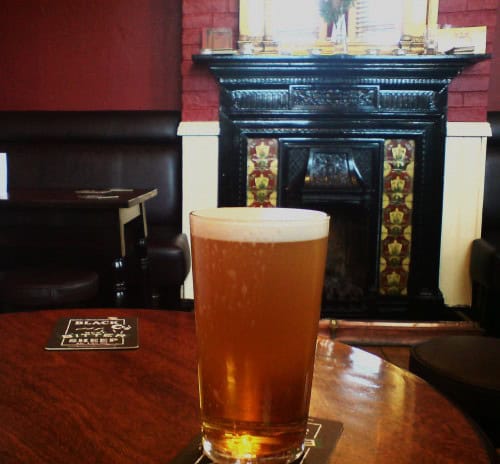 There is nothing which has been yet contrived by man, by which so much happiness is produced as by a good tavern or inn – Samuel Johnson
'Let's get together for a drink…'
It may be an often thrown-away phrase – a way that many of us meet friends old and new, acquaintances lost from your childhood, or the sign-off to someone you want to spend more time with at a later time -but having 'a drink' is still, for many of us, the default way to have a good conversation, in relaxed surroundings.
Those surroundings, to be more specific, usually come courtesy of a Pub.
There's something unique in the way that a good pub or bar channels conversation. No matter what the topic, the conversation flows; and it's conversation and company – not alcohol – that's the true heart of The Pub. This may sound strange coming from a self-proclaimed Beer Blogger, someone who seeks out beer and new breweries to promote, to sock one in the eye to the big guns and try to guide people on the path to giving their money not only to people who deserve it a whole lot more, but to enjoy a genuinely artisanal, unique product.
I say this because sitting and drinking at home may be good for making detailed tasting notes and taking pretty pictures to upload and share with people, but nothing beats drinking in a pub with friends and family. You're feeding into tradition. There's the theory of 'Stone Tapes'; named after Nigel Kneale's 1972 play of the same name. The premise is simple, and one used in ghost stories often since then; buildings absorb the feelings and events of the occupants past and replay them, creating ghosts, spectres and feelings that affect the present visitors.  An emotional feedback loop, if you will.
Far-fetched? Well, I guess that depends on what you believe about Ghosts, but history -and in particular the history of buildings with colourful pasts – certainly crosses over with pub and brewery folklore. Brewing and selling beer is our national pastime, something we are very, very good at. Forgetting the supernatural side of things (it's a laboured metaphor but I'm getting there), when drinking in pub, you are the latest in a long line of people to do so, and it's that warmth – that overcoat -that relaxes and soothes the soul. People meet in pubs. Friendships are made and broken, future lovers met and business deals sealed. Writing, thinking, reading, talking is done. Conversation feeds the best artistic minds; and the pub or drinking den of your choice is the temple at which barflies worship. Granted, a lot of the best writing that's soaked in alcohol comes with a warning, and one wouldn't want to promote the likes of Bukowski or Behan as role models except in an artistic sense. But it's not the alcohol that gives life to their stories; it's the people. And those people have to convene somewhere; No other building would have served as conduit as much as The Pub.
A common answer to 'What do you want to do this weekend?' could be 'Go for a walk in the country and find a good pub.' Why do we aspire to this? What makes a good pub so welcoming? Why does the 'good pub' round off the experience? Well, in that case, maybe it's the simple, bucolic ideal of England; the roses, the clean, summery air, the roaring fire in the winter and, to some, the cask ale on offer. The fact that it's an answer you'll find across the nation says something about what regard we hold pubs in. 'A Good Pub' is on many people's lists of thing we would like to live near; although the sad fact is that many of us are lucky to have one nearby. Still, it shouldn't be such an ideal. The pubs are out there; go find them.
I don't know whether it's because I'm Northern or an amateur writer (and thus a romantic by default), but pubs hold a strong pull for me.  If you want to truly know the heart of a place, a new city anywhere in world, go to the bars or pubs to find it. The chatter, the bar, the colourful, unique pump clips sitting in rows. The pint glass, filled with flavourful, Amber-hued beer. Antique Fixtures, bronzes, acid-etched mirrors, worn carpets or Yorkshire stone flags. The crackling fire. The dog lying by it. The low light of Autumn drawing in or the high light of Summer streaming in through the windows, hitting your drink as you while away the stresses of the week.  Or maybe its clean lines, modern art, good music, good food and beer choice that drives you. It doesn't matter – it's an eternal, simple pleasure.
…Although it is a shame that many simply don't make a link to the past, and give pubs their due as buildings of Historical interest. Many are; worthy or tours and books devoted to their past, either bloody, haunted, colourful or stalwart. Pubs survive wars. Pubs see changes in government. Pubs see your grandfather, your father, and now you order beer at their well-worn bars. Those that still stand, of course.
Sure, the brewing industry is no friend of Government. Rather than tax supermarkets and focus efforts on stopping youngsters pre-loading on cheap alcohol, the Government see fit to punish landlords – and pubs in turn – which has led to some scary headlines of late in respect of pub closures. However, I'm hope I'm not being aloof when I say that quality always shines through; Cask ale is gaining popularity again and people who are interested in providence, quality and taste are turning to Beer to satisfy their drinking needs. And – I truly hope – rediscovering the best, most stimulating places to drink it in.
In Leeds we have a wealth of interest; from the pure Victoriana of The Victoria and Commercial Hotel or The Adelphi, to the modern concepts of The Brewery Tap or The Midnight Bell. From the wartime, faded grandeur of The Garden Gate, to the trend-setting bars of North. Solid, no-nonsense drinking dens such as The Grove sit alongside relatively new tykes such as Foley's Cask Ale House and Veritas – and that's just the city centre. Really, drinkers of Leeds, we have it very good indeed.
So the next time you fancy a drink, don't stop at the corner shop on the way home and pick up a four-pack. Grab a mate or two, and go to the pub. Do that walk in the country, but put a pub at the end of it. Stretch that day out; you deserve it.  To ignore pubs is to ignore interaction, friendship and, probably most important of all, conversation