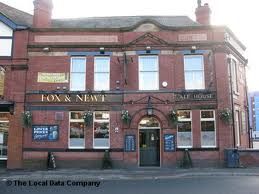 Life and Times of a Real Ale Drinker, a boozy guest post from Dave Greenbrown (@weirdboil) …
It was 15 years ago when I first became legally permitted to consume alcoholic beverages on the licenced premises of Leeds. I was a late starter due to the fact that my balls didn't fall into place until well after most of my contemporaries. We could actually get served in Wakefield on a Friday night before this great event, but it wasn't the same. You were drinking purely to get smashed, you didn't like the taste, you just didn't enjoy your ale. Not like now anyhow.
At the start I only used to drink Stella Artois. I would sometimes reluctantly accept a pint of Grolsch, Kronenburg or Becks – or Sam Smith's own brand pilsner if drinking at the Angel – but it was usually just Stella. I hated cheap brand lagers – that reminded me too much of hauling a crate of cheap Skol around the back of Oulton Rugby Club when we were 15. Or worse, a bottle of 20/20 with Thunderbird Mixer and a pack of 10 B&H to make sure we definitely spewed it all back up later in the night.
After a few years nailing the lager I started to dabble with some of the better known bitter brands – John Smiths, Tetleys, Boddingtons. I didn't like it. Too bland, too tasteless. At best 'an acquired taste'. This was before CAMRA had made it's very successful (and hopefully now indelible) mark on modern pub culture, so the options were more limited than those you see in most pubs today.
It eventually took Guinness to drag me kicking and screaming away from lager and I spent 3 or 4 very successful years drinking nothing but the black stuff. Great days were had and I am very keen on the odd pint still today.
I needed something else though. Guinness was repetitive, I'd yet to realise the splendid opportunities for drunkenness that red wine could offer, Spirits literally made me sick and Lager was just plain rank. Thankfully for me though the answer was but a hand pulled pint away in the form of Real Ale and I embraced the opportunity with both beer bellies.
Not only had I found a drink with so much variety and scope for discussion but I also discovered an industry and a community that I never knew existed – as you tend to do quite regularly when you are young and have yet to be tarnished with the inevitably of life. And such a great community it was – regular festivals with cheap ale to drink, hundreds of lovingly maintained online resources even during the internet's infancy, and most importantly some quite brilliant and interesting new places to drink – some of which are still my favourite places in the world.
Although some of my lesser educated friends disagree, you cannot beat places like The Palace behind Leeds City Bus Station for an quiet few pints. There is a choice of no less than 8 real ales that regularly change – I just love that – especially because they have some regular choices so you are never quite sure if your favourite is going to be on or not. If it isn't on then fear not for you'll soon add a new favourite to your personal collection.
Another cracking example of the Real Ale revolution in recent years, this time at the other end of town, is The Fox and Newt. Again, there are 8 real ales to choose from and frankly you cannot leave this pub sober regardless of even the most pressing family engagements arranged for the following day.
If you care to go further afield then try Chequers in Ledsham – this is a true old style boozer – you can barely fit into the rooms for a start which gives a brilliant claustrophobic drinking atmosphere not to be missed. It serves the unique Ledsham Session Ale – a cracking choice if you want to drink 8 pints without even realising it. Don't go on Sunday's as it's closed because of ancient bylaws – how good is that?
As for what's next for me, the long slippery slope into alcoholism continues apace. I should at least try to enjoy it.
Article by David Greenbrown