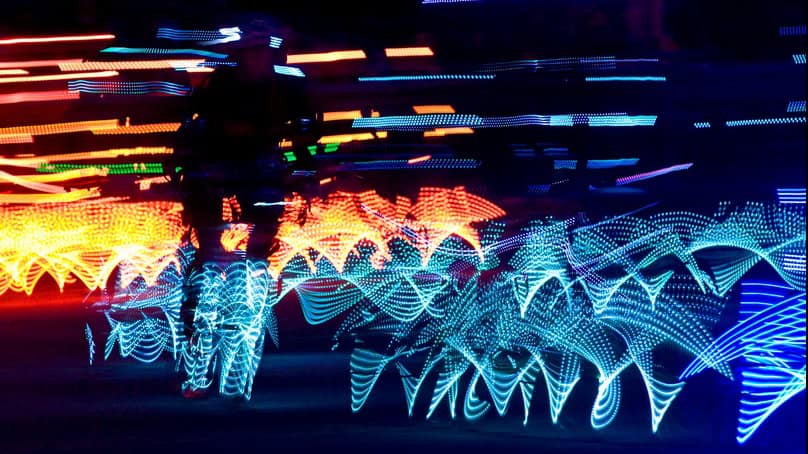 Riding in the Ghost Peloton – Ben Manuja
Last month(!) I was lucky to be one of the 36 riders who made up the Ghost Peloton. Although it was hard committing so many hours to rehearsals, (the day job is working in support of City Connect; trying to make it easier to walk, cycle and use public transport between Bradford and Leeds and I've been volunteering with Sustrans painting the Millennium Mileposts TdF Yellow) it was also a wonderful, once, well ok twice, in a lifetime experience, and it was well worth the effort.
As an advert for cycling I think the Ghost Peloton was perfect. It showcased all of the best things about cycling – freedom, fluidity, speed (both fast and slow), togetherness – but more than anything it captured that magical feeling that I only get when I'm on my bike. Being in the middle of such an event was amazing, I think we had the best view in the house, (for those of you that never got the chance to see it, keep your eyes out for the official video which should be launched soon, I think the plan is to show this when the Tour De France itself comes to town) certainly everyone I've met who was there has been full of praise.
Hopefully once the City Connect route is finished then daily cycle commuting to Leeds or Bradford will become more like riding in the Ghost Peloton, i.e. there'll be a long line of bikes, weaving an intricate pattern through the heart of our urban landscapes. I'm sure that the new European style, segregated from traffic, route will attract many more people to start cycling to and from the city centres, which will be a fitting legacy to the Grand Depart. Sadly though we'll all have to supply our own lightsuits…