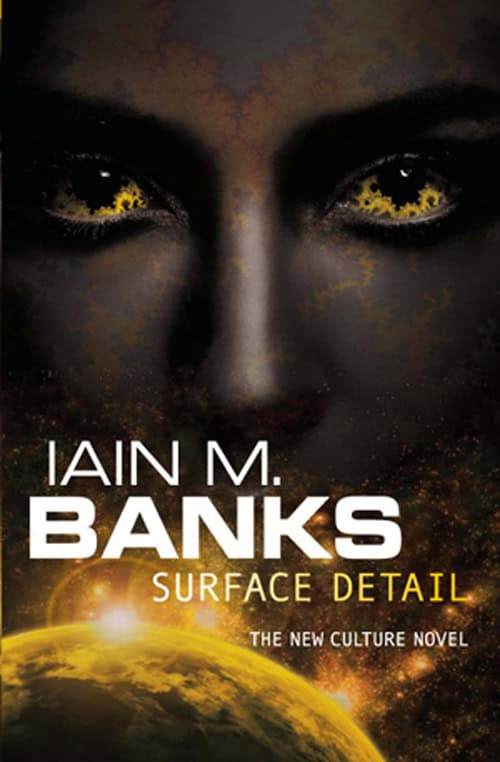 For those of you still not sure, Iain M Banks and Iain Banks are indeed the same person. The 'M' comes into play when the Scottish author decides to turn his hand science fiction, something that he has been doing with aplomb since 1987. Surface Detail is the latest in his series of novels that deal with The Culture, a hyper intelligent civilisation that traverses the galaxy whilst encountering species that are – on the whole – much less cultured than, well, The Culture.
Surface Detail begins with the death and resurrection of Lededje Y'breq, a indentured servant whose demise at the hands of her master is only thwarted by mysterious new technology.  With thoughts of revenge, she encounters The Culture who take an interest in her plight. But it soon transpires that the object of her wrath – one Jollier Veppers – is one of the most powerful men in the galaxy and The Culture has a vested interest in him. Because Hell may be much more real than you think and the world of virtual torment just may become much more real.
Banks is full to the brim of innovative and intelligent ideas – his notion of a virtual afterlife in which some people are kept in torment as a warning to the living is both thought provoking and disturbing whilst his grandiose vision of a galaxy beset by warring factions and different ideals is both inventively futuristic yet somehow close to home. The scope of some of his ideas may prove a bit daunting to some as – whilst not necessary – a working knowledge of previous Culture books helps and the raft of strange names and creatures does certainly fly past you at an almost alarming rate.
But the energy is also what makes this book so enjoyable. Banks never lets up with the action and intrigue and even the scenes of diplomacy and politics have a certain tension and excitement to them (whilst also showing that, even in the future, everyone will still be swearing like dockers). Those also a shade of Douglas Adams to proceedings with an underlying humour and '21st Century sensibility in a sci-fi setting' feel that lightens some of the more dark moments (such as the scenes set in Hell, which are brutal and nasty).
This is hard and adult sci-fi written with verve and flair. The proliferation of characters and events does sometimes get slightly overwhelming, but for those who like epic sci-fi sagas that dispense with anything approaching the po-faced then Surface Detail is another triumph from Banks.
Laurence Boyce is a journalist and regular contributor to The Culture Vulture and an ex-Morley lad. Frustrated by the fact people are holding a great event such as the Morley Literature Festival in his home town when he's out of the country, he's reviewing some of the books by some of the authors involved to show that books can truly be an international language
Iain M Banks appears at Morley Town Hall, Morley at 7.30pm on Friday 15th October as part of the Morley Literature Festival. Visit the website for tickets
Surface Detail is published by Orbit and is available now.