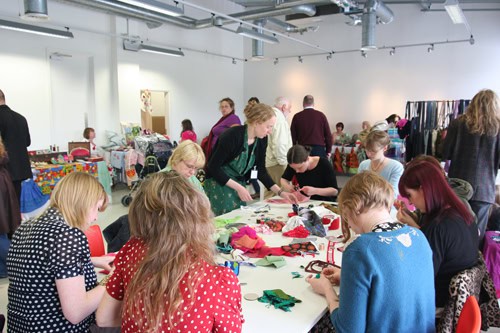 If you are ever overwhelmed with the desire to get up close and personal with us here at The Culture Vulture then you really should head on over to this fabulous Vintage & Craft Fair at Impressions Gallery on Sunday 6th December from noon until 4pm. Not only will yours truly be running a craft workshop making gorgeously cute felt flower brooches but Emma will be flexing her sales muscles and manning a stall selling the heartbreakingly beautiful Make, Bake & Grow charity calendar. So pop along and say hello, get crafty with me and give Emma some pounds in exchange for the lovliest calendar you will ever set your eyes on!
Anyway, enough about us. There will also be a wide selection of stalls selling gorgeous crafts and accessories from regional artists, designers and makers, The House of Rose & Brown vintage boutique, mulled wine and musical interludes. You can even sneak outside for a bit and have some fun at the Bradford German Christmas Market, immediately outside the gallery, just be sure to bring us something back from the Bierkeller!
The Vintage & Craft Fair is part of Lazy Sunday, which takes place on the first sunday of the month with a rotating programme of film, music, performance and crafty happenings.