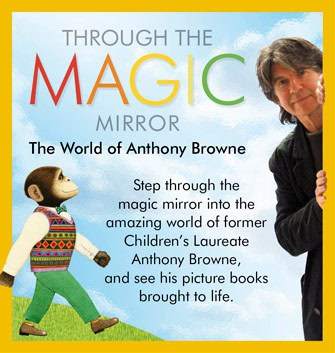 Andy Charlwood visits Leeds City Museum for Through the Magic Mirror – The World of Anthony Browne …
According the blurb on the Leeds Museum website:
Anthony Browne was born in Yorkshire and attended Leeds Art College; in 2009 he was named Children's Laureate in recognition of the importance of his exceptional children's writing in creating the 'readers of tomorrow'. Browne has won the Kate Greenaway Award for children's books on several occasions and was the first British illustrator to win the prestigious Hans Christian Anderson award.
I'd never heard of him until we stumbled upon this exhibition (on the top floor of Leeds Museum until 12th January) last Saturday afternoon as we explored the museum with our 18 month old toddler.
Browne writes and illustrates picture books, and the walls of wide corridor leading you into exhibition were decorated with life size illustrations from the books, particularly Willy the chimpanzee – apparently a bit of a geek trying to get by in a world of big gorillas with a tendency to bully him. Our toddler was immediately delighted by the illustrations, giggling as she saw them, and following them round into the exhibition proper, where you are confronted by a large full-length mirror (the magic mirror of the exhibition title). Around the walls of the exhibition space are more illustrations, along with information about the author and his stories. There was a table with drawing paper and colour pencils, designed to encourage slightly older children to have a go at copying some of the illustrations. A bit advanced for a toddler, but ours loves drawing, so she hauled herself up and was soon scribbling with abandon.
Just round the corner, are two small rooms, one of which contains another table for drawing, the other is done out like a sitting room, with an old fashioned TV playing a 1950s king kong trailer that had been one of Browne's inspirations, along with other artifacts from Browne's childhood. There was also a sofa facing the TV and a big pile of Browne's books. Again, the toddler was delighted by this little room and immediately started rifling through the books looking at the pictures – presenting one to her Mum to read to her then climbing up on the sofa to be read to.
I went off to explore what else there was, and found a partition decorated with leafy wallpaper with a small hole cut into it, just big enough for a smaller child to crawl through. Through this gap (which larger people can simply walk around) were floor cushions, two magnifying glasses and baskets with toy food in. We prised the toddler away from the sitting room and led her round to the small hole. She peered through, thought about it for a second, then crawled in. Much fun was had playing with the toy food, filling and emptying baskets and examining things through the magnifying glasses.
In the far corner of the room was a large stuffed gorilla in a cage which you could walk into. The toddler wasn't particularly sure about the gorilla, but with a bit of encouragement from us she walked up to him and gave him a stroke.
There was one further room with more illustrations on the walls and another drawing table. As the toddler played happily with the fruit in baskets and did some more scribbling, we wandered round looking at the illustrations and flicking through the copies of Browne's books that were placed at various points. I really liked Browne's books, which are really well drawn with interesting stories that will also develop children's moral imaginations. I can't wait to read more of his books with the toddler as she gets older.
All in all we had a magical afternoon – the toddler found the environment created by the exhibition delightful and we enjoyed her obvious delight. Strongly recommended for toddlers and older kids too!