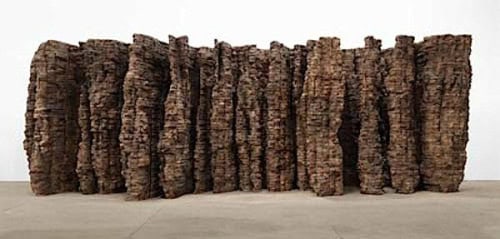 Ursula von Rydingsvard Bloggers Event at Yorkshire Sculpture Park
Meet acclaimed American artist Ursula von Rydingsvard and be among the first to see her new exhibition in an exclusive bloggers event at Yorkshire Sculpture Park on Saturday 5 April. Tweet and blog about your experience with #ursulaysp
The exhibition, which is the artist's most extensive to date, illustrates the full scope of von Rydingsvard's diverse practice, with more than 40 works of drawing and sculpture made over the last two decades, presented in YSP's purpose-built Underground Gallery and the open air.
One of America's most inventive and individual artists, with work in the collections of the Metropolitan Museum of Art and the Museum of Modern Art, among others, von Rydingsvard has evolved a distinctive, highly personal sculptural language that has become synonymous with cedar, the wood that lies at the heart of her practice. The exhibition features wall-mounted works, monolithic structures and other complex forms, most of which are meticulously assembled from 4"x4" cedar beams.
Ursula von Rydingsvard at Yorkshire Sculpture Park from Yorkshire Sculpture Park on Vimeo.
The Event
09.45 – Arrive at YSP for complementary coffee and pastries in the restaurant
10.30 – Introduction by Ursula von Rydingsvard
10.45 – Tour of the exhibition in the Underground Gallery & open air with YSP Curator Sarah Coulson
11.45 – Event closes
Or enjoy the optional extra opportunity to visit Uncommon Ground: Land Art in Britain 1966–1979, which also opens at YSP's Longside Gallery that day. The Arts Council Collection (ACC) touring exhibition, featuring the work of 24 artists and artist groups, is the most comprehensive exhibition of British Land art to date.
12.30 – Introduction to the exhibition in Longside Gallery with ACC's Sculpture Coordinator, Lizzie Simpson
12.45 – Time to view Uncommon Ground: Land Art in Britain 1966–1979
13.30 – Event closes
Active cultural/arts bloggers and prolific tweeters welcome.
Book a place


and use the hashtag #ursulaysp
Please indicate when booking if you would like to join the optional visit to Uncommon Ground.