HULL TRUCK'S Jack Lear is a reworking of Shakespeare's King Lear that pays tribute to Hull's trawling legacy amid universal themes of love, betrayal, and family disputes. Self-styled 'Ezzle Road kid BARRIE RUTTER directs himself in the title role. RICHARD HORSMAN went to see it.
First things first. This isn't King Lear. Hull Truck have revived Ben Benison's play inspired by themes in Shakespeare from ten years ago, this production now as then featuring Barrie Rutter as Jack Lear, a wealthy trawlerman who is preparing to retire and hand over his fortune to his daughters, Morgana, Freda and Victoria.
The sisters, who have never seen eye to eye with each other, or with their tight-fisted father, scheme and scrap over their inheritance. The situation becomes even more tense as Edmund, a womanising Solicitor, enters their lives.
As Rutter himself puts it,
"A King , three daughters, the two eldest killing each other, an amoral scoundrel called Edmund, the famous heath scene with Lear taking on the elements transposed to the ocean as Jack seeks a watery grave and the redemptive love of the youngest daughter. However, the play stands on its own merits. No knowledge of Shakespeare is required, but a tingle of recognition may be afforded to those who are familiar with King Lear."
He believes the play evokes "vibrant recollections of very recent history of a time when Hull was the biggest white fish port in the world in terms of tonnage, and where the memories of that world still provide a raw setting for the on-stage story"
What we see on stage is a powerful family drama of sibling rivalry and familial bonds, told against the harsh backdrop of life on the fishing boats.
There are frequent, graphic references to the reality of life at sea, hands red raw from hauling on the nets or infected by wounds from the dogfish they gut on deck. There's also powerful commentary on gender roles from Morgana (Nicola Sanderson) and Freda (Sarah Naughton) – "Morgan and Fred. If we dress as men, in oilskins, do men's work .. then we are men".
Only youngest daughter Victoria (Olivia Onyehara) at first shows any outward sign of femininity; but whilst her sisters are quick to make empty promises of love to their father, Vic promises nothing, prompting Jack to disinherit her.
Edmund the solicitor (Andy Cryer) is the catalyst for change. A villain for the Me Too generation, his scheming, heartless sexual gaming with the two elder sisters is cynical and ruthless.
It's a fine performance that balances self deprecating comic charm with a cold, calculating manipulation; the smiling face of the abuser boasting of his plans and conquests to the audience.
At Jack's insistence, to harden them up, the young Morgana and Freda would spar with swords. As emotions soar that conflict turns deadly. Two powerful women literally at each other's throats.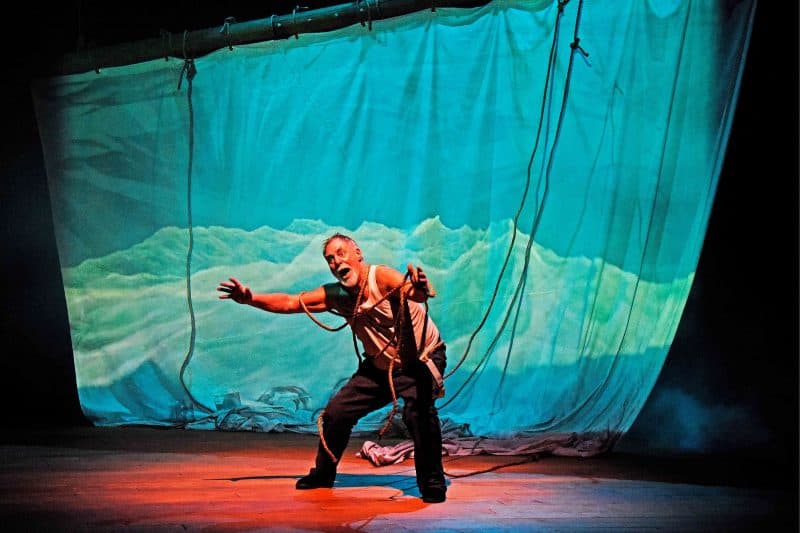 Barrie Rutter is no stranger to the role of Lear, and he brings all his vast theatrical experience to a powerful storm scene set out at sea, rather than on a heath. He clearly relishes the opportunity.
"Having played Shakespeare's King Lear twice now – they always say you should do it twice, once when you can and once when you should – I hope I retain enough heft, truculence and madness to have a third go at it and join my colleagues on stage in Ben's fine play."
There are moments of tenderness too, as Jack, losing his mind in a nursing home, is comforted by Vic but is unable or unwilling to accept unconditional love. Clutching the mistletoe he recalls gentler days of the girls' childhood.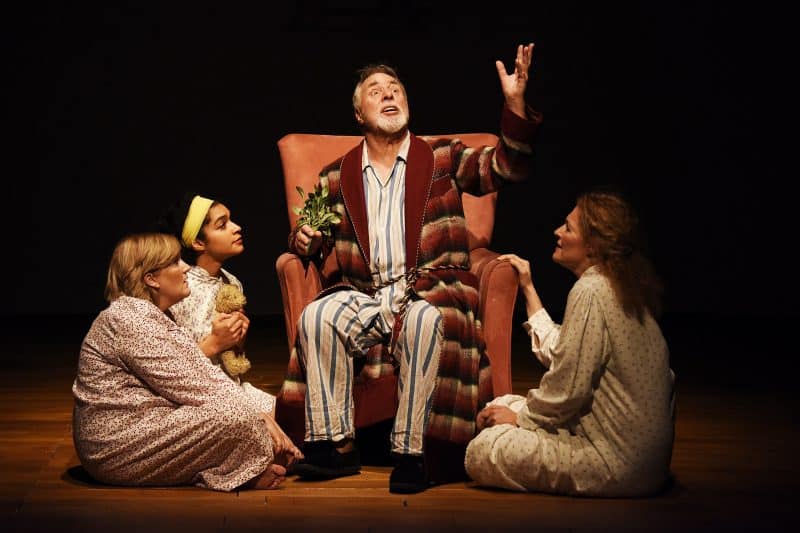 Music is a key part of the production, with a score of a cappella folk music composed by Yorkshire-born folk icon Eliza Carthy MBE. The show comes to its conclusion with Jack in an expensive if ludicrously-tailored suit, recalling life ashore from the boats "living like a millionaire" as he blows his wages on a few moments of happiness.
Jack Lear runs at Hull Truck Theatre until Saturday 2 February.
The production then transfers to Northern Stage, Newcastle-Upon-Tyne 12 – 16 February
Touch Tour – Wed 30 Jan, 1pm
Audio Described Performance – Wed 30 Jan, 2pm
Captioned Performance – Thu 31 Jan, 7.30pm `
Photography: Nobby Clark