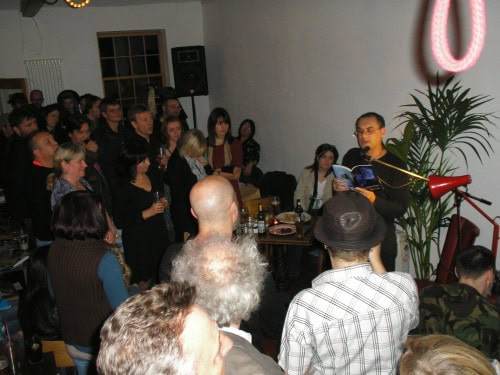 Mick McCann (@MickMcCann01) presents his diary of the day he launched Blowback by John Lake . . . I'm just wondering when Culture Vultures will get a review copy?
Bollocks, the quilt is still a tad damp. I scoop it up and lay it across a plastic coated clothes-horse in the spare room, where the angled sun light will move across and warm it through the day. I'm slightly panicking as the dust swirling through the shards of light starts nattering me that maybe I should give the flat a quick clean. I can't, I haven't got time, mi'mum is only spending a few hours here to start re-acclimatising to her flat, it's 9.48 and I've got a book launch that something deep inside is insisting I'm ill-prepared for.
1.30. I'm back home and author John Lake arrives, creatively late, were he to skin up (a number of times) I'd have to be sociable. He's excited – well wouldn't you be – as he holds his new born baby in his hands for the first time. I see his proud eyes flick over the back cover:
"A brilliant and ambitious slice of Yorkshire Noir, BLOWBACK leaves you desperate for the third part of John Lake's Leeds 6 Trilogy." David Peace, author of The Damned United, Red Riding Quartet etc.
The testimonial from Anthony Clavane, "This pulsating sequel to Hot Knife confirms Lake as one of the most compelling writers around. Raw, visceral, brutal, often painful to read, it delves into areas of life less honest writers fear to tread" reminds where all this publishing malarkey started. It was the fist-full of rejection letters that John's London agent had for Hot Knife which persuaded me not to waste years looking for an agent or publisher for my stuff. The letters were weird. Major publishers in turmoil, a dichotomy between a passion for literature and their business model, saying things like 'most established writers would kill to be able to so vividly and authentically capture these characters…to know and draw such a realistic portrayal of the edgy underbelly of society…but unfortunately, it's not what we're looking for right now.'
I first published my own Coming Out As A Bowie Fan In Leeds, Yorkshire England and then John's stunning Hot Knife that the majors wouldn't touch. Hot Knife was everything Coming Out wasn't, a character driven, fast-moving thriller with tightly packed sentences, masterfully controlled. He was writing about social underwolves, characters rarely seen in mainstream literature but he was also doing it with honesty, understanding and sensitivity. I almost imagined that at the heart of the drug and violence-fuelled roller-coaster was a love story, a real world love story. The characters were so well drawn that I wasn't surprised that John was constantly being told by people that they knew their true identity. Like most things, the idea of his characters being a composite of 50 real people made John smile.
If there is such a thing as Leeds Noir – as I think there is with writers like John, Wes Brown, David Peace, my second book, Andrew Macbeth, Bernard Hare – then John is at the heart of it.
It's 3.30 and as I half mop the floor around him John contentedly draws smoke in deep, satisfied with the look and feel of his years work now made real in this 8.5 x 5.5 inch lump of finely reconstituted and sustainably forested wood, encased in a full gloss sheen. My heart rate increases slightly as he suggests numbering the first 100….I should have remembered that. He can and should bask in the excitement of his new book and the impending launch, I should be focused. He retires, pencil in hand, to the dining room whilst I walk around the kitchen in circles trying to remember what the fuck I should be doing.
Shit, 4.30. The guy doing the small PA reckons we need to start setting up by 5.00. I've not fed the kids and the long suffering Mrs Mick's one request, when agreeing to the 30+ people returning to our house after the launch, was that it's spotless. It's a big house, I've got two hands but at least I'm getting there, only the rooms that will get most use to do…fuck, I wish I was more organised….Mick, stop daydreaming and throw some food at the kids, y'knob….'No, no, please don't bring me the phone…..Oh good, I'm glad it felt right. Yep….yep….yep….Mum, I'll give you a call tomorrow.' She's had complications after her hip-op – her upper leg, not her Kanye West albums….they're fine. I temper the guilt at hurrying her with the realisation that the 'good luck' she ended the call with meant she'd remembered the book launch and knew I'd be flapping.
6.03 lit up on the car clock startles me. 'Anyway, Paul was being well premature with the set-up timings,' I reassure myself, squeezing the car past a 4×4 cluttering the cobbled street behind LS6 Bar.
6.45. Shit, some people are already here, sitting downstairs, gobs full of food meaning I can smile, wave and get on. Returning up the spiral staircase with the mixing desk my heart lifts at the sight of all five of our books spread out on the long table, posters already hung, Blowback centre-stage. Mrs Mick and my middle son have been busy and hopefully as our cashier, he'll remain so. I'm acutely aware that the thrillers are a less easy sell than Coming Out or How Leeds……
As I flap and fiddle the room fills, unnoticed, around me and I spend half the time on the large terrace throwing nicotine at my nerves, soaking uncertainty with adrenaline. John's in his element, all the relaxed time in the world to chat as I constantly pull him away from conversations to sign and meet, pose for photographs. My face is out of control, my grimace natural, my smile fake as I service people, breaking to grab at food spread around the room…..I'd forgotten to eat.
9:30. John has the giddy rabble held captive under his words as he reads through the opening pages of Blowback with a Sri Lankan chemist being dangled by Ukrainian gangsters from the top of a central Leeds high-rise. My head moistens (I knew this section was too long) as John's voice animates the characters, the audience are still hooked……how's he done that?
As John finishes people around me start to complain, 'Isn't he going to do a Q&A?' Shit, I should have mentioned that to him. By the time I get to the front the music is back on and John is elsewhere, deep in conversation. I later realise, as people tell me they'd spilled into the room downstairs or out onto the terrace and couldn't get back into the room for the reading, that I should have also managed the room better. I'd gone to pieces under the pressure and let down our guests.
It's 11.15 and I check sales before we leave. 'We've broken even on the book already, fanbloodytastic.'
5.30 am, one lad left in the house, refusing to leave, 'Come on, you have to go now, they're all waiting for you in the taxi.' Within half an hour my breathing has returned to normal and by afternoon my heart has calmed. The buzz of the night, which had passed me by, reappears as a flashback and powers me through the following week, everything is right with the world…. Blowback is out.