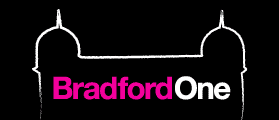 Bradford One
is a form of co-operative (called a Community Benefit Society) that was set up to plan the redevelopment of a former 1930's supercinema in Bradford City Centre. It's approach differs from other private developers in that it is a community led venture which will soon be offering open membership to all, and all profits made by the society are to be reinvested back into the cultural life of Bradford.
A 10 year campaign to save the building from demolition reached a successful conclusion late last year as plans to knock the building down in order to make room for offices and a hotel collapsed, and expressions of interest for refurbishment were invited. Bradford One was launched with the help of Griff Rhys Jones in November 2012. Their mission is to create a viable plan for to turn the building into a mid-sized live music venue, exhibition space, independent retail (in the style of Afflecks Palace/The Corn Exchange) and new build office space for the creative industries.
The group has announced this week that they've reached an important milestone by securing a £10k pre-feasibility grant from The SIB Group which will allow them to present their outline proposal to Bradford Council within the next two months. This moves the possibility of a grassroots community group who have been directly involved in the long running campaign to save the building for the city a stage closer to competing alongside private developers to deliver a venue that truly reflects the unique cultural offering of the city.
There are numerous examples of this kind of group successfully delivering such a project in different areas of the country. The fan-founded FC United of Manchester used the same model and are about to open a new stadium that has been planned in this way, and closer to home Wakefield Unity Hall is renovating their historic building as a live venue and creative centre. The scale of the former Odeon presents a formidable redevelopment task, but the key is the popular support it commands.
In many ways, Bradford One are the underdogs of the regeneration world, but simply by being able to compete against major developers on an equal footing sends a powerful message. Whilst many new venues are tied into sponsorship and commercial deals that limit their ability to represent the vibrant culture of the communities they are located in, this grassroots initiative seeks to create something unique of which Bradford can be rightly proud.
Whilst there is still a long road ahead, the financial boost received this week will ensure that, at the very least, the people of Bradford will have the chance to turn their cultural dreams into reality.