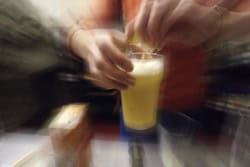 If you're interested in the strange, wonderful and cheap then Bradford is the place to go. Somewhat in the shadows of its neighbours in terms of mainstream leisure offerings, some seriously unique underground culture has emerged from the former Wool Capital of the World in the past few decades.
Take, for example, the 1 in 12 Club, one of Europe's longest running and infamous autonomous social centres, run by and for its members. Anyone can join as long as they have an affinity with – and demonstrate a commitment to – the club's non hierarchical, non-sexist/racist/homophobic policy that aims to create an alternative cultural space in an increasingly marketised and standardised 'culture industry'.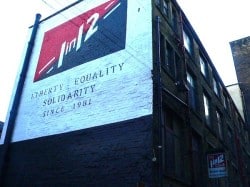 Making use of the 1 in 12 Club's ample resources that includes a café (with library), members bar and gig space, is brand new club night Bare Plume. Devised and run by a collective of peeps that will be familiar to those that have attended gigs, events and nights by Obscene Baby Auction, Black Dogs, No Hands, Popsy Promotions and plenty of other DIY art and music events in Leeds and Bradford, the aim of the evening is to, in their words, "expand minds and indulge the senses on a shoe string".
There will be live music from Leeds' disco-funk duo Galaxians, avant-garde post-R'n'B from France's TG Gondard, DJ sets that reflect the event's eclectic no border's approach, as well as vegan Thai food and a range of cocktails served early on in the night. Plus the very affordable range of Sam Smiths beers and spirits in the members bar. And all for the bargain price of £5!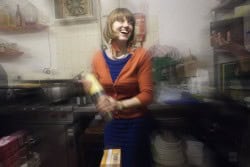 One of the organisers, Yvonne Carmichael, explains the concept behind the Bare Plume:
"We wanted to bring a bit of luxury and fun to a place like the 1 in 12, and to Bradford more generally. There's a tendency for DIY, not-for-profit nights to take the economical, no-nonsense approach a bit too far and fall into a dull, predictable aesthetic. We want to show that you can be ethical and a bit over the top at the same time. It's great fun seeing people walk around the 1 in 12 Club with Espresso Martini's in their hand: it shows how diverse and flexible a space it can be. The club can be whatever its members wish, and we wished for fizz!"
If you want to sample some critically concocted cocktails, including the one-off special Thai Cosmo, then head on down to the 1 in 12 Club, Albion St, Bradford on Friday April 12th. Food and cocktails are served in the café on the top floor from 8pm and live music finishes by 12am with DJs and dancing until 1am.
The event is for members and their guests which means you can either become a member in advance or, for the curious but not-yet-committed, be signed in on the night by an existing member. See www.1in12.com for details.
Words courtesy of Andy Abbott. Flyer designed by Rose Borthwick.