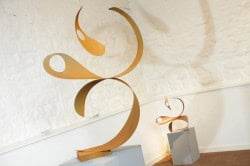 A beautiful new exhibition by husband and wife artists, Juliet and Jamie Gutch, sees the duo working together on their first major exhibition in which their stunning large and small scale mobile sculptures create a breathtaking installation in the heart of Yorkshire.
'A Siege of Cranes' features new work by the Yorkshire-based creative couple, who explore the theme of balance through suspended sculptures, or 'mobiles', and whose simple designs mask an intricate, collaborative construction process. The art works will be exhibited in the recently opened 'Barn Gallery' in Weston, Otley, owned by art collector, Ronnie Duncan, and will open to the public by appointment, from May 11th.
In a year that sees the spotlight land on mobile sculpture in the art world, with a major retrospective of work by Alexander Calder at The Pace Gallery in London from April, 'A Siege of Cranes' is a timely showcase as Juliet and Jamie, who cite Calder as a key influence on their work, offer audiences an opportunity to see a number of new large-scale installations which are up to four metres in height and hand-crafted in bronze, stainless steel and aluminium, alongside a selection of smaller, wooden mobiles and maquettes.
The lines, forms and shapes for these latest mobiles are taken from the artists' drawings of cranes in flight (the Red-crowned Crane, or 'Grus japonensis', which breeds and stays in Hokkaido in northern Japan). The context for these particular works is the profound imbalance of everyday life experienced by those living in the aftermath of the nuclear disaster at Fukushima Daiichi. The decision to use this particular bird as the inspiration for the mobiles was influenced by the Japanese tradition of making origami cranes as a gesture of hope during periods of sadness.
Also on display will be maquettes made for the artists' first large-scale commission, 'An Exaltation of Larks'; a 20 metre high installation of four large-scale permanent mobiles for the flagship John Lewis store in Stratford, East London, which was completed in summer 2011 and makes a striking feature in the centre of a four storey glass prow at the entrance to the building.
Mobiles created in wood and stone are handcrafted by the artists themselves, but when working in metal, Juliet and Jamie collaborate with Andy Langley from Art Fabrications in Leicestershire, a specialist fabricator and installer of metal sculpture and artwork, who works with his team to scale up and hand craft the pieces in a variety of metals.
Comments Juliet Gutch: "As a husband and wife partnership, balance is important both in our relationship and in our work. However, in this exhibition we play with the concept – whilst some mobiles will be suspended from the ceiling in their traditional form, others will be suspended immobile, their movement restricted by being placed against the gallery walls or resting on the floor. The points of equilibrium on any mobile are miniscule but they carry immense strength. If they are restricted in any way, then the integrity of the whole is lost.
"We are exploring the significance of balance and what happens when it is no longer there. Through this we hope to show that mobiles have their own unique sculptural language which can express not just the joy of equilibrium, as seen in Calder's work, but also the pain associated with a loss of balance."
Ronnie Duncan added: "The Barn Gallery was set up to give emerging artists an opportunity to show their work outside the commercial gallery circuit. Juliet and Jamie's mobiles fully deserve this exhibition."
'A Siege of Cranes'
New exhibition by Juliet and Jamie Gutch
11th May – 31st August 2013
The Barn Gallery, Weston, Otley, LS21 2HP,
Visits by appointment only via the artists' website www.julietandjamiegutch.com
For further information please contact Debbie Pett or Anys Williams at Anita Morris Associates on 01943 603311, debbie@anitamorrisassociates.co.uk / anys@anitamorrisassociates.co.uk / @debbie_pett @AnysAMA