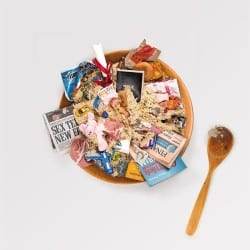 The searching question of 'what is enough?' is the starting point for a new double-bill of plays entitled 'The Enough Project', directed by Alan Lane (Slung Low Theatre Company, Opera North, West Yorkshire Playhouse). Making their debuts on June 13th at Theatre in the Mill, Bradford, before touring to The Lowry in Salford and Carriageworks Theatre in Leeds, are 'Brimming' written by Emma Adams and 'Something Right' by Cathy Crabb, bringing together for the first time some of the most interesting talents currently working in theatre, writing and producing in the North of England.
The double-bill presents two contrasting, complimentary 45-minute plays, each with the same four-person cast. The work is produced by Dep Arts and developed under commission by Theatre in the Mill, which supports the development of new work, new practice and new artists, Carriageworks Theatre's 'Emerge Festival' which showcases the best new theatre and performance artists, and The Lowry. It features a set design by Barney George, (Jack and the Beanstalk at West Yorkshire Playhouse) which uses dozens of everyday objects from toys, to broken laptops and handbags, to represent the detritus of modern living.
'The Enough Project' sees the two writers use their distinctive regional voices to respond to one simple question, each wrestling with one of the most relevant global issues of our day and exploring a broad range of themes: consumer capitalism, the earth's dwindling resources and what it means to have enough, both in personal relationships and in society as a whole.
'The Enough Project' is the first home-grown production to emerge from international producing company Dep Arts, which has built a reputation for representing a stable of talented dance and theatre artists and companies across the globe. Dep Arts secured Arts Council funding, along with support from the partner venues, and identified the creative team to bring the plays from script to stage. The project sees Dep Arts further its ambitions to breakdown barriers between art forms, and excite audiences about the best rising talent in the industry, whether contemporary dance, performance or new writers.
Emma Adams (Bradford), whose absorbing piece, 'Forgotten Things', toured nationally in 2009 and was shortlisted for the Meyer-Whitworth Award, offers a dark and surreal comedy, 'Brimming'. It follows a dysfunctional family's attempt to manoeuvre through a disastrous dinner party which sees the lead characters question their impact on the people around them, when and how we can say 'enough'. Cathy Crabb (Salford), a 2005 winner of the Manchester Evening News Fringe Award for Best Production, roots her work in the humour and politics of the working class. Her play, 'Something Right', focuses on family dynamics, involving a mother who tries to do 'the right thing' for her children, who encounter ideas that challenge those of their upbringing and invites audiences to question our right to influence another's thoughts and behaviour.
Emma Adams: "Both Cathy and I are very proud of and influenced by our northern upbringing. We have very different styles and have followed each other's careers since meeting in Manchester eight years ago, but this is the first opportunity we've had to work together and it comes at a really exciting stage in both our careers."
Cathy Crabb: "The Enough Project has allowed us to embark on an unusual journey which presented many challenges as we searched for a way to bring to life two very contrasting stories, using the same set and cast. The resulting productions are two halves of a much greater whole; an exploration of political issues, from public funding cuts to growing unemployment levels, to what constitutes having 'enough' on a personal level. We hope that 'The Enough Project' will reach people at many different levels and will strike a chord with all kinds of audiences."
The cast includes Leeds-based actress Lauryn Redding (Wind in the Willows at West Yorkshire Playhouse and The Comedy of Errors at Shakespeare's Globe) Manchester-born Jo Mousley (played Hilda and Deidre in the New Zealand tour of 'Coronation Street on Stage'), television and theatre actor Russell Richardson, (TV: Coronation Street, Doctors, Theatre: Singin' In The Rain at the London Palladium, Wind in the Willows at West Yorkshire Playhouse) and Glasgow-born Terence Rae, currently in his second year at the Royal Conservatoire of Scotland.
Tickets for The Enough Project are on sale now. For more information visit www.departsltd.com/artists/the-enough-project or follow on twitter @enough_project
For more information please contact Anita Morris Associates on 01943 603311. Anys Williams: Anys@anitamorrisassociates.co.uk / @AnysAMA | Debbie Pett: Debbie@anitamorrisassociates.co.uk / @Debbie_Pett