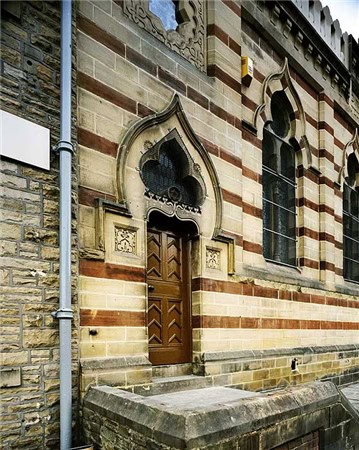 Looking at the dominance of South Asian businesses and households in today's Manningham, it's difficult to imagine that any other community ever thrived here. In fact, one hundred years ago, Manningham was the Jewish Quarter, known as "the best end of town". It was the place where affluent Jewish merchant princes preferred to live.
I've spent many years documenting the migration patterns of Bradford's South Asian communities. So when Fabric mooted the idea of curating a Manningham based soundwalk, it seemed to be the perfect opportunity to focus on one of Bradford's earliest migrant communities, and one which is also largely hidden today. According to Rabbi Ken Fabian of the Reform Synagogue in Manningham's Bowland Street (pictured), the 2001 Census noted there were 350 Jewish people in Bradford although the synagogue, one of the oldest in Yorkshire, now has less than 50 members.
The Grade II listed Moorish building was founded by a German Jew back in 1881, although today the synagogue adjoins the Yorkshire Tandoori and sits across the road from an Islamic education centre in what is largely an industrial street. Its founder, Jacob Moser, not only heralded one of Bradford's greatest textile export houses, he was also Lord Mayor of the city in 1910. Moser also helped to establish the Bradford Technical School (what we know today as Bradford College) and donated a large collection of books to the Bradford Central Library.
I wanted to capture Jewish Manningham, as it would have been, through the eyes of such a local luminary as Jacob Moser – someone whose life was woven into the fabric of the city, someone connected to Bradford's historic textile industry. But I was keen to select someone with an artistic background and preferably someone whose life I could trace through memoirs or local history. I wanted to be able to link one person's story, from a hundred years ago, to the streets and buildings which we still see in Manningham today.
So I took up a seat in the Local Studies section of the Bradford Central Library. The first notable figure to come to mind was wool merchant Julius Delius and his son Frederick who of course became an acclaimed English composer. I even pored over Clare Delius's autobiography, 'Memories of my Brother' (1935) in the hope that I might find a Manningham connection, but frustratingly, there was none. The book confirmed that the family had lived at the bottom of Great Horton Road near the university. It also confirmed that although the family were German, they weren't in fact Jewish (although Delius's wife, a German painter named Jelka Rosen, was partly of Jewish descent).
I then came across 'Now a Stranger', the 1933 autobiography of the Italian born English poet, Humbert Wolfe, who grew up in Mount Royd, Manningham. The son of a German Jew, Wolfe attained popularity during the 1920s but this was later than the period I wanted to focus on. I had already decided to avoid the era of the World Wars because I felt this might complicate the story of Manningham's emergence as the Jewish Quarter at the turn of the 20th century.
Everything fell into place when I came across the three volume accounts, 'Men and Memories', of the popular artist, Sir William Rothenstein (1872–1945). Rothenstein's father had come to Bradford from Hildesheim in Germany to work for Schlesinger, the woolen merchants, and then taken over the firm's warehouse in the Little Germany area of Bradford. William Rothenstein was born and raised in Bradford. He went on to study at the Slade School of Art, before producing a series of portraits of notable people of his time including Oscar Wilde and Albert Einstein. He became an official war artist during World War I and World War II, before taking up the role of Principal of the Royal College of Art during the 1920s where he encouraged the likes of Henry Moore.
William and his father weren't the only Rothensteins to have a positive impact on arts and commerce in Bradford. Other members of the family also made a valuable contribution. William's brother, Albert, was also an artist and his brother Charles was an important collector and supporter of Rothenstein's work, who donated his entire collection to the Manchester City Art Gallery in 1925. Both Charles and Albert anglicised the family name to Rutherston during the First World War, although William decided to keep his, apparently changing his mind at the last moment. William's son, John Rothenstein, was Director of the Tate Gallery from 1938 to 1964.
The immersive soundwalk captures a slice of Manningham in the year 1902 and also features live action. It runs for one night only, on Thursday 27th September, from 7.30 – 8.30pm but we will be meeting half an hour earlier at the Sweet Centre (the café, not the restaurant next door) which is located precisely on the corner of Lumb Lane and Bowland Street in Manningham. Tickets cost £5.00 plus a 95p booking fee. Spaces are limited so you are advised to book early. Once you've signed up, you'll be sent the audio tracks which correspond with the route of the soundwalk, for you to download onto your mp3 player in advance. Please remember to fully charge your audio player's battery beforehand, and do remember to bring headphones and suitable footwear.
Irna Qureshi blogs about being British, Pakistani, Muslim and female in Bradford.