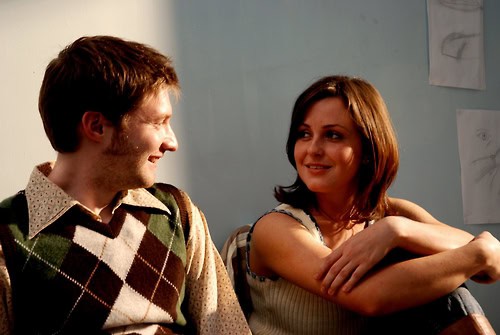 Guest blogger Stanley Denning experienced The No/Gloss Film Festival for us last weekend.
The No/Gloss Film Festival premiered this weekend at Wharf Chambers in Leeds, and easily lived up to the expectations that were set by the other weeks' prelaunch.
Wharf Chambers seemed like the perfect venue to hold this festival, sharing a similar crunchy, co-operative DIY ethos as No/Gloss. The drinks were cheap as hell and the food really nice, and though neither was that varied the venue itself has a friendly and hip vibe that'll definitely see me returning to check out the various live music and art events advertised around the place.
The selection of films on show was even more varied and exciting than that shown at the prelaunch. Included in the programme were few interesting experimental installations: one particularly captivating piece The Rhythm The City consisted entirely of beautiful time lapse footage of Manchester. Young Hearts Run Free (pictured) was the only feature length production I caught at the festival and also one of my top five favourites of the films shown. Despite a severely low budget Young Hearts Run Free managed to convincingly pull off a 70s setting, and the depth of the actors involved was astonishing.  The directors of both of these projects, as well as several more, delivered question and answer sessions for the audience and were also available all day at the venue for speaking with personally, which really enhanced the mood of the festival.
Aside from the films there were other art forms represented. Saturday's live painting exercise 'Gloss This' from CBLOXX and friends appeared to go off without a hitch and the artworks (all very impressive) were up for sale through silent auction during the next day,  had I currently more funds there were a couple on show I definitely would have placed a bid on. Local zine and publishing collectives Fictions of Every Kind and Loosely Bound sold their wares from stalls, some of which I perused and will definitely be returning to buy. For those purely in attendance to get a piece of the action there were also doodle tables to play around with.
No/Gloss made it very hard to believe that most of the people involved had no previous experience with hosting a film festival. The whole thing was pulled off with very few hitches, and luckily the whole atmosphere made the little gaffes and technical errors I did happen to notice only add to the DIY charm, and were swamped by the kitschy funk of the rest of the experience (a bed in the screening room anyone?). The opportunities to speak with the artists and filmmakers behind the submissions were much appreciated, as was all-round the hospitality of those involved. I can only see next year's festival being better and can't wait to attend.