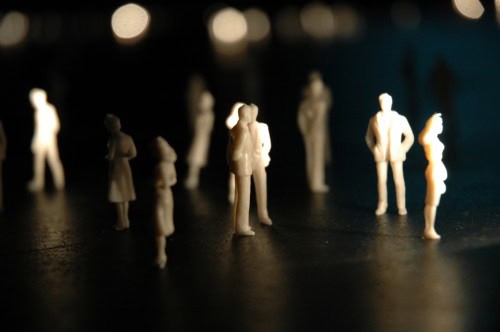 Interactive correspondent and go to person for all things immersive, Katie Beswick (@ElfinKate), recommends we get along to …
and it all comes down to this…
An Immersive Theatre Premier, stage@leeds 27th, 28th and 29th September 2012
When I was a little baby-child my parents would, with a nod to proper English tradition, take me and my myriad siblings to see a Christmas panto, every year. My overriding memory of these seasonal treats is mainly emotional, and the emotion I remember is frustration. All I wanted, the only thing that would have slaked my childhood thirst for adult attention, was to be one of those chosen few who were called onto the stage and permitted to wear a wig do a sing-a-long with the performers. It never happened. Which might explain some of my subsequent ill-considered, attention-seeking life choices, such as training to be an actress, and that time I took my top off on the bus. I bet you can imagine then, how happily I have greeted the move towards interactivity and immersion that has taken hold of the theatre in my adult life. In this new brand of theatre, it is no longer just the chosen few who get to be part of the show; we can all do it, which is exceedingly exciting for people like me, who like to get involved.
In case you haven't noticed, immersive performance is becoming a proper 'thing' now. It's what my Nan would call 'trendy' thanks to companies like Punchdrunk, whose massively successful show Masque of the Red Death, transformed the Battersea Arts Centre into a vast Victorian maze, and who transferred their show Sleep no More from London to New York where celebrity attendance ensured the company maximum media exposure (http://clearmag.com/uncategorized/emursive-presents-punchdrunks-sleep-no-more/). If you're not familiar with the form, David Shearing – an artist currently holed up in the studios of stage@leeds, Leeds University's very own public licensed theatre, looking all panicky and nauseated, working on his latest, Arts Council funded immersive project and it all comes down to this… – described it thus when I asked him for a sentence summarising 'immersive' work: 'performance where the audience are literally encouraged to get in touch with the unfolding landscape; where the physical bodies of the audience members are central.'
I'm a fan of immersive work for exactly this reason. The emphasis on the bodily experience, on the audience being part of the action, makes theatre more like sex, or food, and less like sitting in dark room in silence, watching tedious strangers emote to recited words. I've kind of had it with being a spectator; of actors, dancers, magicians etc expecting me to look at them for 90 minutes to three hours, with no acknowledgement of my presence in the room. In more traditional performance mediums, it makes zero difference whether I'm there, or you're there, or nobody's there; the performance will happen as it was rehearsed anyway. In immersive performance, you are central to the unfolding action. It's rather addictive – as anyone who's seen the sell out performance You, Me, Bum, Bum, Train, where hundreds of performers perform just for you, an audience of one, will attest.
David's work is somewhat gentler than other immersive performances I've attended. He's into mash-ups of hi and lo tech – everyday objects vs. eight speaker sound systems. He creates spaces where the audience are invited to quietly reflect on the poetry of existence with rhythmic text layered over projection; where bodies are immersed in the action via headphones and the navigation of intricately constructed terrains. In the last work of his that I attended, the terrain was constructed of over 5,000 one inch plastic replica humans he had shipped over from China. It was all quite exciting, in a tender, lovely way.
I've no idea what David has in mind for this performance, but when I met up with him over the summer he was obsessed with the colour blue to the point where I wished it were still as prohibitively expensive as The Girl With the Pearl Earring taught me it was in historical times. He also said something about flags, and the poster has little boats on it (I'm thinking: 'seaside'). You'll have to attend to find out though. And it all comes down to this… is on at stage@leeds, on the 27th, 28th, and 29th of September, and you can book tickets on the stage@leeds website, or by calling the box office on 0113 343 9730 between 11-3 Monday to Friday. See you there.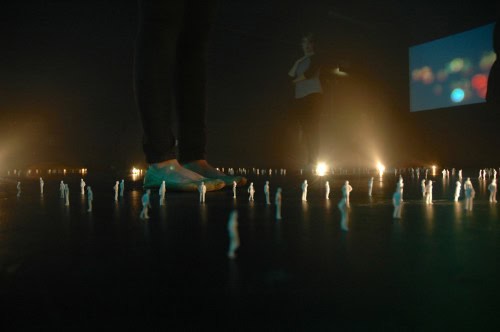 *Picture Caption: Images from David Shearing's show If anyone wonders why rocks breakdown (2011, 2012)