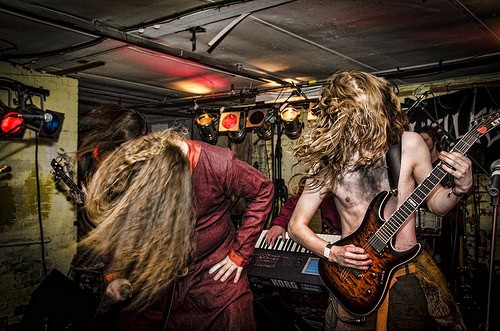 'Kin Hell Fest 2013 at Temple Works Leeds, reviewed by Andrew White …
The most unpretentious of beasts rolls on for another year. Very heavy music played by seemingly unwashed social detritus in what appeared to be an even more unwashed shell of a building south of the river – or the 'badlands' as I've taken to calling it. Not because it's an unsavoury place, but because I never go there and the unknown puts me ill at ease somewhat.
On reflection this was a minor misgiving. The line-up appeared solid, as did the price. Which of course I managed to dodge in true blagger fashion as I was asked to 'do merch' for a friend's band (DSDNT) who were playing on the Sunday (hence that being the only day I actually attended), after many arduous weeks of subtle nudges and winks on my part.
Now at this point I must make one thing clear. I saw, at best, four bands I think. You may assume, innocently enough, that I was diligently tending the merch stand and thus wouldn't leave my post for hell or high water. Sadly, this would be inaccurate. What actually happened was a lot wandering about aimlessly in search of a cigarette, moaning about how cold it was in the room allocated to merch stands and how it wouldn't get any passing trade as it wasn't between where the bands were playing and the food dispensary.
In fact I only became remotely task-orientated during the set of the band whose stuff I was supposed to be selling. I may well have some as-yet untapped aptitude for a certain job that will prove to be my true calling, but selling cassettes and t-shirts isn't it I'm afraid. As drummer of the band I was 'working' for put very aptly, 'great dude, shit merch guy'.
Fair enough I say. In my world 1 out of 2 is usually as good as it gets, although in fairness I was so rubbish I might even have transcended rubbish completely and turned back round into quite good. And all with the most wholehearted of apathy to boot.
On to the actual music though as that is the point. I'll say right now that Iron Witch were by far the best band of the da… sorry, of the four or so I could be bothered to watch. I saw them a while back in a basement, and their songs most definitely lend themselves very well to grimy surroundings. Plus they're Scouse, which is always fun. Other than that Sufferinfuck were decent, fast and horrible, which I like. Gout, well, they're called Gout. Imagine what a band called Gout sounds like and you're there pretty much. Wasn't sure what the Hawaiian shirt thing was about but they seem to not take themselves too seriously, which is refreshing when compared to A Forest Of Stars…
Look, I'll be honest. I don't get it. I mean I REALLY don't get it. My face couldn't help but contort with abject bafflement in fact. 'Victorian Black Metal'! … Have they got songs about catching Cholera?! Left to my own devices I could easily do a thousand words on why I don't like them. You could say 'oh well they are good at what they do', but I wouldn't agree with you. Being good at writing rubbish music doesn't sit well with me, and especially when the people listening are in danger of being swamped by the tide of smugness emanating from said aural train wreck. The keyboard player's even got a 'Prog-Face'. You know the one, where guy looks as if he's being brought to the point of ecstasy by his own magnificence during a set. If he was in King Crimson, fair enough, but he isn't. I'll stop at the one paragraph before I proper go off on one, but to sum up, they are without doubt the whitest band I've ever seen. Still, they got a large crowd so maybe I'm just not in on the joke. A joke wearing a waistcoat no less.
Man Must Die (oh it was 5 bands I saw then) were last on and played a solid set, although I couldn't actually tell if it was any different to the one they played when I saw them three years ago. That's fine I suppose. If I listened to metal more regularly I'm sure it wouldn't sound the same, but Hardcore's more my thing these days so it does sound a bit samey.
Thing is, I might well have been out of place being there at all, I may have worn the wrong shirt or my jeans could have been too tight, but the best thing about the whole affair was that such things were of no importance. I'm used to going to gigs and receiving the 'what band shirt have you got on' scowl, so it was nice to be free of such social shackles for a few hours. Perhaps I might even get into the dynamics another time.
Overall, despite my apparent sourness on the day, I would say the whole operation was very well organised; good sound, good catering (they gave me an extra sausage in my burger), and certainly a labour of love for those putting it on. I often daydream about putting on all-day or weekend festivals – alas without any action – so it's good to see people in Leeds actually putting the effort in and attracting lots of honest people who go see heavy bands for the right reasons, love for the music and the company of like-minded people. An attitude sadly missing at the more 'fashionable' gigs I'd say.