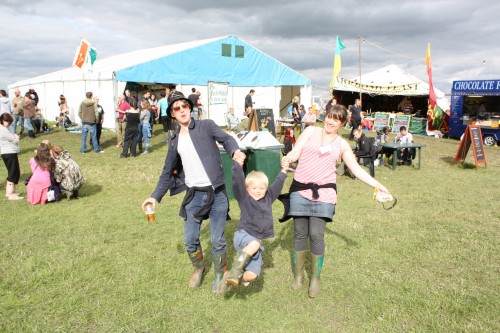 This month sees the region blessed with a number of festivals, from music to film,  and art to beer we have it all! Here are some of the highlights:

Moor Music Festival: 6 – 9th August
Funkirk Estate, Heslaker Farm, Skipton, North Yorkshire
The Moor Music Festival is a fabulously friendly weekend of camping, music and frivolity with a uniquely intimate atmosphere. We love the creative diversity of what's on offer at this festival, where else could you experience a30's style lounge cinema, a secret cycle powered disco, large scale doodling, a pingpongathon and an Earl Hickey Tribute Lounge! This family friendly festival provides fun for everyone. Find out more on their website
We are hoping to have some insider backstage reports from the Festival from our roving reporter Laurence and maybe even a little snippet from our lucky competition winner, Kirsty so keep your eyes peeled!
Leeds Carling Festival: 28 – 30th August
Bramham Park, Leeds
The Leeds Carling Festival is a hot favourite, and a fab way to spend your bank holiday weekend if you loves your music! There is probably not much we can say about this festival that you don't already know, so we won't. Visit their website for all the latest news and confirmation of acts.
Again we are hoping for some backstage gossip from our roving reporter Laurence (he really does get around and have all the fun – nice work if you can get it eh!!)

Chapel Allerton Short Film Festival: 31st August
Seven Arts Centre, Harrogate Road, Leeds
Back by popular demand this short film festival is now in it's second year, and kicks off the Chapel Allerton Arts Festival which runs from 31st August to 6th September. Submerge yourself in a night of short films, all with a Chapel Allerton connection naturally! Check out the CAFF website for more info!

14th Leeds Shakespeare Festival: 29th July – 11th August
Kirkstall Abbey, Leeds
From side-splitting comedy to renditions of the Bard surely this festival can priovide something for everyone in the beautiful location of Kirkstall Abbey Cloisters. This years festival includes performances of A MidSummer Night's Dream and Much Ado about nothing as well as two nights of Comedy in the Park
The Yorkshire Real Ale & Music Festival: 29th – 31st August
Locke Park, Barnsley
Get along to the biggest music and beer festival in the North this summer and  some of the finest jazz and blues around whilst enjoying the delights on offer from the CAMRA Real Ale & Cider tent! More information is available here.
feva: 14th – 23rd August
Events throughout Knaresborough, North Yorkshire
Now in it's 9th year, Knaresborough's annual festival of entertainment and visual arts will be filling the charming market town with a scintillating and unique programme of activities including street performance, music, art and culinary delights. A full programme of activities is available to download on the feva website
Whitby Folk Festival: 22nd – 28th August
This festival boasts over 600 events and promises seven nights of  dancing in the streets, singing in the pubs, and concerts late into the night. A firm family friendly favourite for all those who love their folk music ensconced in the stunning beauty of Whitby. Visit their website to find out more
Image Credit: Moor Music Festival © Gavin Freeborn