Never been a fan of Phil's pessimism about our great city, but enjoy his blogs to help me sense check I'm working to make things better. https://t.co/APavKJB7Ib

— David J Israel (@DavidJIsrael) November 2, 2017
Fair point, David.
It must seem to a lot of people in David's position that I concentrate unduly on the negative.
Focus on the unaffirmative.
Harp on about the woebegone.
True, I don't paint the aspirational, vigorous, vibrant picture of the city that only people paid handsomely to look at Leeds through rose-tinted lenses would paint.
But I'm born and bred Leeds. You don't have to sell it to me.
And Leeds is a great city. Totally agree with David on that. I choose to live here because I love the place. I walk the streets, drink in the boozers, shop on the local high streets, and catch the buses here (anyone from Leeds will have groaned knowingly at that last phrase.)
I think I write about Leeds with love. Certainly, when I write about the Culture with a capital C in Leeds it's done with an admiration bordering on awe – which doesn't mean I lose my sense of humour. I'm a Leeds lad. Understated irreverence and a sly disrespect comes as a birthright.
But I also think about culture in exactly the same way as the new Leeds Cultural Strategy. It's the ordinary stuff that we do every day. Common as muck. Which is why I write a lot about phone boxes and park benches and bus stops and Pound Shops.
After all, these are the places in which we live and move and have our being (as certain of our poets might have said.)
I spend more time at bus stops in a day than I do at the West Yorkshire Playhouse in a month.
I spend more time talking to strangers on public benches in a week than I do watching ballet or modern dance in a year.
And I spend more time in the Pound Shop in a month than I'll ever spend in The Henry Moore Gallery in a lifetime.
That's just reality. Why shouldn't I write about it?
Should I pretend not to hear and see and feel what's happening around me because it doesn't suit the internal investment goals of the cities leaders?
It's not "pessimism". It's what's going on.
This is my reality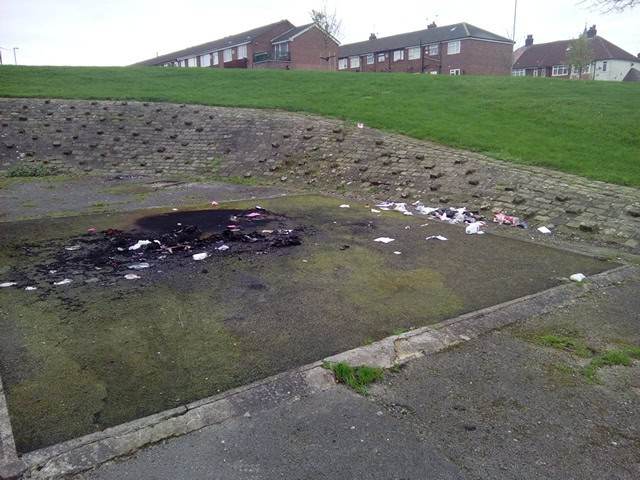 Not this
It doesn't stop me thinking Leeds is great or getting behind the bid for 2023 European Capital of Culture. It makes me think about the massive disparity between the "culture" of Leeds (the stuff in the cultural quarter) and the rest of the city. We have a job on our hands reducing the gap in the two tier city.
Not pessimism, just realism.
And I hope we manage it. But I'm not going to stop going on about the bottom tier until we do.
(Btw, most of this was written at the 47/48 bus stop opposite the Corn Exchange, while waiting for the next bus. The previous one failed to turn up. Great public transport for a great city?)