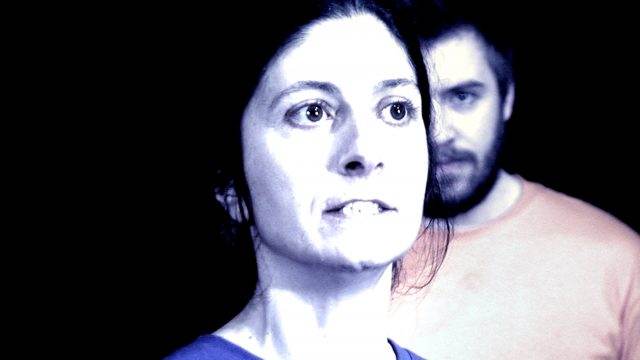 It's a play about England, and the politics of Europe. It's about a messy divorce that's brought powerful figures into conflict across our continent. Could one rash act, embarked upon in a fit of passion, change England's destiny forever? And it's about the Great Heresy.
Yeah OK, they might be talking about Henry, Catherine of Aragon, defying the Pope in the quest for a male heir and all that stuff.
The burning European issue they're really discussing when you decode it is Brexit. And the Great Heresy in question goes way beyond details like nationalising the Church. We're talking about the ultimate sin of using a smartphone in the sacred space of the theatre.
Our secular world still has its rituals.
No holiday flight is complete without the assurance that in the extremely unlikely event of a loss of cabin pressure, oxygen masks will descend from the panel above our heads. I understand that my call may indeed be recorded for training purposes, and the value of my investment can go down as well as up.
I know to keep my hands and arms inside the vehicle at all times. And I certainly know that whilst I may be welcome to tonight's show, sound recording and photography are not permitted and mobile phones must be switched off now.
This, however, is a show where mobile phones should most definitely be switched on.
Leeds-based 2b Acting have been in business for more than a decade. For the last couple of years they've concentrated on finding new opportunities for actors through utilising tech. That includes, for example, recording little "virtual concierge" videos to guide tourists round London.
Now, seeing the reality of a world in which an entire generation takes second screening for granted, watching telly whilst sharing thoughts about the show on a mobile, they're taking the leap to bring that second screen into the live auditorium.
The first effect is to light the faces of the punters in a kind of eerie blue as they all have lights on their laps – note to the developers of the In View app; consider a night mode screen.
Once logged in, each live scene on stage is accompanied by a little (silent) video. The pictures are pretty, but don't in all honesty add that much. That doesn't mean they couldn't in future productions; this is the trial version. More crucially, at points in the story little green prompts appear.
Click on the link when it's live and you get background information; in this production, letters between Henry and the Pope, Henry and his soon-to-be-new-squeeze in the French court, Henry and Catherine's dad (who just happens to be King of Spain) and others.
Whilst they certainly help explain the motivation of the characters on stage, I for one would have appreciated a bit less curly script and a bit more context (given we're only a click away from Wikipedia) to fill in the gaps in my patchy historical knowledge. Or a timeline.
With all this tech stuff going on, it's easy to forget what's happening – y'know – on stage.
The entire performance takes place in the sparsely-furnished room where Catherine is held prisoner, hands bound with rough blue rope.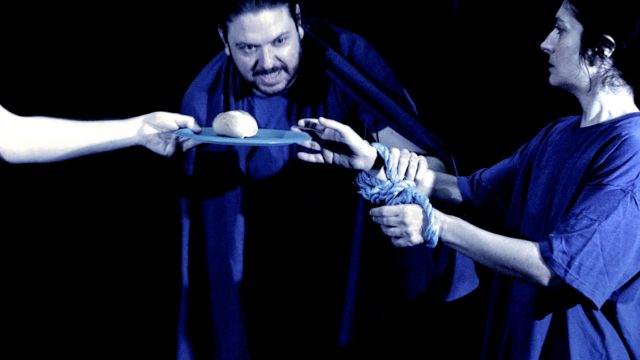 Catherine's refusing to eat, and after 26 years of marriage is refusing to give in to the King's demands. Anastasia Ampatzoglou is outstanding in the central role, delivering a passionate rollercoaster ride of emotions as Catherine veers between resignation, defiance, yearning and defeat.
The Queen sees a loyal manservant John (Gareth Ward) tortured and killed at the hands of the Inquisitor (Lee Watson). She sees another trusted courtier, Thomas (Christopher Mitchell, in a strong supporting role) join with her oppressors, and hears of a third .. the "handwoman Annette" .. becoming queen in her place alongside a royal husband who has, in reality, abandoned her.
It's quite talky. A lot of the dialogue is exposition of what's happening and why, but there are some great moments of high drama as Catherine's resolve is tested.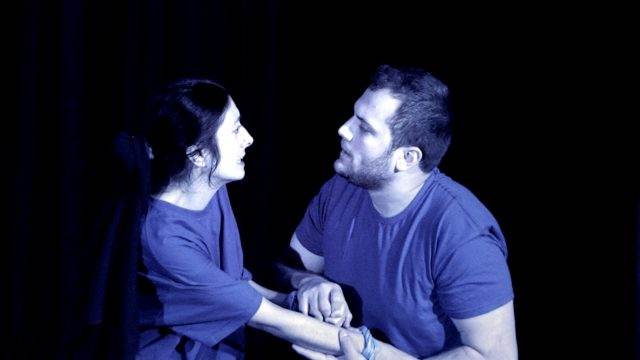 Ultimately, though, it's the concept we're considering here; the show could equally well be a Shakespeare or an Aykebourn.
My verdict? The App does add to the experience. A bit. It's a new idea, and will take some time to become accepted.
Writer and Director David Jones is also on the governing board of the West Yorkshire Playhouse.
His laugh when I asked him whether we should expect to see the In View app rolled out to audiences in the Quarry Theatre next season suggests there is still some considerable way to go before the arts establishment as a whole considers smartphones in the stalls to be a smart thing to do.
That said, every technical innovation, from electric lighting on stage to microphones in musical theatre, to surtitles at the opera has faced its detractors in the early stages of development.
I'm not sure my enjoyment was significantly enhanced by the online additions, but I'm not the generation that gets as twitchy as a 40-a-day smoker on a transatlantic flight when denied the internet for an hour or two. For them it could be the catalyst that makes live theatre relevant once again.
In theory having the app in the auditorium should focus that goldfish-like attention span on specific content relevant to the play, and reinforce the message. But when the web is live, and the little bird notification flashes up on the screen, can there be a temptation to take a peek at your messages? This reviewer's exercising his right to remain silent on that one.
As for the Brexit message, the parallels are there if quite forcefully spelled out. Article 50 could indeed bring about changes every bit as momentous as the dissolution of the monasteries.
For The Love Of Oranges is staged for one night only at Seven Arts in Chapel Allerton on Friday, November 10th – £8 in advance or £10 on the door.
The performance will then live on an an interactive online adventure at the 2b Acting website.
Production photography: 2b Acting