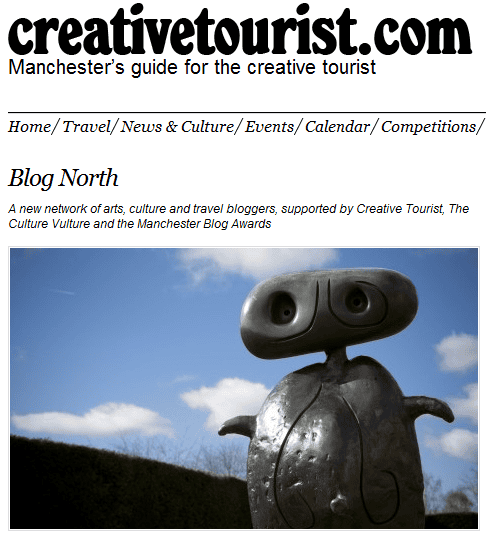 We've long admired our city slicker friend Creative Tourist. They started around the same time as us and have done a great job of packaging up the best Manchester has to offer to both residents and visitors alike. Imagine how excited we are to be co-presenting at the prestigious Museum Next in Barcelona this May.
As you may be aware we've been putting on blogger events for the last couple of years, inviting the widest range of cultural enthusiasts to get exclusive behind the scenes tours, access & insight. We've been blessed by the generosity of venues such as Yorkshire Sculpture Park, Opera North, The Hepworth Gallery, Leeds Art Gallery, Northern Art Prize, Leeds Gallery & West Yorkshire Playhouse. We've been treated royally!
Whilst in conversation with CT &  Manchester Blog Awards founder Kate Feld, we discussed the potential of developing a package of events throughout the year, taking in some of the best of cultural events across the North.  There's such a wealth of amazing stuff happening, we instinctively felt cultural enthusiasts would be prepared to travel. We also felt that there may be a desire amongst some bloggers to develop their networks and hone their writing skills.
So here we are, with the first ever Blog North event. Our first event May 12th at Yorkshire Sculpture Park & The Hepworth Gallery includes a workshop with Guardian Arts journalist Jessica Lack.
Blog North #1
Blog North #1 is on Saturday 12 May, 10am-5.30pm, at Yorkshire Sculpture Park and The Hepworth Wakefield. It includes:
A critical writing masterclass with Guardian arts writer Jessica Lack;
A behind-the-scenes tour of the Joan Miro exhibition at Yorkshire Sculpture Park;
A practical online writing workshop with Creative Tourist's Susie Stubbs;
A personal welcome to The Hepworth Wakefield by its Director, Simon Wallis;
A curator-led tour of the collection and spring exhibitions at The Hepworth Wakefield;
And a networking session (with wine and nibbles), also at The Hepworth Wakefield.
Participants will also get free parking at Yorkshire Sculpture Park, free tea and coffee, discounts in café and shop at both galleries, and a free return coach between Yorkshire Sculpture Park and The Hepworth Wakefield.
All of this costs just £30. Buy your ticket now, or read the Blog North #1 Itinerary.
Head over to Creative Tourist to book your place