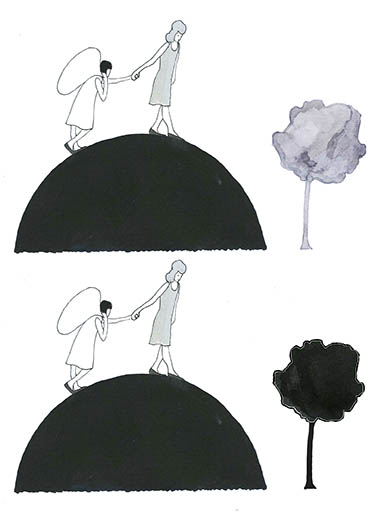 Vicki Galloway-Place went along to the Bradford Baked Zines event to see the Louisa Parker Artist Talk, Saturday 18th May 2013 …
"Without art, the crudeness of reality would make the world unbearable" George Bernard Shaw
This being my first review I was hoping that I would not need to include any negative comments but unfortunately this is not the case. My problem?….the half an hour talk led by PHD researcher Louisa Parker was far too short! I could have listened for hours about the intriguing work she calls "small stories" and "graphic narratives", the focus often being women.
Perched in the back of a pop up Zine in Bradford centre on a rainy Saturday morning, I wasn't sure what to expect. Nine of us in total including Louisa, myself and my friend, seven women and two males, this gathering, I suspect, would have felt just as intimate had there been a hundred people in a lecture hall.
Louisa has an effortless way of discussing her DIY publishing, drawing you into the worlds that she has sketched. Louisa's writing and art too appear effortless, but you just know that a great deal of time has been taken to present the right sketch and select the precise words to entice you into that world for a short time, that nevertheless leave a mark within you that will linger for an eternity.
Louisa is keen to make it clear that she speaks for herself; she only has her own experiences, her own perspective, openly voicing her thoughts and beliefs. She is passionate that others do the same, to show that many perspectives make up one story. A simple notion but one we (or certainly I) often forget.
The gritty, dark themes within the graphic narratives are immediately appealing to me, even more so when you discover that some of the stories are autobiographical or closely linked with the artist/author. Louisa mainly sticks to two colours when she draws because "colours scare me". You would then assume the tales are fairly straightforward. However, take "Becoming Unbecoming" as an example. The story is set back when the Yorkshire Ripper was at large and Louisa cleverly interweaves the injustices of the media and police at that time with her own realisation as a young girl that the world can quite often not be a nice place to be a child, or a woman, or a prostitute for that matter. You quickly realise that nothing is straightforward, indeed nothing is as it seems.
I took a great deal away from this short talk. I like to be made to think especially hours or even days after the event and this talk certainly did that. I like to meet someone and think – I've just scratched the surface with you and your experiences – I want to know more, and the more I know the more I will want to know… I feel all of these things.
Meeting Louisa and seeing some of her work was a ray of sunshine in an otherwise dreary day. If you get the opportunity to attend one of her talks I would, but be prepared to be disappointed that you couldn't stay for longer and that longer will probably never be enough with this fascinating woman.