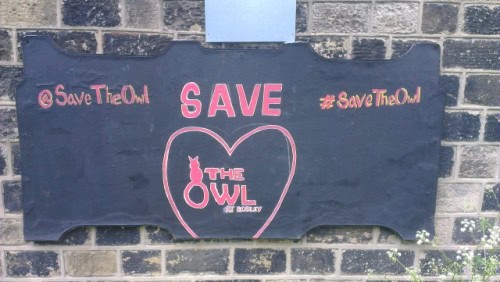 Another pub at the heart of a community faces closure. Mark Whittle (@markvsmedia) visits The Owl in Rodley …
It's a beautiful sunny afternoon and as I sit outside sipping on an ice-cold beer at The Owl in Rodley there's no indication from the staff or patrons that anything is wrong and that the pub and the family who run it are actually in the midst of a battle for survival. Well, scratch that, it's actually a pretty cloudy morning and I'm sat inside with a coffee but the important thing remains the same, to the everyday customer everything seems fine in The Owl.
Fay: Gina's just doing what comes naturally – she's not going to give her customers any less because of what's going on.
I'm here to talk to Elaine Keith, Fay Goodliffe and Natalie Ross, three key figures behind the Save the Owl @ Rodley campaign. Gina and her family have run The Owl for 6 years but due to a lengthy ongoing dispute with building owners Enterprise Inns they've decided that there's no option left for them but to leave. A blog post on their website let customers know that The Owl would be closing its doors on Sunday 2nd June, its future uncertain.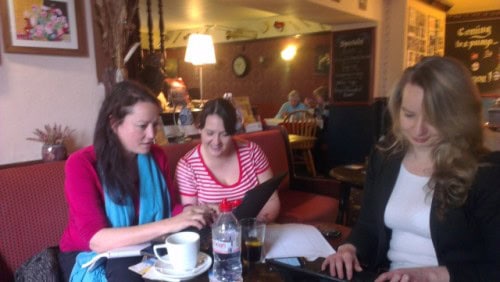 Elaine: It came as such a surprise to everyone because nobody suspected that there were any issues, that this wasn't a thriving, good business especially given the volume of customers – the volume of beer we drink alone should be enough to keep it going!
Natalie: What's happened is that they've done a rent review and are putting it up by 45%, plus they're putting fines in for them buying beer outside of the tie-in deal. They're are happy to hold their hands up to the beer issue but the way they've calculated these fines is by monitoring the liquid that goes through the lines – how do you distinguish between water and beer? They clean their lines regularly because they're a good pub and they feel that the fines are going to be unfair because of this.
Fay: The news whipped around like wildfire as you'd expect. We were actually really upset, it sounds dramatic to say that but we were.
In this era of chain pubs and bars The Owl stands out both through its sense of independence and the way in which the local community look upon it and those who run it, when they found out the situation Gina and her family were facing they refused to stand idly by. Taking to social media with the Save the Owl @ Rodley Facebook group they spread the news further and offered a space for patrons to express support and share their stories.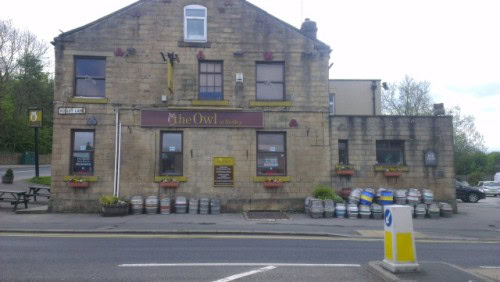 Fay: When we started the group we thought it would just be our friends but it's taken no effort from us to get people involved.
Natalie: Originally the group was about showing how much we loved them because the tone of the blog was that they'd given up. We just wanted to let them know how much they meant to us before they had to go.
The group was launched on Wednesday 15th May and as of today has over 2400 members. The unexpected support gave renewed hope to the beleaguered owners.
Natalie: Steve, Gina's son, came over to us on Thursday and said when he'd put that blog up on Monday they'd given up, fought all they could. Now they've seen how much support they've got and how much the local community care about them their fight is back and they're doing all they can.
It's at this point that Gina bursts out of the kitchen to give Elaine, Faye and Natalie the latest news on what's been happening. With her energy and positivity it's plain to see why people have been so keen to get behind Gina's cause. Before plunging back to the Sunday carvery preparations she makes sure the campaigners will be able keep their strength up by providing a free lunch for them all.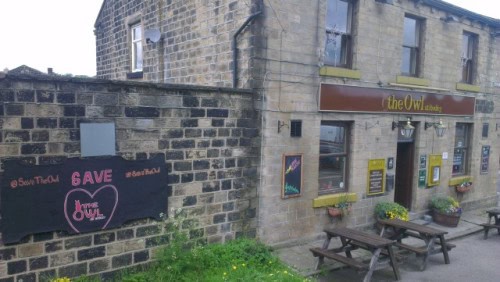 Elaine: She's created such an amazing atmosphere. It's a really accessible pub that caters for so many different people. Everything she gets in is from the local community so it's a symbiotic link with businesses in the area; it's not just about this place. If you ever wanted to see the ideal of what a local pub should be this is it.
In many ways this is an issue that goes beyond The Owl, many local pub owners are facing similar situations to Gina and her family. Save the Owl @ Rodley are heavily involved with other campaigns such as 'Fair Deal For Your Local' and with visits from local MPs, councillors, press and radio stations it seems that that this fight is far from over, although no response from Enterprise Inns has yet been received.
This is only my third visit to The Owl since I've moved to Leeds but such is the atmosphere of the place and the enthusiasm of its supporters that it's hard not to feel instantly part of this tight-knit community. This is clearly a very special pub and its patrons rightly feel both proud and protective of it. Gina and her family have a tough battle on their hands but they'll fight on knowing that they have thousands of friends standing beside them.
If you want to get involved then there's no shortage of action you can take. Join the Facebook group to see the full action plan and what you can do to show your support.