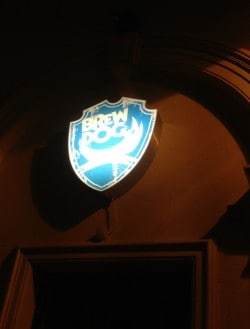 After a somewhat protracted licensing period, the long-awaited BrewDog Leeds has finally opened its doors. Since opening their flagship bar in Aberdeen a few years ago, BrewDog have populated the more major cities of the UK with a unique brand of beery mayhem – and it begun to feel recently like if you're town didn't have one, then you weren't invited to the party.
Still, better late than never. Those familiar with BrewDog's establishments will immediately feel at home in the brick-and-metal bar. Although lacking the bright open space of the Manchester or Bristol bars, BD Leeds is small but perfectly formed. The space is used well and – when not packed to rafters – it's actually quite cosy. However, size doesn't seems to stop Leeds's other diminutive bars (North, Sela, Friends of Ham, Mojo, Baby Jupiter – in fact, all of our decent bars are small!) from doing well.
From the menu-speak to the style of the staff (who were, on the night I visited, wholly friendly, helpful and knowledgeable about what they were selling – another key BrewDog trait), BD Leeds is an exercise in manifesto, and if that's what you're after, then you'll be right at home.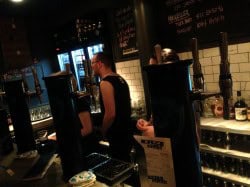 Beer-wise, a lot's been said about the consistency of BrewDog's wares of late, but I find that since the company settled to a size that owners Watt and Dickie are comfortable with, the somewhat schizophrenic nature of the beer quality has been eradicated and quality has been returned to the drinker.  Punk IPA is a refreshing blast of citrus, and 5AM Saint gives toothsome toffee and brown sugar flavours to the drinker alongside a big hop bite. My current favourite – Dead Pony Club – is the nearest thing to a light pale ale that BrewDog brew and it tastes wonderful; clean, spiky and refreshing. There's also a small but interesting range of guest bottled beers from the US and Europe.
My only gripe would be disabled access seems non-existent; upstairs is reached only by a small spiral staircase and there's a savage step to negotiate on the way into the bar.
So; BrewDog Leeds; pleasantly surprising and a uniquely Leeds take on the chain model.  Situated in the Call Lane/Corn Exchange area of town, I have no doubt BD will benefit from the likes of Red's, BRB and Norman being neighbours and become a popular spot for Beer drinkers at that end of Leeds. Another decent drinking spot in Leeds? Welcome aboard, Dogs.